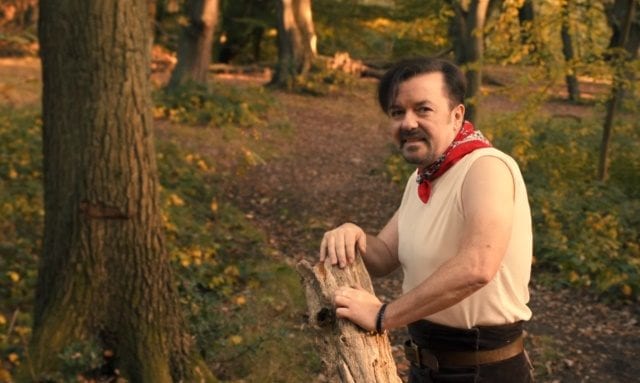 Ricky Gervais ist wieder einmal voll und ganz in seiner Rolle als The Office-Fiesling David Brent angekommen. Wie wir seit einiger Zeit ja wissen, wird es bald einen Kinfofilm zur britischen Stromberg-Vorlage geben. Der Film trägt den Titel David Brent: Life on the Road und zeigt eben diesen – on the road. Brent ist nämlich nun Singer Songwriter. Und was braucht man als Singer Songwriter? Richtig, gute Songs und coole Musikvideos. "Lady Gypsy" ist das erste Resultat.
Und, was soll man sagen? Brent ist natürlich ganz der Alte geblieben. Wenn man nicht genauer hinhört (wenn das überhaupt geht), wirkt der Song fast schon romantisch und verträumt. Aber achtet man auf den Text, kommen die üblichen grenzwertigen Äußerungen zum Vorschein. Und zwischendurch dann wieder melodisches Lalalei. Herrlich absurd, der Aufzug, das Posieren, die ganze Figur David Brent.
"Lai lala lai, lala lai. Oh lala lai lala lai lala lai."
"I said, I don't need no heather and if I did I would just pick some, it's free, it growing in the ground."
DAVID BRENT - LADY GYPSY OFFICIAL VIDEO [HD]
Der Kinofilm kommt im August in die Kinos – allerdings nicht bei uns in Deutschland. Hierzulande können wir den Film dann irgendwann 2017 auf Netflix sehen.
via: Serienjunkies