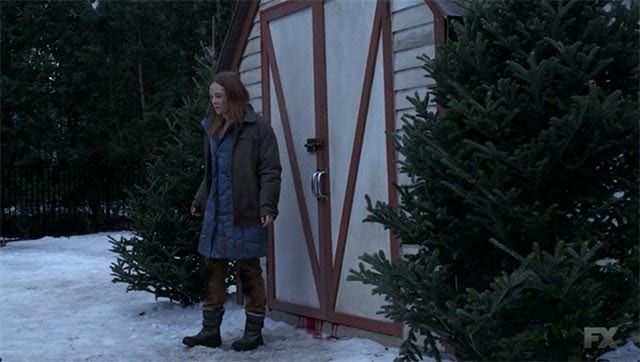 Diese Woche gilt dem Verständnis und der ethischen Sinneswandlung einiger Charaktere. Binnen 45 Minuten werden die Fronten klargestellt und fast allen wird bewusst, in was für einer Misere eigentlich alle stecken. Eph und Co. nehmen den eigens kreierten Kadaver genauer unter die Lupe und entdecken allerlei neue Organe und benennen spontan den "Stinger". Jim ist dabei der Coolste, indem er absolut uncool ist. Er nimmt quasi die Position von uns Zuschauern ein, stellt ungläubig simple aber passende Fragen. Und ist so verstört und ahnungslos, wie wir es in der Situation wohl wären.
"I just killed this thing, I need to explain, why I did that, Jim!" (Eph)
Immerhin macht Jim reinen Tisch und erzählt den anderen die Sargbox-Geschichte. Das sorgt zwar für ein zerschnittenes Tischtuch, aber auch für ein paar weitere Verbindungen, die gezogen werden. So darf Eph erneut seine Stinger-Ausweich-Superkräfte einsetzen, ehe unser Pfandleiher Setrakian endlich badassig die Bühne mit seiner scharfen Gehhilfe betritt. Hell-yeah!
Jetzt beginnt also die gute alte Zombie-Lehre: sind es noch Menschen, die man tötet? Sind sie verlorene Patienten und man muss sich als Arzt das eigene Scheitern eingestehen? Oder sollte man noch versuchen, die "Kranken" zu retten? Der kranke Flugzeugpassagier gibt zumindest gegenüber der Familie noch an, er müsse "sich nur etwas ausruhen, wird schon wieder!". Immerhin war er so vorhersehend und intelligent, sich selbst wegzusperren, obwohl seine "innere Stimme" ihm etwas anderes sagt. Zeigt uns aber, dass – zumindest für eine gewisse Dauer der Transformation – die Persönlichkeit vorhanden zu bleiben scheint. Fast so komisch, wir die Tatsache, dass seine Frau schwitzt vor Wärme obwohl Draußen Schnee liegt. Nur, damit wir sie in Unterwäsche sehen können? Da ist die gute Christin scheinbar so kompromisslos wie bei der Problembeseitigung. Dann klappt es auch wieder mit dem Nachbarn…
Die Stoneheart Group sorgt derweil vor und versucht der schnellen Verbreitung und dem Social Web zum Zeitpunkt des Unheils Herr zu werden, indem Internet Freedom Fighter Dutch Velders engagiert wird, das Internet lahm zu legen. Wenn die wüsste… Eldridge geht es dagegen zunehmend schlechter – verpasst er etwa das nahende Spektakel?
"It's much harder to hide evil shit these days, isn't it?" (Internet Freedom Fighter)
Felix macht derweil wieder krumme Dinger gegen schlechte Bezahlung. Ob solche Gangmitglieder wohl immer erst den Radiosender einstellen, bevor sie mit dem geklauten Wagen fliehen? Wenigstens beweist er ein Gewissen und gibt unserem Pfandleiher die von seinem Bruder gestohlene Uhr aus Episode 1 wieder.
Meine Meinung:
Eine Folge, in der vielleicht zu viel an zu vielen Enden zu schnell passiert. Nicht unbedingt von der Darstellungsweise her, sondern von den Handlungen der Charaktere. Eph schaltet unglaubwürdig schnell und lässt sich von Setrakian kurzerhand vom Lebensretterdoc zum Ungeheuer-Abschlachter konvertieren. Dazu sehen leider die Props etwas arg billig aus hier und da. Und eine Kleinigkeit, die mich heute besonders genervt hat: die Schrift. Wieso gibt es einen Schreibmaschinen-Ton, obwohl die Schrift von links nach rechts gewischt wird?! Macht mich kirre. Vermutlich werdet ihr da jetzt besonders drauf achten – tut mir leid. Ein bisschen aber nur.
Aber es gab auch Positives: Schlagfertige Dialoge, umsichtigea Storytelling mit der Web-Maßnahme (auch wenn die Machbarkeit sicher diskutierbar ist, aber hey, das sind Vampirmonster, da drücken wir in Sachen Realismus ein Auge zu) und letztlich süffisante Szenen und ordentlich Vampir-Action. Man darf gespannt sein, wie sehr Setrakian den Opa-Michonne abgibt, oder ob das noch abwechslungsreicher wird. Dennoch war die Folge insgesamt noch ausbaufähig. Bestimmt war das aber einfach eine etwas brüchige Übergangsphase, ehe es so richtig los geht. Hoffen wir, dass das Internet kommende Woche noch da ist!