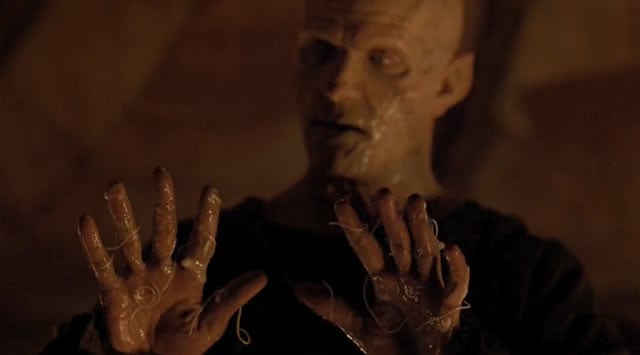 In der aktuellen Folge hat "The Strain" eindrucksvoll seine Stärken und Schwächen präsentiert. Unterhaltsame wie splatterige Momente begegnen billigen Inszenierungen und überspielten Handlungssträngen. Da ist es irgendwie sinnbildlich, dass zu Beginn zu sehen ist, wie Zach als Fruchtblasenkind auf die Welt kommt. Eben irgendwie noch nicht ganz. Und heute wünscht er sich vermutlich, dort wieder hinein kriechen zu können…
"Who's your favorite exterminator?!" (Fet)
Aber es gibt eben auch wichtige Entwicklungen. Quinlan ist des Masters Sohn – oha! Interessanter kleiner Twist. Hätte er aber damals mit seinen Kräften nicht recht einfach ausbrechen können?
"My… name… is… Quintus." (Quinlan)
Um seine Mutter wird kein großes Geheimnis gemacht und sogar ein wenig seine Hintergrundgeschichte erzählt. Ein bisschen "Herr der Ringe"-Action im Gebirge inklusive fiesem "isst du deine Zieh-Mama auf?"-Test. Sollte der in der Höhle der Master sein? Hm. Und natürlich braucht er nur eine coole Sonnenbrille bei Tageslicht – Typisch Blade. Vorteil eines Mischlings.
"Three weeks ago you believed nothing, do not presume to know, what you know three weeks from now. If you'll be alive." (Quinlan)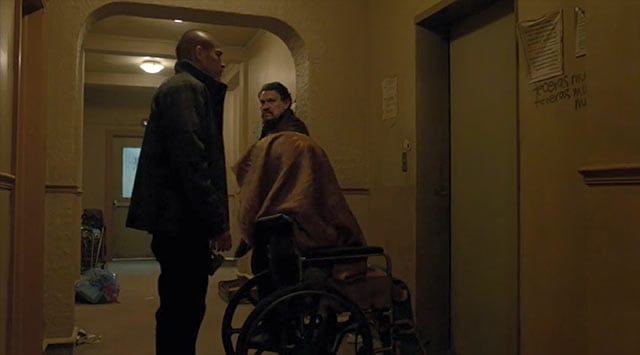 Gus möchte man seine durch Liebe verblendete Dummheit ins Gesicht werfen wie seine Mutter eine Schüssel frisch gezapftes Blut. Wurde Zeit, dass er wieder den Weg Richtung Haupthandlung entgegen wankt. Dieser Nebenstrang nervt mittlerweile eher, als dass er unterhält. Und das Ende mit der Schießerei in der Wohnung? Das war ja mal selten bescheuert. Und ganz zufällig scheint sie ja hat fliehen können, klar doch…
"Mexican seatbelt." (Angel)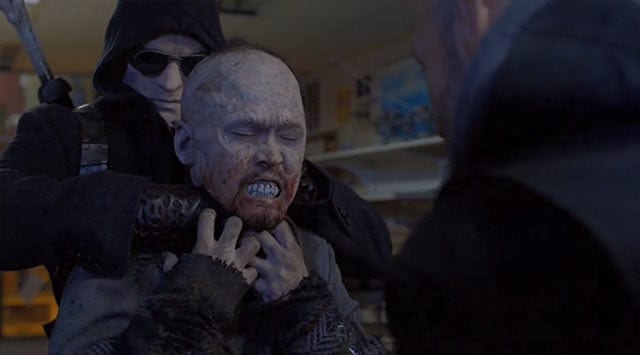 Okay, der "I'm hanging up now"-Moment war super! Für mich bereits ein Highlight der Staffel. Rein optisch gesehen war auch der Showdown gen Episodenende nett anzuschauen. Aber das Buch war doch offenkundig nur eine leere Hülle, oder nicht? Wirkte ungemein leicht in den Bewegungen.
Und plötzlich und so leicht ist der Master hinüber?! Okay, ein kleines Würmchen konnte natürlich fliehen, so dass alles in ein paar Tagen, Wochen oder Monaten von Vorne beginnen kann. Und Zachs Mutti-Mumie hat natürlich auch rechtzeitig die Szenerie verlassen können, ehe der Eisenkugelhagen einsetzte.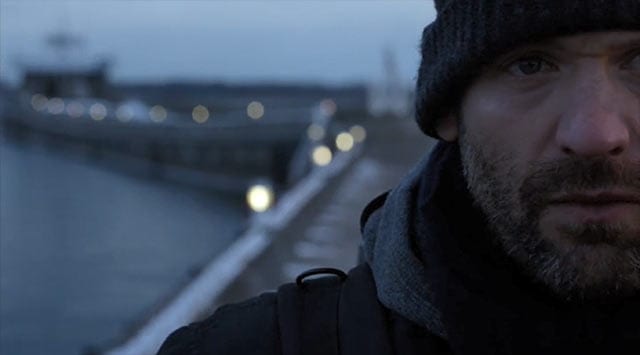 Eine an sich ganz gut Folge. Statt der vermutlich angebrachteren 3,5 Kronen gibt es aufgrund der zwei netten One-Liner mal eine runde Vier. Immerhin hat die Episode mit dem Ende überraschen können, auch wenn verdammt viel Vorhersehbarkeit hinsichtlich der weiteren Handlung vorhanden ist und dieser Gus-Part einfach ungemein runter zieht.

Bilder: FX

-->