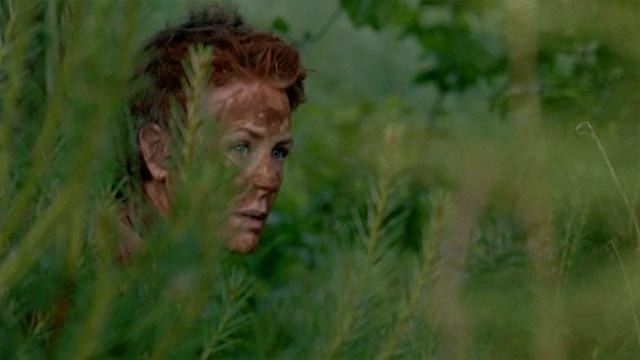 Yeah, endlich geht es weiter mit The Walking Dead! Nachdem Z Nation nur eine halbgare Ersatz-Untotenkost dargestellt hat, habe ich mich umso mehr auf ein Wiedersehen mit "the wrong people" um Rick gefreut. Zum Staffelauftakt wird direkt der Cliffhanger aufgenommen und uns gezeigt, wie sehr man sich im Kleinen vorbereiten kann. Doch alles ist für die Katz und das vorab angedeutete Realspiel findet statt. Wirklich erschreckend fand ich jedoch wenig bis gar nichts. Klar, das war ein actionreicher Beginn, aber wirklich verstörend und "unzeigbar" wie zuvor groß angekündigt war da nichts.
"We were being human beings – what are we now, Garreth?" (Freund von Garreth)
Wenigstens erhalten wir auch einen kleinen Einblick in die Entstehungsgeschichte der jetzigen Geiselnehmer und Terminus-Inhaber. Das zeigt erneut, was für Monster die Apokalypse, vor allem aber unmenschliche Menschen und ihre Machtgier und -Ausnutzung, aus eigentlich total netten Menschen machen. Eine Durchwandlung im Extremen (und vor allem extrem schnellem für uns Zuschauer), die aber auch viele der anderen Charaktere durchlaufen haben (wenn auch eben nicht so krass).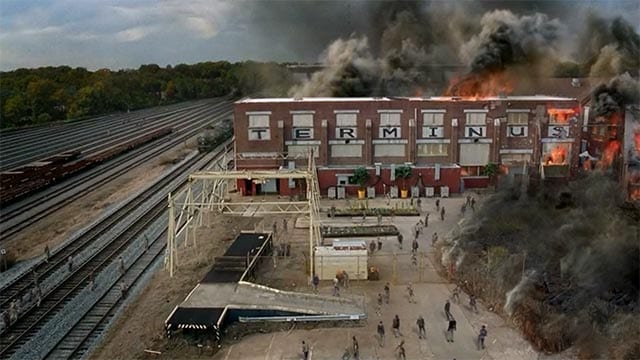 So wie bei Tyreese und Carol, die mit Judith im Gepäck als Einzige noch nicht bei Terminus angekommen sind. Dafür nehmen sie einen Gefangenen, der aussieht wie Comic-Glenn. Dank der guten alten Innereien-Technik und viel Silvester-Erfahrung kann Judith einen auf Undercover-Rambo machen und für ordentlich Action (Action = Chaos) sorgen. So etwas hätte sich eine Carol vor zwei Jahren wohl nicht zugetraut. Wie sie es dann jedoch schafft, sich schnell abzuschminken und die anderen zu finden wirkt ebenso seltsam, wie das absolut NIEMAND der unseren zu Schaden gekommen ist (ein Baseballschlag gegen Glenn hätte einen schönen Comic-Geschmack gehabt) – aber hey, Happy End und so. Daryl freut sich jedenfalls sehr, seine Armbrust wieder zu sehen.
"You're either the butcher or you're the cattle." (Garreth)
Kleine Randnotiz: Eugene gibt Infos zur Heilung preis. Natürlich total nebulös, aber immerhin.
Alles in allem ein actionreicher Auftakt. Das muss nicht unbedingt gut sein, aber es schwingen ja wenigstens einige moralische wie menschliche Elemente mit. Dazu gefällt mir, dass viele der Szenen aus dem Trailer scheinbar tatsächlich aus der ersten Folge waren. Ich hatte nun befürchtet, dass einige Folgen in Terminus spielen und es ein Hin und Her zwischen Vertrauensgewinnung und Drohung und blablubb geben würde. Vermutlich wird man jetzt noch einmal ein bisschen in Terminus aufräumen und dann auf einen bislang unbekannten Weg machen. Das freut mich, da wir so etwas Neues zu sehen bekommen und hoffentlich wieder etwas mehr Survival und den Schritt zu einer neuen Konstanten (die Terminus eh nicht hätte sein können). Was mir übrigens weniger gefällt ist das neue Intro, da ich das alte sehr mochte. Aber gut, man kann nicht alles haben…