Mal wieder eine Episode, die von Robert Kirkman himself geschrieben worden ist. Das dürfte einer der Gründe sein, weshalb Strangers einen derart guten dramaturgischen Aufbau besitzt und durchaus drastisch daher kommt. Das merkt man bereits am Auftakt der Folge, der im Zusammenschnitt noch einmal die Gruppe Überlebende und ihre aktuelle Situation skizziert, was auch in der visuellen Darstellung gut gelingt. Im Vergleich zum beinahe übertrieben actionreichen Auftakt wirkt es zunächst wie ein konträrer Ruhepol. Darauf eine Ghetto-Faust!
An Tyreese nagen weiterhin dunkle Erinnerungen, auch Carol gibt sich schweigsam nach der Zusammenkunft. Sie will gar erneut von der Gruppe "fliehen", wird jedoch von Daryl gestellt, der kurz darauf ein Auto entdeckt und mit ihr verfolgt, das scheinbar mit der Entführung Beths zusammen hängt. Michonne ohne Schwert ist wie The Walking Dead ohne Zombies. Rick ist endgültig zurück in seiner Leader-Rolle, misstrauisch wie eh und je. Er und Carl bringen sich dabei gegenseitig moralisch und lebensphilosophisch etwas bei. Mit der neugewonnenen Paranoia wird Carl gleich mal zum Detektiv.
Das liegt vor allem am offensichtlich zweifelhaften Auftritt einer Figur, die die Comicleser kennen: Priester Gabriel Stokes. Dass jemand wie er bis hierhin überlebt hat, wirkt bereits seltsam dazu gesellt sich sein noch zweifelhafter Humor (zumindest vom Timing, der Sarkasmus selbst war großartig!). Die religiöse Färbung bietet natürlich Raum für moralische Gedankengänge und der neuerlichen Frage nach Sinn und Unsinn einer solchen Apokalypse.
"Nowerdays, people are as dangerous as the dead, don't you think?" – "No, they're worse." (Gabriel und Rick)
Weniger gelungen empfand ich die Wasser-Szene bei der Proviantsuche. Die war unnötig zu einer Gefahr hochdramatisiert, das hat schlicht nicht gepasst. Das Vorgehen war unvorsichtig und leider hier und da schlecht getimed.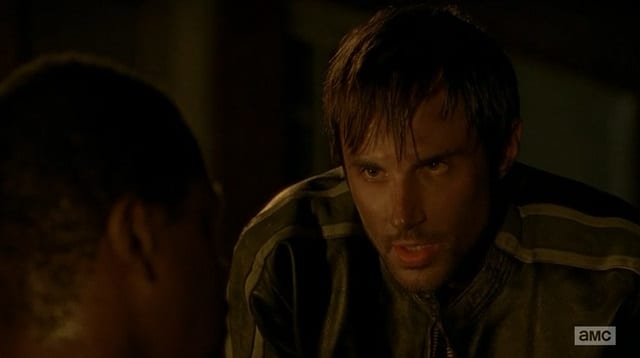 Bleibt die Frage, ob Bob in jener Situation gebissen worden ist? Jedenfalls macht er sich beim feierlichen Kirchen-Umtrunk aus dem Staub um am Waldesrand zu weinen, nachdem er sich sichtlich emotional von Sasha verabschiedet. Das könnte nächste Woche noch ein interessanter Faktor werden, auch wenn ich bezweifle, dass die Terminus-Leute, die ihn kurz darauf in Gewahrsam genommne haben, das nicht herausfinden, bevor er "turned". Naja, wie sagt man so schön? Lieber arm dran als Bein ab.

Insgesamt eine (bis auf die besagte Wasser-Szene) sehr gute Folge. Dabei hat mir vor allem die Dramaturgie zugesagt. Vom ruhigen "wir sind wieder zusammen" bis zum intensiven Episoden-Finale mit gleich zwei neuen Story-Ansätzen. Hier wurden die wahren Stärken der Serie erischtlich. Im Gegensatz zum Schauschießen letzte Woche, sind es die Gedankengänge zwischen Misstrauen, notwendigen Sünden und einem evolutioniertem Gerechtigkeitsdenken.

-->