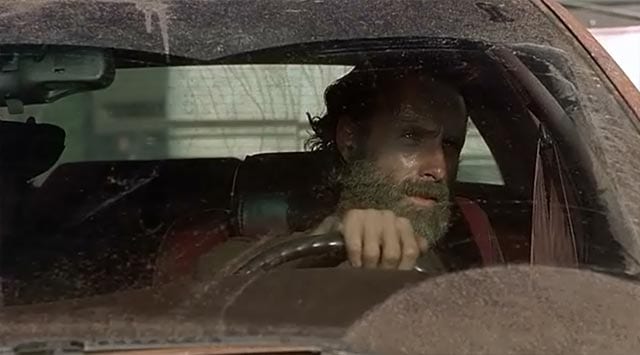 Noch immer ist unsere Gruppe auf der Reise, doch seit dem Episodenende letzte Woche mit einem aus dem Nichts erschienenen Fremden, der die Menschenkenntnis der Gruppe testet – und vor allem prüft, ob Rick überhaupt noch Fremden vertrauen kann.
"Hi, everyone. This is Aaron." (Maggie)
Man muss Aaron verdammt hoch anrechnen, wie gut er mit der deutlichen Abweisung umgeht. Klar, er dürfte schon öfter im Rahmen seines Jobs misstrauische Menschen getroffen haben, aber wie engstirnig und übervorsichtig Rick hier vorgeht, ist sicherlich ein anderes Kaliber. Dabei ist Aaron doch so nett und lustig.
"'Audition' makes us sound like we're some kind of a dance group. That's only on friday nights…" (Aaron)
Für den berufsparanoiden Rick klingt das alles zu gut um wahr zu sein. Hätte er doch mal die Comics gelesen! Armer Aaron… Die ersten Leute in der Gruppe sind bereits anderer Meinung. Aber okay, ganz leicht macht Aaron es nun auch nicht. Auf einmal mag er natürlich keinen Apfelmuß und das Abhör-Equipment sowie die "Huch, da ist ein Licht – ich muss weg!"-Aktion hätte man auch vertrauensseliger lösen können.
"Just because we're good people, doesn't mean we won't kill you." (Rick)
Einen wirklichen Side-Plot wagt die Folge kaum aufzumachen. Auch wenn gekonnt das Thema von Dosenspaghetti auf emotionale Zwischenmenschlichkeiten übergeleitet wird. Nicht. Dafür gibt es rote Front-Scheinwerfer zu sehen und eine der bewusst rein konzeptionierte Walker-Szene, nur, damit die Action-Jünger unter den Zuschauern ihre Quoten-Morde sehen können. Hmpf (okay, es war auch so ähnlich in den Comics). Mal abgesehen vom denkbar dämlichen Fahrverhalten (eyes on the post-apocalyptic road, buddy!) ist es auch eher keine gute Idee, nachts in einen Wald zu stürmen. Dümmer ist es da eigentlich nur, ein Baby nur mit einem Handtuch auf der Rückbank liegen zu haben. Aber wer macht das schon? Ups…
"If you really wanna tie me up, it's okay by me – but hurry up!" (Aaron)
Die Zuschauer sehen den ersten Kuss zwischen Aaron und Eric. Da das aber eine total normale Sache auf der Welt ist, gehe ich nicht weiter drauf ein.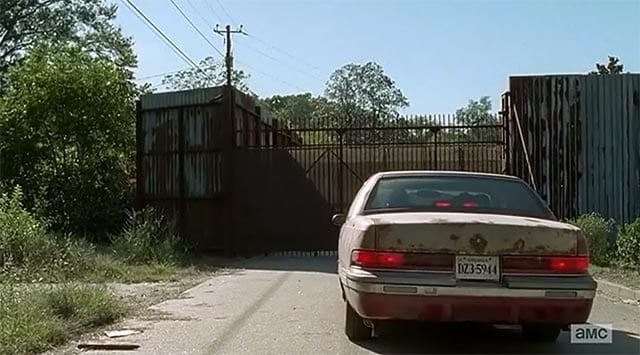 Wichtig ist in dieser Folge eh nur das Ende. Das im Ansatz vorhandene Vertrauen. Ein Tor und all das, was dahinter liegen wird.

Eine richtig gute Folge war das nicht. Aber ich mag solche Spiele, in denen Charaktere um Vertrauen buhlen. Das zeugt von der drastischen Welt und vor allem den veränderten Prämissen eines jeden. Dabei denkt man dann darüber nach, wie gerade ein Eugene mit anderen Karten spielt – vor einer Weile auch noch Außenstehender, ein Fremder. Die komplette Gruppe ist zusammen gewürfelt und nur gemeinsam so stark geworden – und überhaupt noch am Leben. Und letztlich sollte einer solch wichtigen Begegnung und folgeschweren Entscheidung (dessen sich Rick ja recht schnell bewusst wird), auch entsprechend Zeit in der Serie eingeräumt werden. Aber gerne darf das Tempo jetzt mal wieder angezogen werden.

Spannend wird sein, wie es vor allem Rick annehmen wird, mal selbst "der Neue" zu sein – und eben nicht der entscheidende Leader. Und was mit dem im Mixer versteckten Revolver passier wird. Aber wer die Comics kennt, weiß ja schon, in welche Richtung das gehen wird. Und letztlich war es eben schlicht eine (der letzten) Umbruch-Folgen. Reise, neue Location, neue Charaktere. Ich freue mich jedenfalls auf Alexandria!

-->