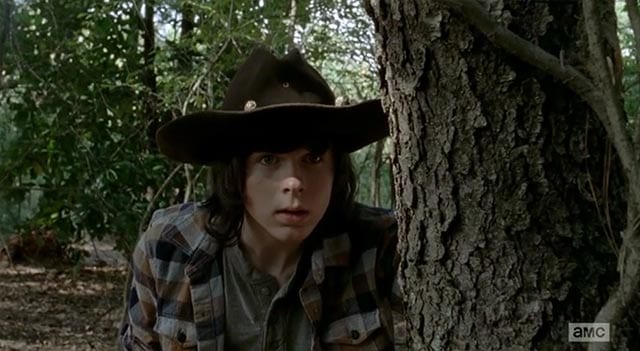 Nach der längeren Reise zuletzt und dem Tor-Blick letzte Woche heißt es in dieser Episode endlich, einen neuen Ort zu betreten. Vielleicht auch ein neues Zuhause? Willkommen in Alexandria.
"We brought dinner." (Daryl)
Skepsis trifft auf Misstrauen. Ausgeprägtes Selbstvertrauen auf bestehende Strukturen. Ricks Ego auf offene Arme.
Diana, Oberfrau und Hobbypsychiologin, kann gut pokern und setzt alles auf Rick.
ENDLICH: Das, worauf alle gewartet haben. Rick rasiert sich. Komischer Weise haben das ja alle anderen Charaktere irgendwie hinbekommen. Als Strafe für das Vernachlässigen der Körperpflege sieht er nun aus wie ein Boygroup-Mitglied. Und es fehlt eigentlich nur, dass die neue Nachbarin Jessy ihm ein Schild mit der Aufschrift "I love you" hochhält. Wird aber vermutlich nicht mehr lange dauern…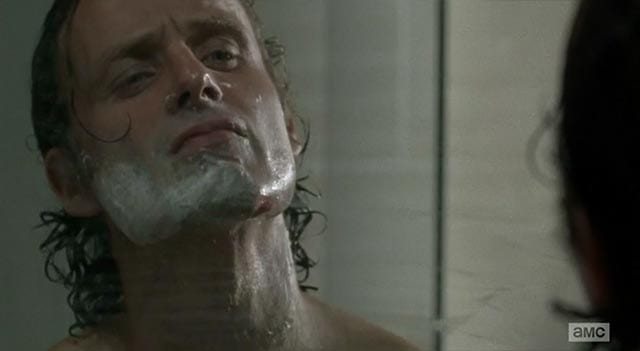 Schön: Carol spielt die naiv-dümmliche beim Waffen-Ablegen und im Interview um vorsichtshalber unterschätzt zu werden. Die Leute in Alexandria haben aber doch bestimmt den Staffel-Auftakt gesehen, so gut, wie die ausgestattet sind.
"Electricity, showers, haircuts – I thought I'd never see them again." (Rick)
Dazu kommen Villen, die einem geschenkt werden und so hübsch sind wie der erste Schwarm für Carl und im Paket direkt noch mehr Misstrauen – kein Wunder, das schaut alles zu gut aus um wahr zu sein.
"They are weak. And I don't want us to get weak, too." (Carl)
Rick sucht vergebens seine neue Erfindung, den Mixer-Revolver, wird aber schnell von Walkern und Carl getröstet. Die Vater-Sohn-Fight-Szene wäre dann wohl die Quoten-Kill-Szene – so überflüssig wie dumm inszeniert. Vielleicht soll sie auch einfach nur zeigen, wie wenig Carl mittlerweile Kind ist und wie wenig Rick mittlerweile bemerkt, dass er ihn nicht kindgerecht behandelt.
Wir bekommen zu sehen, wieso die Stadt Rick & Co. braucht. Diletantisches Gehabe außerhalb der Mauern, die viele bisher kaum verlassen haben. Glenn demonstriert, was unsere "Draußen-Familie" so drauf hat. Und die Einsicht von Rick, dass das eine einmalige Chance ist, die zumindest die Gruppe selbst sich nicht entgehen lassen will.
"We won't get weak. That's not in us anymore." (Rick)
Eine schwer umsetzbare Folge. Ein neuer Ort, den man weder zu friedlich-langweilig noch zu bedrohlich dastehen lassen möchte. Dazu eine Gruppe, die zweifelnd und nicht verzweifelnd dargestellt gehört. Und eben irgendwie auch etwas Aktion und neue Charaktere. Das wird alles schrittweise gemacht. Gut gefallen hat mir der Ansatz mit den Video-Aufnahmen. Dagegen wirkt es etwas seltsam, wie die Gruppe einer nach dem anderen kostümiert wird, entsprechend der neuen Rollen. Während Carol bereits im Mutti-Rentnerinnen-Outfit steckt, hat Daryl nicht einmal geduscht. Vielleicht auch einfach eine Art der Bebilderung, wie sehr sich die jeweiligen Charaktere bereits auf das neue potenzielle Zuhause eingelassen haben. Oder wie sehr sie gedanklich in der alten Welt da draußen feststecken.

Ebenso seltsam: Wir bekommen bisher kaum wen Neues zu sehen. Klar, die Gruppe soll nicht überfordert werden (wird ja auch gesagt), aber so sieht es nach Geisterstadt aus und viele haben sicherlich auch auf Basis der Comics gehofft, einige bekannte Gesichter/Namen zu sehen zu bekommen. Aber da wurde ja bereits bei der Bürgermeisterin abgeändert, die im Comic ein Mann ist.

Alles in allem eine okaye Folge. Nicht mehr nicht weniger. Für uns Zuschauer eben mit genau so gemischten Gefühlen zu betrachten, wie für unsere Gruppe die neue Lage. Zu schön um wahr zu sein war die Episode jedenfalls leider nicht.

-->