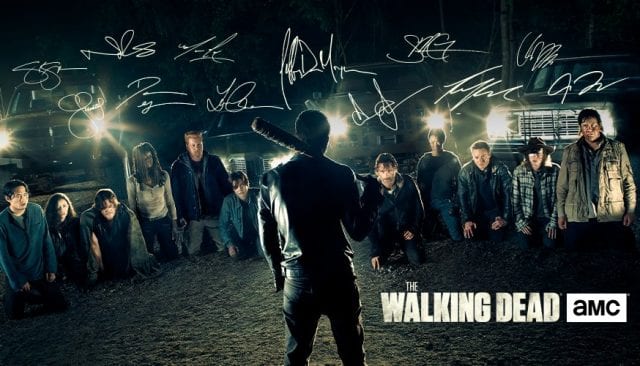 Am 23. Oktober geht's weiter mit The Walking Dead: Season 7 steht vor der Tür. Einen ersten Teaser hatten wir Euch ja heute morgen schon in den NEWSBITS gezeigt – jetzt gibt's den offiziellen Trailer.
The Walking Dead - Season 7 - Comic-Con Trailer
Dazu hat AMC eine Reihe von Bildern veröffentlicht, die nochmal das Ende der sechsten Staffel thematisieren.
@fcklittlebitch Eeny, meeny, miny, moe.
Find out the group's fate when #TWD Season 7 returns this October. pic.twitter.com/8na8NQAgjy

— The Walking Dead on AMC (@WalkingDead_AMC) July 22, 2016
@OURZLATAN Eeny, meeny, miny, moe.
Find out the group's fate when #TWD Season 7 returns this October. pic.twitter.com/vlBWuM2a1G

— The Walking Dead on AMC (@WalkingDead_AMC) July 22, 2016
@OURZLATAN Eeny, meeny, miny, moe.
Find out the group's fate when #TWD Season 7 returns this October. pic.twitter.com/oukrvBGj0y

— The Walking Dead on AMC (@WalkingDead_AMC) July 22, 2016
@twentyonepianos Eeny, meeny, miny, moe.
Find out the group's fate when #TWD Season 7 returns this October. pic.twitter.com/jmjLQ8Ram3

— The Walking Dead on AMC (@WalkingDead_AMC) July 22, 2016
@OURZLATAN Eeny, meeny, miny, moe.
Find out the group's fate when #TWD Season 7 returns this October. pic.twitter.com/I7sISPKbv5

— The Walking Dead on AMC (@WalkingDead_AMC) July 22, 2016
@jaylouss Eeny, meeny, miny, moe.
Find out the group's fate when #TWD Season 7 returns this October. pic.twitter.com/dQ3Byy5VXM

— The Walking Dead on AMC (@WalkingDead_AMC) July 22, 2016
@Leh_Baldavia Eeny, meeny, miny, moe.
Find out the group's fate when #TWD Season 7 returns this October. pic.twitter.com/T9QtJnqPkn

— The Walking Dead on AMC (@WalkingDead_AMC) July 22, 2016
@jaylouss Eeny, meeny, miny, moe.
Find out the group's fate when #TWD Season 7 returns this October. pic.twitter.com/cJrXs3AcJR

— The Walking Dead on AMC (@WalkingDead_AMC) July 22, 2016
@OURZLATAN Eeny, meeny, miny, moe.
Find out the group's fate when #TWD Season 7 returns this October. pic.twitter.com/vzvvcxXXcp

— The Walking Dead on AMC (@WalkingDead_AMC) July 22, 2016
-->