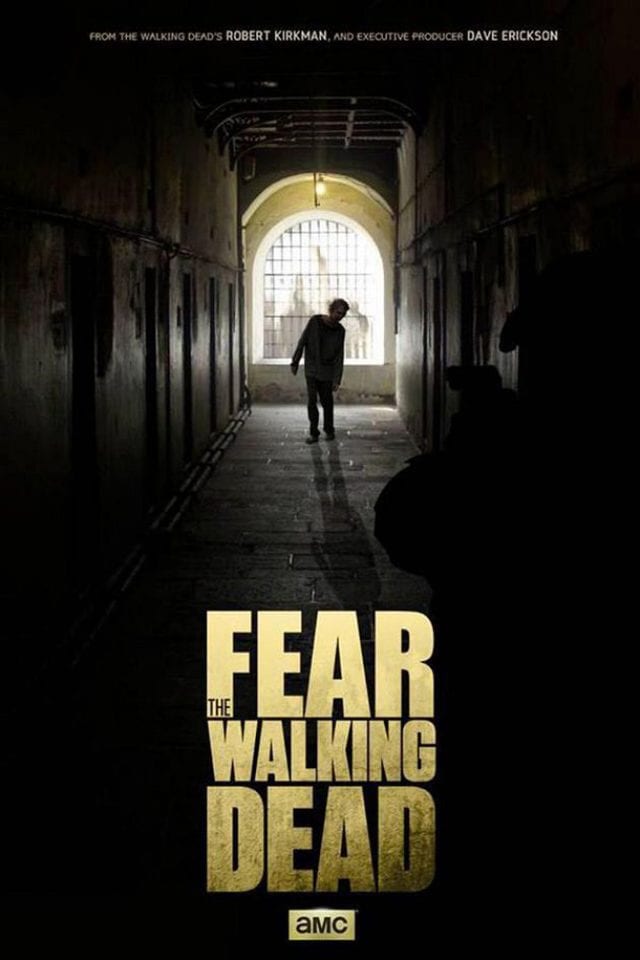 Es ist nur ein kleines Banner im Amazon-Newsletter am Freitag gewesen, doch es bedeutet Großes: Am 24. August startet mit Fear the Walking Dead das lang erwartete Spin-Off zur erfolgreichen Zombie-Serie The Walking Dead – auf amazon Instant Video. Derweil uns dieser Coup des Versandhändlers bereits überrascht hat, als wir vor einigen Wochen davon erfuhren, ist jetzt die zweite Überraschung, dass die sechsteilige erste Staffel auch direkt auf Deutsch zu sehen sein wird. Um 20 Uhr wird die erste Folge auf amazon.de freigeschaltet. Zum Serienstart bringen wir Euch auf den aktuellen Stand und stellen Euch Figuren, Handlung und die Verbindung zur Mutterserie ausführlich vor.
Der Name
Viele waren enttäuscht, nachdem klar war, dass für das Spin-Off einfach das Wort "Fear" vor The Walking Dead gesetzt wird. Robert Kirkman, Schöpfer der AMC-Erfolgsserie The Walking Dead und Outcast möchte damit an den ursprünglichen Gedanken der Zombieserie erinnern. Es gehe schließlich um die Untoten und die Gefahr, die von denen ausgeht. Das sei in den ersten Staffeln von The Walking Dead viel präsenter gewesen – und darauf möchte er mit dem Titel zurückkommen.
IT'S OFFICIAL! The walking dead companion show on AMC is called FEAR THE WALKING DEAD! Expect more news very soon! #FearTheWalkingDead

— Robert Kirkman (@RobertKirkman) March 27, 2015
Schönes Hinweis übrigens von Robert Kirkman: Wir hatten hier ja vor einigen Wochen auch schonmal die Hoffnung geäußert, dass die Serie nicht einen Namen à la CSI verpasst bekommt, also TWD: L.A. oder sowas. Kirkman äußerte sich jetzt in die gleiche Richtung: "Ich wollt doch wohl nicht, dass die Serie 'The Walking Dead: Los Angeles' heißt, oder?"
Die Handlung
Fear the Walking Dead ist wie gesagt das Spin-Off zu The Walking Dead. Wie in der Mutterserie wird es um den Ausbruch eines Virus gehen, der Tote wieder zum Leben erweckt – bis deren Gehirn zerstört ist. Wird man von einem der Untoten, im Original Walker genannt, in der deutschen Fassung Beißer, angegriffen und gebissen, verwandelt man sich selbst in einen Untoten. Laut Robert Kirkman wird es in der Serie nicht darum gehen, zu erklären, wie es zu dem Virus kam und wie es ausgebrochen ist. "Ich weiß, wie es entstanden ist und habe die gesamte Hintergrund-Story dazu im Kopf." In beiden Serien sei es allerdings nicht Priorität, diese Geschichte zu erzählen – Kirkman fände sie eher langweilig. "Ich habe die Geschichte allerdings noch nicht niedergeschrieben. Hofft also, dass ich nicht sterbe", sagte er laut Mashable auf der National Association of Broadcasters Show.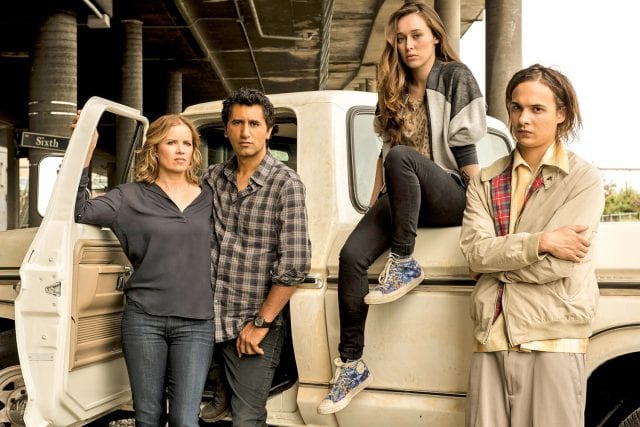 Was Kirkman auch verraten hat: Das Spin-Off wird in Los Angeles spielen und nicht in Atlanta. Und: Die Serienzeit der Original-Serie wird FTWD nicht einholen. Die erste Staffel von Fear the Walking Dead wird zum Zeitpunkt des Ausbruchs des Virus starten, die erste Staffel wird aber den Startpunkt der Originalserie nicht erreichen. Das sagte FTWD-Produzent David Erickson auf der Television Critics Association's Press Tour. Die Serie wird also – zumindest in der ersten Staffel – nicht den Moment einholen, in dem Rick Grimes aus dem Koma aufwacht.
By the end of season 1, we definitely know the world has changed, but we're not at the same place where Rick woke up. There's still a window of time, we'll have some real estate left. Rick's coma was about 4 to 5 weeks.
Die Handlung der ersten – mit sechs Folgen recht kurzen – Staffel wird sich über drei Wochen erstrecken. FTWD sei auch nicht darauf ausgelegt, möglichst schnell die Mutterserie einzuholen. Denkbar sei allerdings, nach einer späteren Season einen Zeitsprung zu machen, um näher an "The Walking Dead" zu rücken. Die Idee zur Verbindung beider Serien wurde von den Produzenten ja schonmal bestätigt.
If you track our story, we probably go three weeks over the course of our first season. There is a time that may come that we catch up, and there may be a season where we do a major time cut. The thinking right now in season 1 and the writers' room for season 2 isn't about how do we intersect them how or catch up with the original show?
Im Spin-Off werde außerdem die Rolle des Militärs stärker beleuchtet, allerdings nicht aus Sicht des Militärs. Man werde zeigen, wie Soldaten auf die Bedrohung reagieren und was sie tun werden, um ihre eigenen Familien zu schützen.
When Rick exits the hospital, you see the presence of military and MASH units. We're never going to tell the story from a military perspective, but we will see a military presence and how first responders reacted and what they did to protect their own families.
Außerdem wird sich FTWD mehr mit der Unwissenheit der Menschen mit Blick auf den Virusausbruch beschäftigen. Die Serie soll einen eigenen Look und eine eigene Stimmung bekommen, TWD-Fans sollen sich aber trotzdem wohl fühlen können, wie Showrunner Dave Erickson verrät:
You expect a certain of thing of The Walking Dead. We want to give that sense and then pull the rug out from under them. There's so much story by way of the zombie world that has to come.
Serien-Erfinder Robert Kirkman will in den ersten Folgen Bezüge auf Handlungen in der zweiten und dritten Staffel von TWD aufbauen. Hier möchte er sich besonders viel Zeit nehmen, um zu erzählen, wie der Ausbruch des Virus zunächst Verwunderung und Verstörung bei den Menschen auslöst, ehe sie das wahre Ausmaß der Katastrophe erkennen.
Man muss die Original-Serie übrigens nicht gesehen haben, um das Spin-Off verstehen zu können, sagt Serien-Erfinder Robert Kirkman:
I think the coolest thing about this show is that it tells its own story. You don't need to have watched The Walking Dead to understand Fear the Walking Dead. As far as the timeline goes, we're pushing the things back. We're going to be dealing with the initial start of the outbreak.
Dieser Beitrag hat mehrere Seiten:

-->