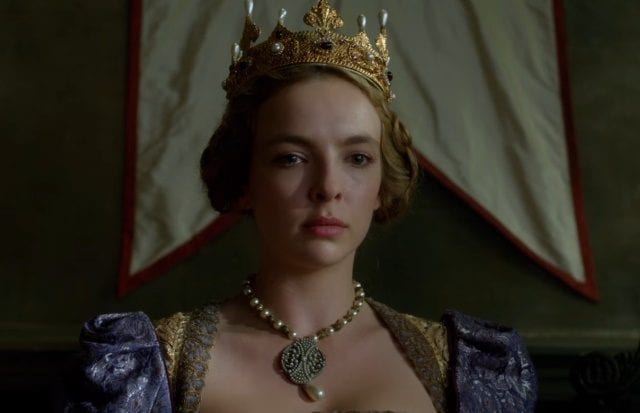 2013 lief die Fernsehserie The White Queen, eine Co-Produktion vom britischen Sender BBC One und dem amerikanischen Sender Starz um den Kampf um die Thronfolge im Krieg der Rosen im 15. Jahrhundert. Im Mittelpunkt: Elizabeth Woodville, die zur Königin von England wird.
Nun startet bald eine neue Starz-Serie, die thematisch ziemlich direkt an die Geschehnisse des vorangegangenen Dramas anknüpft und diese weitererzählt: In The White Princess geht es aber nun um Prinzessin Elizabeth – oder auch Elizabeth of York – Tochter von Elizabeth Woodville. Da das Wappen des Hauses York weiße Rosen trug und das des (zunächst noch) rivalisierenden Hauses Lancaster rote Rosen, spricht man heute vom Rosenkrieg – und so lässt sich auch das "Weiß" in beiden Serientiteln erklären.
Prinzessin Elizabeth (Jodie Comer) wird mit dem neuen König Henry VII. verheiratet, nachdem ihr Onkel Richard III. als König gestürzt wurde. Dieser hat vermutlich zuvor ihre Brüder ermordet, damit er die Thronfolge antreten konnte. Mit Richards Tod jedoch stünde Elizabeth eigentlich der Thron zu. Bringt die Hochzeit zwischen dem Hause York und dem Hause Lancaster Frieden nach all den Jahren der Unruhe? Oder ist die Heirat mit Henry die Chance für Elizabeth, sich den ihr zustehenden Titel wiederzuholen? Nach und nach nimmt sie Einfluss auf die politischen Geschehnisse ihres Mannes.
"Hidden and patient … that will be my motto." – Elizabeth of York
Die Geschichte basiert auf dem Buch von Philippa Gregory. Darsteller aus der "White Queen"-Serie werden in The White Princess jedoch nicht auftreten. Allerdings sehen wir ein sehr bekanntes, lange nicht mehr gesehenes Gesicht einer Frau wieder, die wir bereits aus einem anderen Spiel um den Thron kennen.

The White Princess startet am 16. April auf Starz.

-->