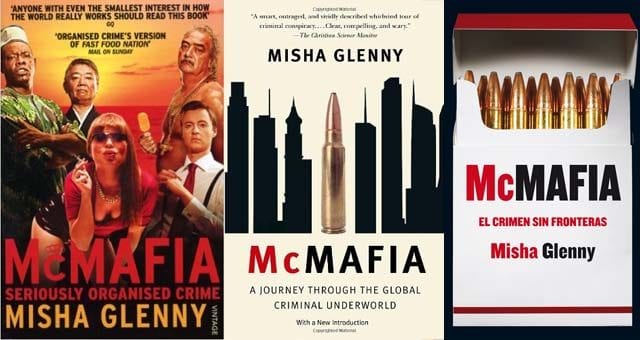 Die Erfolgsaussichten von Agenten und Mafia Serien sind derzeit wohl recht rosig, denkt sich wohl auch die alte Dame BBC, und so plant sie derzeit eine Mafiaserie, deren Inspiration auf den Bestseller "McMafia" von Misha Glenny zurückgeht. Der britische BBC Korrespondent und Journalist Misha Glenny recherchierte jahrelang ganz tief unten im Keller der Wirtschaftskriminalität und kam mit Erkenntnissen zurück ans Tageslicht, die eigentlich jeden aufrechten Politiker und die gesamte Gesellschaft erschrecken müsste.
Bis zu 20% des globalen Bruttosozialprodukts sollen nach Schätzungen des Internationalen Währungsfonds und der Weltbank aus kriminellen Aktivitäten stammen. Dieser These ist Glenny nachgegangen und er hat seine aufregenden Erkenntnisse 2008 in Buchform auf den Markt gebracht. Innerhalb kürzester Zeit wurde dieser Blick in eine Welt, in der nur Eingeweihte Zugang haben, ein Bestseller.
Auf dieser Basis wird nun die BBC eine Mafiaserie kreieren, in deren Mittelpunkt eine russischstämmige Familie im Londoner Exil stehen soll. Wir haben hier also dann eine fiktionale Drama-Thriller-Mafia Serie mit realen Anstrichen. Das könnte sehr interessant werden. Meint auch der Autor des Buches, Misha Glenny.
"I am a huge fan of The Godfather, The Sopranos and, more recently, Narcos. Hoss and James's brilliant reworking of McMafia takes this tradition onto a global canvas by revealing the immense possibilities open to an ambitious Russian crime family in an interconnected world." (Misha Glenny)
Verantwortet wird die neue Serie von Hossein Amini ("Drive", "Snow White And The Huntsman") und James Watkins ("The Woman in Black", "Eden Lake"). Unterstützt werden sie dabei vom Autorenteam um Peter Harness ("Doctor Who", "Wallander"), David Farr ("The Night Manager", "Spooks") und Laurence Coriat ("Me Without You"). Nicht die schlechtesten Startbedingungen, würde ich sagen.
"Hossein Amini and James Watkins have brilliantly reworked Misha Glenny's best-selling book McMafia into a really exciting and original new drama for BBC One. This is a family drama in the world of global organised crime, which has attracted incredible writing talent to work alongside Hoss and James, to bring this drama to screen. I am very excited to have this on BBC One." (Polly Hill, Controller of BBC Drama Commissioning)
Ob wir hier die Geburt eines britischen "Sopranos" erleben werden, seit mal dahin gestellt. Aber das Thema ist auf alle Fälle visuell und thematisch ansprechend. Ich bin mal gespannt, wenn der Cast bekannt gegeben wird, wen wir da zu Gesicht bekommen. Spannende Zeiten für britische Thrillerfans.

via: cultbox

-->