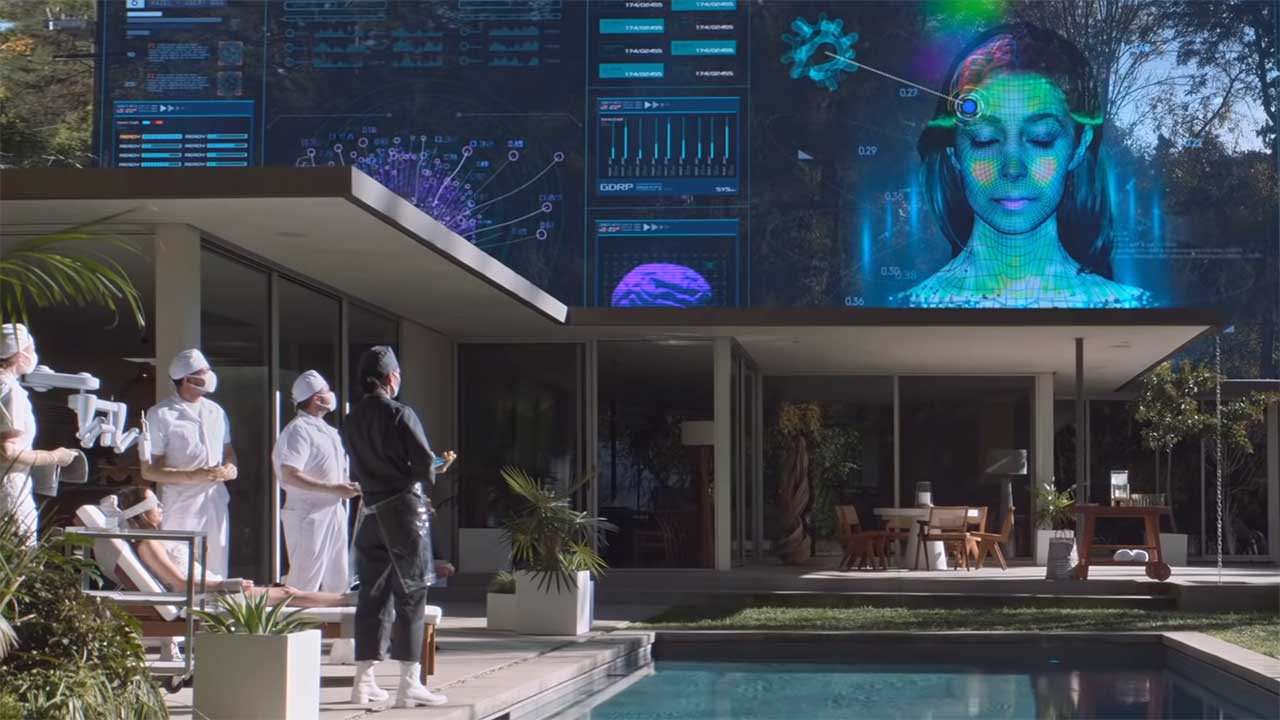 Als ich Anfang des Monats den von Kira hier geposteten Teaser zur neuen HBO-Serie "Made For Love" gesehen hatte, musste ich direkt daran denken, dass es sich um eine 1A-Storyline aus "Black Mirror" handelt. Partner, die sich Chips implantieren lassen, um "gleich zu denken" und allerlei digitale Vorzüge zu erhalten, wie Orgasmus-Bewertungen, doch sich dann als Überwachungschips entpuppen, so dass der Mann möglichst große Kontrolle über die Frau besitzt. Impf-Verschwörungstheoretiker*innen lassen grüßen! Aber nein, das ist nicht etwa ein Spielfilm oder eine Einzelfolge, sondern eine komplette Serie, basierend auf der Romanvorlage "Made For Love" (Partnerlink) von Alissa Nutting. Hier der jüngst veröffentlichte offizielle Trailer.
"Made for Love is an adaptation based on the tragicomic novel of the same name by Alissa Nutting. The series follows Hazel Green, a thirtysomething woman on the run after 10 years in a suffocating marriage to an unstable, needy, possibly sociopathic tech billionaire. Soon she discovers that her husband has already implanted a revolutionary monitoring device – the Made for Love– in her brain, allowing him to track her, watch her, and know her thoughts and feelings as she tries to stay alive."
Das schaut recht vielversprechend aus, finde ich! Vor allem auch, auf den Cast bezogen. Cristin Milioti mag ich eh sehr gerne sehen, zuletzt ja unter anderem in der wundervollen Exkursfolge von "Mythic Quest: Raven's Banquet", aber natürlich vor allem aus "A to Z", "Fargo" und "How I Met Your Mother" bekannt. Billy Magnussen verwechsle ich ja immer mal mit Joel Kinnaman ("Altered Carbon"), aber er hat immerhin auch in "Get Shorty" und "Maniac" mitgespielt. Ansonsten hätten wir da natürlich noch Comedy-Alteisen Ray Romano ("Alle lieben Raymond"), Augusto Aguilera ("Too Old To Die Young"), Noma Dumezweni ("The Undoing"), Mel Rodriguez ("The Last Man on Earth") und Caleb Foote ("American Horror Story") am Start.
Serie "Made For Love" in Deutschland?
"Made For Love" wird ab Donnerstag, dem 1. April 2021, in den USA über HBO Max zu sehen sein. Zunächst mit drei Episoden zum Auftakt, dann eine Woche drauf weitere drei Folgen, ehe es am 15. April zum Staffelfinale in Doppelfolge kommen wird. Noch ist unklar, wo und ab wann die Serie in Deutschland laufen wird. Aller Voraussicht nach könnte Sky sich im Zuge des HBO-Deals mit dem Sender Sky Atlantic HD bedienen, vielleicht müssen wir aber auch bis zu einem möglichen HBO-Max-Start in Europa warten.

-->