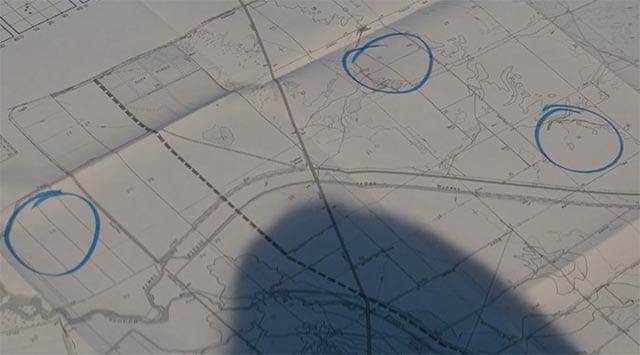 Gerade erst hat True Detective Season 2 gefühlt angefangen – da befinden wir uns bereits bei der Halbzeit der acht Episoden. Umso komischer, dass man sich mit Folge 1 ungewöhnlich viel Zeit für eine Prolog-artige Einführung der Charaktere gelassen hat. Daher jetzt keine Zeit verlieren: Sirene an und los!
Eigentlich nicht wirklich Bestandteil der Folge, aber das "Previously" war ungemein schlecht zusammen geschnitten (vor allem in Sachen Sound). Aber gut, sei's drum, da ärgert sich höchstens Paul drüber.
"Fuck… Fuck… Fuck. FUCK. FUUUUUCK!!!" (Paul)
Der macht unbedachte Dinge, die er hinterher bereut. Vermutlich hat er nachts besoffen das Previously besprochen und nun ist ihm aufgefallen, wie kacke es geworden ist. Oder aber die persönliche Medienkrise und vergrabenen Kriegserinnerungen nagen an ihm. Wenigstens erhält er positive Neuigkeiten, auf die Frank scheinbar vergeblich warten muss. Genau wie auf frische Avocados…
Noch immer sammelt Frank fleißig Kleingeld auf kreative Art und Weise ein. Irgendwie verschafft er sich Zutritt zurück in seine eigentlich verkauften Businesses. Muss ich mir merken. "Du hast doch vor einem Jahr meine Playstation gekauft. Mir gehören jetzt die Spiele wieder, okay? OKAY?!". Dass das nicht überall dufte ankommt, ist so deutlich ausdefiniert wie Rays Porno-Balken.
"Here's an idea: let's be one of these pairs that fight a lot!" (Jordan)
Ray kommt der "Bedeutung" des Falles langsam auf die Schliche. Sind die drei "entbehrbarsten" Detectives angesetzt worden? Der Mann mit der großen Aura schwebt zwischen Polizei und Frank, der ihm ein Angebot gemacht hat, dass er ausschlagen kann. Vielleicht liegt es an der eigentlich immer Pause-machenden Barsängerin Lera Lynn, die dieses Mal beinahe durchsingt, seltsam. Vielleicht, weil Ray trocken ist?
"I should have been there for you." – "Babe, you can't even be there for yourself." (Antigone & Schwester)
Bliebe da noch Nummer Vier im Bunde. Antigone hat Beziehungsprobleme auf der Arbeit und darf nur noch den State Job machen. Das ist total super, weil man gerade eine total heiße Spur hat, auf der Frank auch ist. Erhält das bisher (bis auf den grundliegenden Mord) eher parallel laufende Geschichten-Dasein eine weitere Berührungsstelle abseits von Ray? Wäre schön.
"Sometimes your worst self is your best self." (Frank)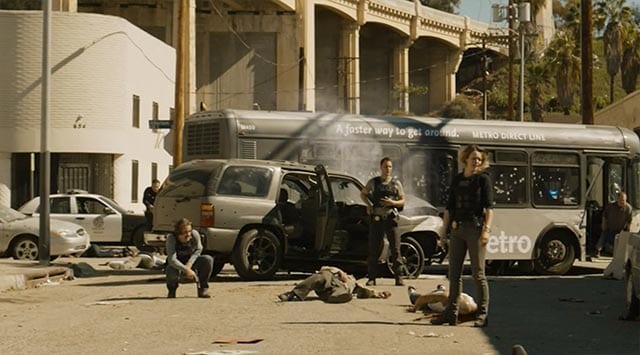 Bei der finalen Schuss-Szene wurden natürlich zielgenau alle unbekannten Charaktere direkt erschossen, als hätten sie signalrote Star Trek-Uniformen angehabt. Der Überraschungseffekt war aber durchaus gut gemacht. Wobei die Meth-Lab-Explosion etwas aus dem Nichts kam. Und okay, den Dicken hat es dann doch noch erwischt. Partner von dem Trio zu sein, ist gerade keine gute Idee… Aber die drei: kein Kratzer. Von seelischen mal abgesehen…

Der Einstieg war mal wieder recht beschwerlich, am Ende kann man wirklich merken, wie sehr auf den Showdown gebaut wurde und vielleicht sogar bewusst ein Kontrastprogramm in der ersten Folgenhälfte gebaut hat. Ein bisschen erinnerte das Setting am Ende an die epische One-Take-Szene aus Season 1. Nur mit mehr Takes und weniger episch. Aber sie dürfte Spuren hinterlassen. Das Trio wird zusammen geschweißt – und hat ja eigentlich nur noch einander. Vielleicht war es gar ein gezielter Hinterhalt, vom Bürgermeister gesteuert, der noch süffisant "Viel Spaß!" gewünscht hatte bei der Abreise? Jedenfalls dürfte es jetzt endgültig losgehen, denke ich. Pünktlich zum Start der zweiten Hälfte. Wird auch Zeit!

-->