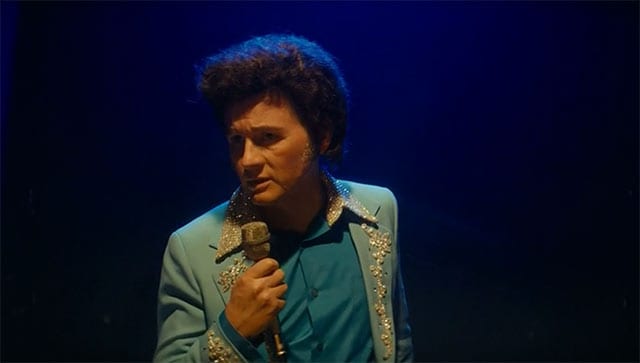 Nein, diese Folge wird musikalisch nicht von den Stereophonics untermalt (leider), sondern steigt ein mit einer Prise Musikantenstadl. Und nein, es ist nicht Leonard Cohen, der dem Intro seine Stimme verleiht. Dafür tritt Papa Ray auf in einer Ort Vorhölle. Oder doch Himmel? Jedenfalls wacht Ray auf. Eigentlich ziemlich bescheuert, hat man uns doch bewusst mit dem zweiten Schuss letzte Woche im Glauben lassen, der Täter wolle ihn tot wissen. Nein, er will ihn nur unbedingt bewusstlos und mit vielen gebrochenen Rippen wissen? Hmpf…
"I haven't exactly been Columbo…." (Ray)
Die "stumpfe Munition" soll aber scheinbar der offensichtliche Wendepunkt in Rays Leben sein. Jetzt werden Kurt Douglas-Filme mit Papi geschaut, nur noch Wasser getrunken und fleißig gearbeitet.
"What's with the water?" – "Booze uses to take the edge away – I want to stay angry." (Frank & Ray)
Gefallen hat mir die Gegenüberstellung der unterschiedlichen Polizei-Gruppierungen, die im Rücken der Protagonisten arbeiten und sie lenken (wollen). Weniger dagegen ein paar Logikfehler oder zumindest Unnötigkeiten im Handlungsablauf. Wieso waren Ray und Antigone bei Ray? Kaum sieht sie seine Modellbau-Flieger, müssen sie wieder an die Arbeit… Dazu die dämliche Sache mit dem Pyromanen. Wieso bleibt der ein paar Meter entfernt am Straßenrand stehen? Und warum schießt Ray nicht auf den Maskenmann? Btw: Weiß ist super unauffällig…
"Fuck, it smells like piss!" (Antigone)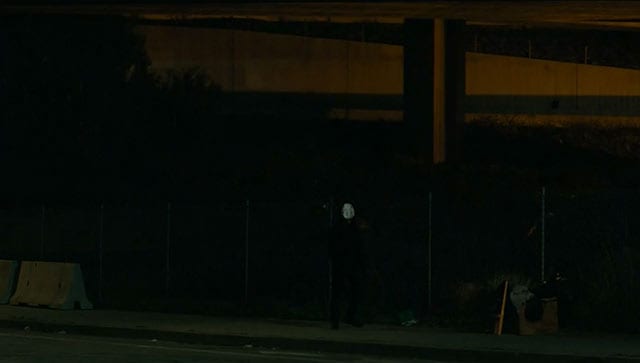 Sehr unterhaltsam war dagegen der Besuch bei der Alleinfeierin mit Augenmedizin und dem leichtbedeckten Akzent-Schwindler vom Bürgermeister. Tolle Charaktere, die zwar an sich Stereotypen verkörpern, aber eben auch nicht billig wirken.
Mehr und mehr gefällt mir auch Vaughn. Ja, da ist immer noch so ein bisschen kindlich-belustigende Naivität in der Habe, aber sein Spiel ist super und eine willkommene Abwechslung zu den ganzen Billig-Comedys in seiner Film-Vita. Als Frank beschafft er Kohle, zum Beispiel, indem er ein paar Goldzähne für den Verkauf bei 123Gold vorbereitet. Irgendwie ist die Folge also auch ein Wendepunkt für Frank, der wieder groß und nicht nur lang sein möchte.
"I take a shit, there's a gun to my head saying 'make it a good one – don't fuck up!" (Frank)
Die Folge hat mir deutlich besser gefallen. Nicht unbedingt, weil die Story irgendwie besser voran gebracht wurde als bislang, sondern eher aufgrund der feiner ausgearbeiteten und verständlicheren Dialoge. Noch immer gab es einige Fehler in der Aufmachung und solche Aktionen wie der Möchtegern-Pumpgun-Todesschuss regen mich eigentlich so sehr auf, dass ich mit der Wertung runter gehen möchte, aber es hat sich zum ersten Mal in der Staffel nicht nach Arbeit angefühlt, die Folge zu schauen. Aber okay, nach 42 Minuten oder so habe ich dann doch geschaut, wie lange noch ist..

Dafür wissen wir nun endgültig, dass die Macher keine Freunde der E-Zigarette sind und dass etwa die Hälfte der Bevölkerung aus "Girls" besteht. Ist doch auch was.

-->