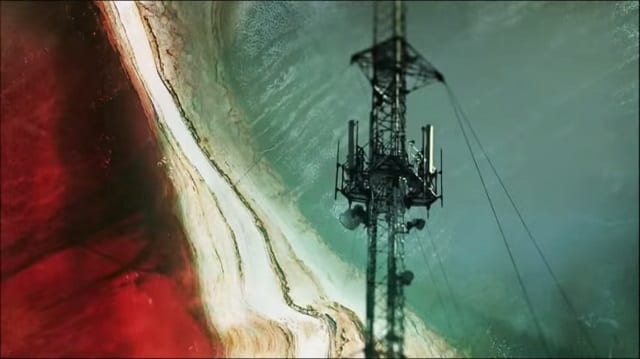 Die Titelsequenz nimmt in einer Serie eine sehr wichtige Stellung ein, kehrt sie doch Folge für Folge wieder und steht stellvertretend für das Gesamtwerk. Die Titelmelodie oder der jeweilige Titelsong etablieren sich im Laufe der Zeit als die ausschlaggebende Verbindung zur Serie und ihren Charakteren. Nachdem die erste Staffel True Detective bereits einen besonders künstlerischen Vorspann hervorbrachte, zog die zweite Staffel mit einer nicht weniger interessanten Eröffnung nach. Eine wunderbare Mischung aus Farben, Formen und Umrissen der Charaktere wird begleitet von Leonard Cohens "Nevermind", dessen tiefe Stimme dem Intro das richtige Maß an düsterer Stimmung gibt.
Doch selbst als aufmerksamem und treuem Zuschauer der zweiten Staffel kann einem ein wirklich überraschendes Detail leicht entgangen sein: Mit jeder neuen Episode ändert sich der Text des Titelsongs um ein paar wenige Sätze. Neben den immer gleichbleibenden Anfangszeilen heißt es beispielsweise im Vorspann der ersten Episode
My woman's here
My children too
Their graves are safe
From ghosts like you

In places deep
With roots entwined
I live the life
I left behind
während der Text an gleicher Stelle in der Eröffnungssequenz der zweiten Folge dieser ist
I could not kill
The way you kill
I could not hate
I tried I failed

You turned me in
At least you tried
You side with them
Whom you despise
In der dritten Episode werden diese Zeilen wiederum durch folgende ersetzt
This was your heart
This swarm of flies
This was once your mouth
This bowl of lies

You serve them well
I'm not surprised
You're of their kin
You're of their kind
Die einzelnen Absätze stammen allesamt aus Leonard Cohens Originalsong "Nevermind" von seinem Album "Popular Problems" von 2014, aus dem der Titelsong der Serie hervorging. Warum aber die veränderte Reihenfolge und das Austauschen der einzelnen Strophen? Möglicherweise geben die Textzeilen Aufschluss über den Inhalt, der den Zuschauer in der folgenden Episode erwartet – ganz implizit natürlich. Es lohnt sich also, genau hinzuhören und zu spekulieren, was Leonard uns da verraten will.
True Detective Season 2 Opening Credits | HBO
Auf Seite 2 findet ihr den Text der weiteren Episoden.
Dieser Beitrag hat mehrere Seiten: