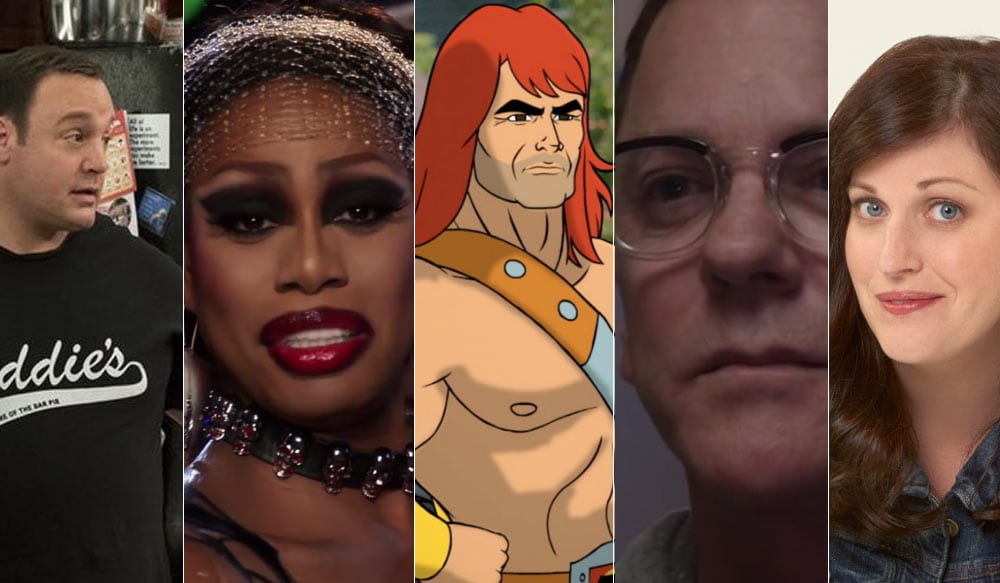 Es ist wieder soweit, die großen US Networks haben sich für ihr Lineup der Seriensaison 2016 / 2017 entschieden und mit Trailern nur so um sich geschmissen. Wie jedes Jahr, haben wir die Teaser, Trailer und First-Look Videos geprüft, bewertet und für euch kategorisiert.
Zunächst starten wir mit unserer High- & Low-Light Einschätzung. Auf den folgenden Seiten erhaltet ihr dann pro Genre (Drama, Comedy & SciFi-Fantasy) den Gesamtüberblick. Als besonderes Bonbon für alle, die kein Geschwafel mögen, haben wir auf der aller letzten Seite alle neuen Serien von A bis Z samt Trailer aufgelistet. Viel Spaß!
Highlights | Lowlights | Nach Genre: Drama – Comedy – SciFi/Fantasy | Alle Serien
Highlights 2016/2017
Wir starten direkt mit den Serien, die den besten Eindruck vermitteln und die ihr auf keinen Fall verpassen dürft:
Son of Zorn (Comedy, FOX)
Comic-Figur trifft auf reale Menschen: Zorn (sieht so aus, heißt aber nicht He-Man) kehrt nach 10 Jahren Kampf um Ruhm und Ehre zurück und möchte sich nun um seinen Sohn kümmern. Keine Ahnung warum, aber der Trailer macht einfach nur Lust nach mehr, endlich mal was anderes.
Designated Survivor (Drama, ABC)
Kiefer Sutherland und Natascha McElhone (Truman Show) als Ehepaar in Designated Survivor: Kiefer wird durch einen Anschlag unfreiwillig Präsident und muss sich der größten Krise des Landes stellen. Klingt abgedroschen, aber Terroristen und Kiefer funktioniert immer.
Making History (Comedy, FOX)
Comedy basierend auf einer Zeitreise? Warum eigentlich nicht: Ein Wissenschaftler ändert mit seiner Zeitmaschine aus Versehen die Geschichte, da er eine Frau in der Vergangenheit beeindrucken und als Freundin gewinnen möchte. Durch die Ereignisse findet die amerikanische Unabhängigkeit nicht statt, welche nun wiederhergestellt werden muss. Die Geschichte ist interessant und der Trailer macht Spaß, kann was werden.
Frequency (Mystery, The CW)
Eine Frau kann mit ihrem eigentlich toten Vater in der Vergangenheit sprechen und so seinen Tod verhindern. Dadurch ändert sich aber auch ihr Leben und es ergeben sich neue Probleme. Quasi die Butterfly-Effect Serie.
Kevin Can Wait (Comedy, CBS)
Kevin James ist zurück: Anstatt sich etwas Neues auszudenken, wird der Erfolgscharakter des Doug Heffernan einfach reanimiert aufgelegt. Aber warum eigentlich nicht? Die ersten Minuten machen Spaß. Kevin isst wie immer zu viel und muss seine Garage, welche er für seinen Ruhestand als Ort des Spaßes auserkoren hat, unfreiwillig für seine verlobte Tochter opfern. Wir erinnern uns: In King of Queens war es Arthur, der in Dougs ausgebauten Keller einzog. Trotzdem – die Zeit ist reif für das Serien-Comeback von Doug äh… Kevin.
Star Trek (SciFi, CBS)
Star Trek kommt zurück ins Fernsehen: Obwohl wir bisher nur etwas CGI mit netter musikalischer Untermalung sehen dürfen, ist es eindeutig ein Highlight der neuen Fernsehsaison.