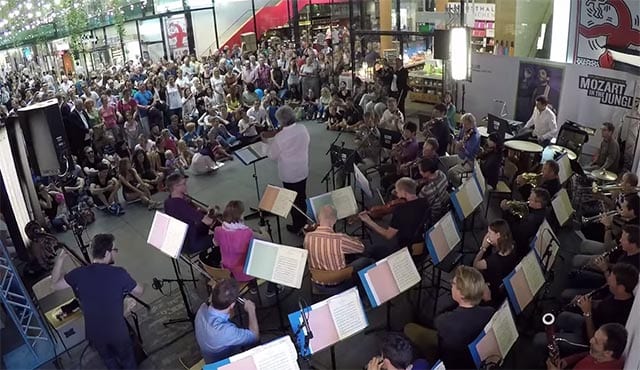 In München am Odeonsplatz gibt es die beliebten Fünf Höfe. Ein Ort viele Passanten und gerne auch mal der ein oder anderen Baustelle. Doch eine wurde jüngst nur zum Vorwand aufgebaut, denn dahinter verbarg sich das dreißig-köpfige Kammerorchester der Münchner Philharmoniker. Als der Baustellenvorhang gelüftet wurde haben die Passanten nicht schlecht gestaunt als plötzlich ein komplettes Orchester den Ton angegeben hat. Im Video sehen wir, wie sich die Musiker auf die Überraschung vorbereitet haben.
Was ich gut finde: das war nicht nur eine kurze Überraschung für die Kameras und fertig. Wenn die alle schon einmal da waren, haben sie auch gleich ein komplettes Konzert gegeben. Eine Stunde lang, mitten in der Münchener Innenstadt – klasse!
Alles, um die neue Amazon Prime-Serie "Mozart In The Jungle" zu bewerben. Die läuft seit 22. Mai dort und es geht auch um die Hintegründe eines Orchesters, nur eben des New York Symphony Orchestras. Lügen, Intrigen und Drama, nur eben mit jeder Menge klassischer Musik. Hier der Trailer zur Serie:
Mozart in the Jungle | Staffel 1 | Offizieller Trailer | Prime Video DE
Die erste Folge kann man sich jetzt sogar direkt online anschauen – kostenlos. Mehr zu den Amazon Originals gibt es – welch Überraschung – bei Amazon zu sehen.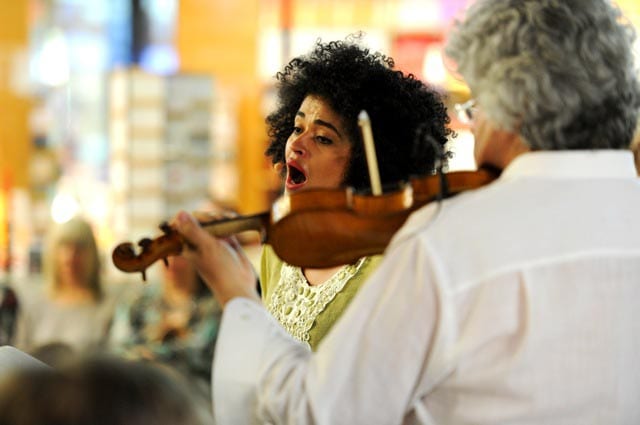 Mit freundlicher Unterstützung von Amazon.