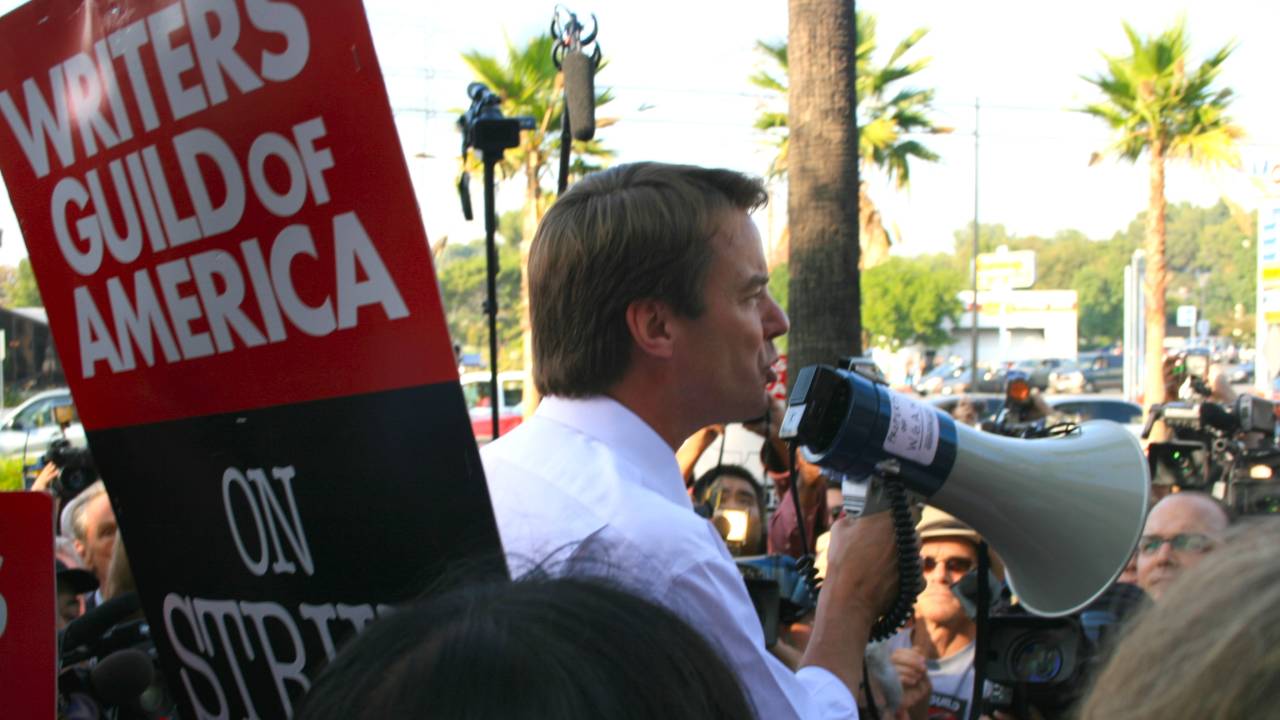 Am 5. November 2007 kam es in der amerikanischen Film- und Fernsehbranche zu einem Aufschrei, als die Writers Guild of America (WGA) sagte: "Wir streiken!". Ein Streik mit fatalen Folgen ‒ wortwörtlich. Denn arbeitslose Autor:innen sorgten für weniger Episoden unserer Lieblingsserien und machten so ihrem Ärger Luft.
Was war passiert?
Alles begann als der am 31. Oktober 2007 auslaufende Tarifvertrag neu verhandelt wurde. Im Kern ging es auch um die Zuständigkeit der Internetvermarktung. Die WGA saß damals als Gewerkschaft mit der Alliance of Motion Picture and Televison Prodcers (AMPTP) an einem Tisch, konnte sich aber nicht einigen. Es kam, wie es kommen musste. 90,3 Prozent der WGA-Mitglieder stimmten in einer Urabstimmung für einen Streik.
Hollywood stand für 100 Tage still
Es wurde ruhig in der Film- und Fernsehlandschaft ‒ zumindest teilweise. Denn einige Serien hatten noch ein paar Drehbücher als Vorrat, konnte also noch einige Wochen weiterproduzieren oder verschoben wie "24" den Staffelbeginn. Andere wurden auf unbestimmte Zeit pausiert oder mussten wie die SciFi-Serie "4400 – Die Rückkehrer" sogar ganz eingestellt werden. Und auch viele TV-Shows wie "Late Night with Conan O'Brien" musste ohne ihre Kreativköpfe auskommen. Hier die erste Folge nach der solidarischen Pause:
Kurioses
Als Gegenmaßnahme zu den stockenden Verhandlungen riefen Seiten wie Pencils2Mediamoguls.com zur kuriosen Aktion auf. Leute konnten dort Bleistifte kaufen und diese einem der sechs größten Medienmoguls ihrer Wahl zuschicken. Die Aktion sollte zum Einlenken der Produktionsfirmen bei den Verhandlungen führen. Ob mit Erfolg, darüber lässt sich streiten. Jedenfalls wurde der Streik am 12. Februar 2008 offiziell beendet.
Pencils Down!: Die Dokumentation zum Hollywood-Streik
Ihr wollt noch mehr über den Autor:innenstreik in Hollywood wissen? Dann liefert auch die YouTube-Doku "Pencils Down! The 100 Days of the Writers Guild Strike" mit einer Mischung aus Filmaufnahmen, Interviews und historischem Filmmaterial aus Hollywood alles Wissenswerte dazu:

-->