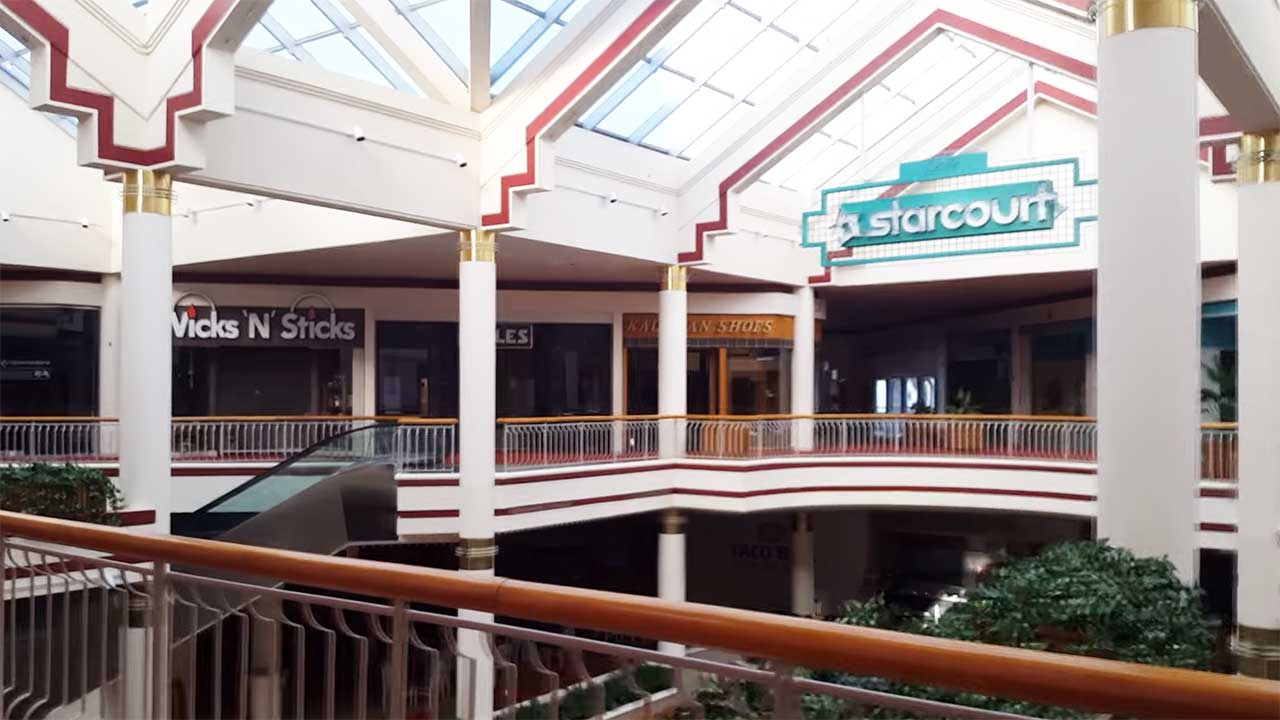 In der vor einigen Wochen auf Netflix angelaufenen dritten Staffel "Stranger Things" (Reviews A und B) wurde das nostalgische 80er-Feeling um eine gigantische Location erweitert: die "Starcourt Mall". Eigentlich heißt diese "Gwinnett Place Mall" und wurde 1984 nahe Atlanta, in Duluth / Georgia, erbaut. Mittlerweile sind die meisten Teile seit Jahren unbenutzt und leer, so dass man einen Bereich für die Dreharbeiten an der Science Fiction-Serie umbauen konnte. Das gelang so detailverliebt und authentisch, dass die Macher überlegt hatten, das größte Set der bisherigen Produktion als Touristen-Attraktion offen zu lassen. Der Gedanke wurde leider verworfen, aber für ein paar Wochen war es Leuten möglich, die Retro-Mall zu betreten. Und Videos darin und davon zu drehen. Und so können wir auch aus dem fernen Deutschland als Gast mit auf eine Reise durch die "Starcourt Mall" gehen.
Zunächst das Besuchsvideo von Ace's Adventures:
"My exclusive tour of the Gwinnett Place Mall in Duluth, Ga, featuring a tour of the stranger things season 3 80s food court and mall set!"
Hier noch ein Video von Erika NekoArc, die das zweite Stockwerk der Mall durchstreift hat:
"At long last, here's the 2nd floor from the Starcourt Mall set from Stranger things!"
Und einen Behind the Scenes-Podcast zu den Umbauarbeiten der Mall gibt es auch noch (Direktlink, sollte die eingebettete Version nicht angezeigt werden):
"It's summer 1985 and Starcourt Mall just opened its air conditioned doors. In this episode, you'll find out how the Stranger Things crew renovated a dilapidated mall, restoring it to its 1980's glory. But don't be fooled by the shiny new Orange Julius and Sam Goody, this mall is hiding some major secrets."
Das ist schon ziemlich beeindruckend, wie viel Aufwand in die Inszenierung dieser Location gesteckt worden ist. Alleine, dass die 40 Läden auch komplett ausgestattet worden sind, damit man in allen Shots automatisch ein authentisches Bild hat. Mal ganz davon abgesehen, dass so ein absoluter Treffpunkt auch mit etlichen Statisten zum Leben erweckt werden muss, die authentisch gekleidet und gestylt sein müssen. Das Vorhaben ist meiner Meinung nach verdammt gut gelungen.
Uns sorry, aber in dem Zuge muss ich natürlich den absoluten "How I Met Your Mother"-Banger abschließend raushauen, der ja auch in einer recht ähnlichen Zeit gespielt haben dürfte: "Let's Go To The Mall! (To-day…)".
via: blogbuzzter