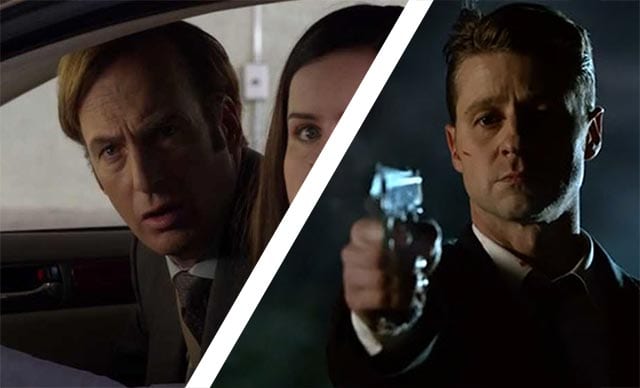 Zwei nicht wirklich überraschende aber doch erfreuliche Verlängerungen wurden jüngst bekannt gegeben. Sowohl der "Breaking Bad"-Ableger "Better Call Saul" als auch das DC-Format "Gotham" werden jeweils in eine dritte Staffel gehen. Das berichten Deadline und Entertainment Weekly.
Better Call Saul verlängert
Zehn neue Episoden hat AMC für BCS geordert, erneut werden Vince Gilligan und Peter Gould dabei sein.
"What Vince, Peter, Bob and the entire team have accomplished with Better Call Saul is truly rare and remarkable. They have taken one of the most iconic, immersive and fan-obsessive (in the best possible way) shows in television history and created a prequel that stands on its own." (AMC Präsident Charlie Collier)
Alles andere wäre auch eine Überraschung gewesen, immerhin stimmen die Quoten noch immer und gerade ziehen die Episoden auch merklich an, was die Dramaturgie in Season 2 angeht. Und bei einem solchem Prequel muss es ja eigentlich irgendwann den "Connect-Moment" geben, der an das Original anschließt – alles andere wäre eine Enttäuschung.
Gotham verlängert
Auf einem etwas anderen Level spielt "Gotham" da sicherlich, aber mittlerweile hat sich das Format um Detective Jim Gordon tatsächlich etablieren können.
"For the past two seasons, Bruno [Heller], Danny [Cannon] and John [Stephens] have masterfully honored the mythology of Gotham and brought it to life with depth, emotion and memorable high drama. This incredibly talented cast has redefined these iconic characters for a new generation, and we couldn't be more proud of this show." (Fox Entertainment Präsident David Madden)
Auch hier wurde inmitten von Staffel 2 verlängert, was sicherlich auch an den guten Quoten und der beständigen Entwicklung des Formats liegen dürfte. Teils wirkt sie erstaunlich komplex und gut strukturiert, da gibt es gerade figuren-technisch noch massenhaft Potenzial, auf das wir uns freuen dürfen.

Bilder: AMC / FOX

-->