Extrem jazzig geht's los mit der siebten Episode von Agents of S.H.I.E.L.D. In der zweiten Staffel stehen die mysteriösen Zeichnungen im Mittelpunkt, die nicht nur Coulson ständig zeichnen muss, sondern die auch an vielen anderen Stellen immer wieder auftauchen. Diesmal sehen wir wieder Coulson, der mit einem Messer seine Bürowand verschönert, mit Strichen und Kreisen. Dazu läuft das jazzige Blue Jays Dancing von Bill Gordon – natürlich schön auf Vinyl. Normaler Bürotag, oder?
Marvel's Agents of S.H.I.E.L.D. Season 2, Ep. 7 - Clip 2
Parallel ist Sebastian Derik unterwegs und zeigt einer Kunstlehrerin seine Tätowierungen – er ist übersät mit eben diesen außerirdischen Zeichnungen. Später erfahren wir, dass die Kunstlehrerin das Aufeinandertreffen mit Derik nicht überlebt hat – dafür trägt sie jetzt auch die außerirdischen Verzierungen am Körper, allerdings hat Derik offensichtlich weniger akurat gearbeitet als der Tätowierer vorher bei ihm. Autsch!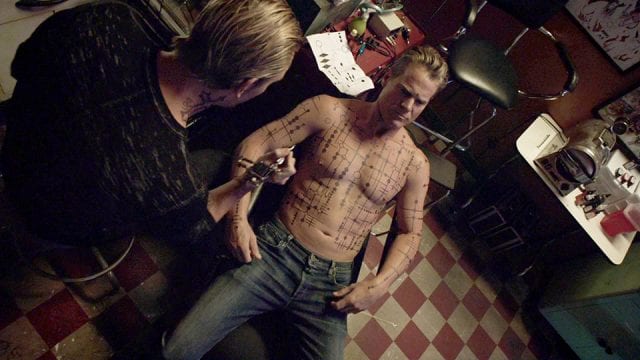 Coulson begibt sich in die Memory Machine, um sich an das T.A.H.I.T.I.-Projekt zu erinnern. Er trifft in Gedanken viele Ex-Patienten des Projektes, deren Namen er Skye nach und nach diktiert. Coulson und sein Team jagen daraufhin alle diese Ex-Patienten, bis sie bei Ex-Agent Hank Thompson auf Derik treffen. Es kommt zu einem kurzen Techtelmechtel zwischen den Dreien, ehe Coulson in Sachen Außerirdische Zeichnungen ein Licht aufgeht: Er entdeckt, dass Hank Thompson – wohl unbewusst – auch mit den Symbole arbeitet, er hat sie aber nicht gezeichnet, sondern ein Modell gebaut. Als Coulson das Modell von oben betrachtet, wird ihm klar: Bei den Zeichnungen handelt es sich um einen Stadtplan.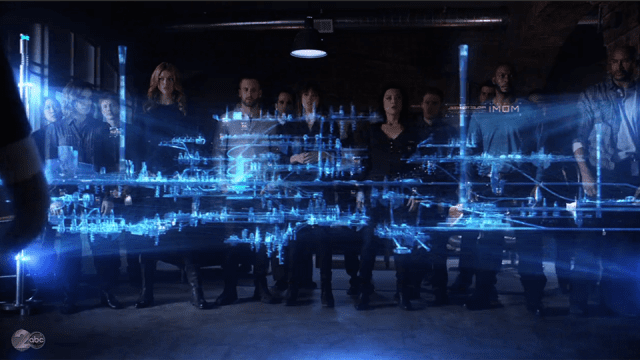 Auch Ward hat seine Musikerfahrung in dieser Folge: Er macht sich in einem Hotelzimmer erstmal fein, hört ein wenig Bill Withers – natürlich den passenden Titel "Who is he? (And what is he to you)". Nach einem Schnitt sehen wir Skye, die auf ihrem MP3-Player den gleichen Song hört – tolle Idee, natürlich vor allem dank der Metaebene mit Blick auf den Song(titel). Ward trifft sich mit Bakshi von Hydra und sagt ihm, dass er Whitehall treffen möchte. Dann überwältigt er allerdings alle Hydra-Agents und sperrt Bakshi in ein Hinterzimmer einer Kneipe – May & Co finden ihn und nehmen ihn gefangen.
Eine weitere solide Folge – bis jetzt macht die zweite Staffel richtig Spaß, was nicht nur an den immer wieder versteckte Witzen und Andeutungen liegt, sondern auch an den gut inszenierten Folgen und der durchgehenden Außerirdischen-Story – anders als in Staffel 1, als S.H.I.E.L.D. ja vor allem noch von Folge zu Folge jeweils einen Fall lösen musste.