Vinyl bekommt bei Musikfans wieder einen immer größeren Stellenwert. Die Schallplatte ist wieder im Kommen, und in einigen Serien sind Vinylregale und Plattenspieler mehr als bloße Accessoires. Wir haben einmal interessante Beispiele aus Serien zusammengesucht.
Suits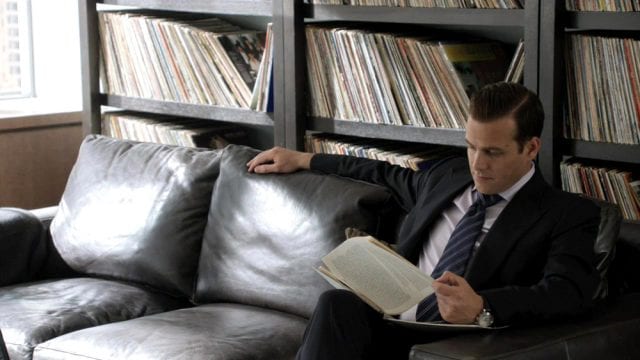 Wenn man darüber nachdenkt, fällt einem natürlich sofort Suits ein. Harvey Specter hat zwei Leidenschaften abseits der Arbeit: Basketball und Schallplatten. Eine der vier Wände in seinem Büro ist komplett gefüllt mit Schallplatten, schräg gegenüber steht einer seiner Plattenspieler, ein stylisher Pro-Ject RPM 1.3 Genie. Der sieht nicht nur gut aus, sondern macht auch einen guten Klang (bei mir Zuhause steht auch ein Pro-Ject… :-)…). Außerdem ist noch ein VPI Aries in seinem Besitz. Die Schallplatten spielen immer mal eine Rolle in der Serie – wenn Harvey eine Auszeit benötigt oder Zeit zum Nachdenken, legt er gerne eine Platte auf seinen Dreher. Gabriel Macht, der Harvey Specter spielt, beschreibt die Vinylleidenschaft gegenüber Entertainment Weekly so:
He's a jazz man and a blues man, those are his staples. But he's got so many records there, he must listen to everything … His vast knowledge of obscure music marries well with his mental library of obscure facts.
Hier gibt's eine Liste der Platten, die sich im Rahmen der Serie auf Harveys Plattenteller gedreht haben. Dort gibt's auch Playlists zu Soundcloud und Spotify mit allen Musikstücken, die sonst noch so in den einzelnen Staffeln zu hören sind.
Marvel Agents of S.H.I.E.L.D.
Extrem jazzig geht's los mit der siebten Episode der zweiten Staffel von Agents of S.H.I.E.L.D. In dieser Staffel stehen die mysteriösen Zeichnungen im Mittelpunkt, die nicht nur S.H.I.E.L.D.-Director Coulson ständig zeichnen muss, sondern die auch an vielen anderen Stellen immer wieder auftauchen. Diesmal sehen wir wieder Coulson, der mit einem Messer seine Bürowand verschönert, mit Strichen und Kreisen. Dazu läuft das jazzige Blue Jays Dancing von Bill Gordon – natürlich schön auf Vinyl. Normaler Bürotag, oder?

Marvel's Agents of S.H.I.E.L.D. Season 2, Ep. 7 - Clip 2

Naja, auf jeden Fall schön, das gute alte Vinyl mal in einer Science Fiction-Serie zu sehen. Und es geht noch weiter: Auch Ex-Agent Ward hat seine Musikerfahrung in dieser Folge: Er macht sich in einem Hotelzimmer erstmal fein, hört ein wenig Bill Withers – natürlich den passenden Titel "Who is he? (And what is he to you)". Denn man weiß aktuell nicht: Ist er noch S.H.I.E.L.D.-Sympathisant, gehört er zu Hydra oder spielt er sein eigenes Spiel. Auch schön: Nach einem Schnitt sehen wir Agent Skye, die auf ihrem MP3-Player den gleichen Song hört – tolle Idee, natürlich vor allem dank der Metaebene mit Blick auf den Song(titel).

Dieser Beitrag hat mehrere Seiten:

-->