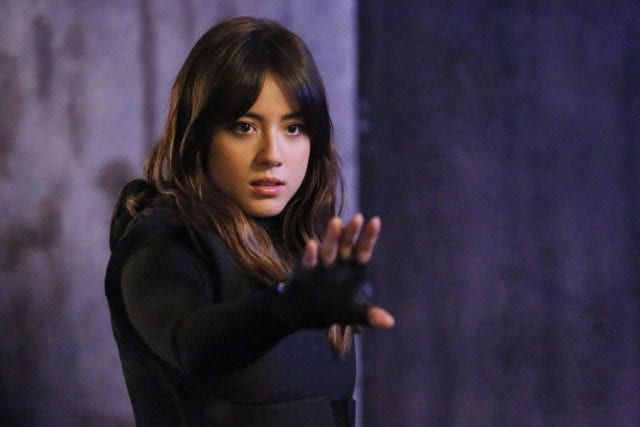 Na, da kam doch tatsächlich so etwas wie sentimentale Stimmung auf bei den Agents of S.H.I.E.L.D.: Die alte Familie geht wieder auf gemeinsame Mission. Mit dabei sind Coulson, May, Simmons, Fitz, Skye und Ward. Das war schon ein großer Moment, als die Sechs zusammenstanden, um den nächsten Einsatz gegen Hydra zu besprechen. Alle misstrauen Ward, einige misstrauen Coulson, andere misstrauen Skye. Ward spürt das und ergreift das Wort: Das Schlimmste sei nicht gewesen, sich gegen S.H.I.E.L.D. gestellt zu haben oder so viele Agents getötet zu haben, sondern dass er die Familie zerstört hat – das bereue er zutiefst. Kurze Pause – die Skye mit einem trockenen Spruch auflöst:
Ich hätte ihm eine Kugel in den Kopf verpassen sollen.
Sehen einige andere auch so – dennoch sind sie auf Ward angewiesen, zumindest in dieser Mission. Die fällt dann auch recht actionreich aus. Peterson und Lincoln werden gerettet, Simmons versucht Ward auszuschalten, doch Bakshi wirft sich dazwischen – was gleichzeitig sein Ende bedeutet. Ganz großartig fand ich die Kampfszene von Skye im Hydra-Stützpunkt, die absolut bemerkenswert inszeniert worden ist. Denn nachdem die Folge bis dato relativ konventionell inszeniert wurde, wechselt ab hier die Darstellung in eine Art Ego-Shooter-Modus, ungeschnitten, in einer Sequenz. Skyes Kampfeinsatz ist optisch mit einem hohen Gaming-Faktor versehen – sieht absolut klasse aus.
Sehr gut gefallen hat mir auch das Aufeinandertreffen von Coulson und Gonzales. Coulson übergibt Gonzales den Würfel, überlässt ihn ihm aber nur so lange, bis deren gemeinsamer Chef zurückkehrt: Director Fury. Großartig, der überraschte Blick von Gonzales nach dieser Ansage – und sehr cool Coulsons Reaktion:
Huch, Spoiler-Alarm!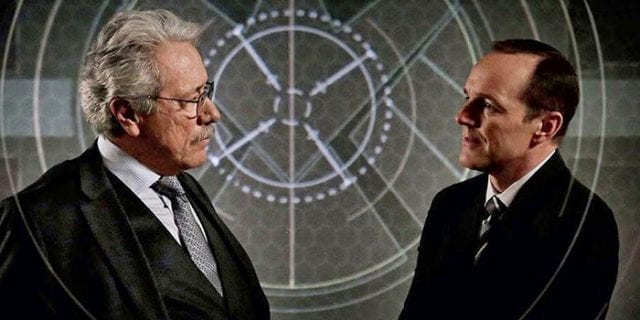 Anschließend telefoniert Coulson mit Maria Hill, die damit in die Serie eingeführt wird. Coulson lästert ein Weilchen über Gonzales ("Stellen Sie sich vor, sie lassen über alles abstimmen!"), ehe er sagt, dass die Hydrabasis jetzt ein Fall für die Avengers sei. Damit schließt die Serie an den Anfang des Films "Avengers: Age of Ultron" an.
Insgesamt wieder eine sehr gute Folge mit einer wie gesagt absolut tollen Inszenierungsidee im Mittelteil. Jetzt kann das Staffelfinale kommen.