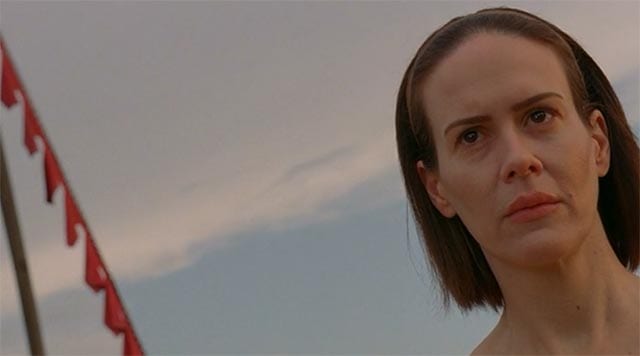 Ich liebe es ja immer, wenn eine neue Staffel von American Horror Story beginnt. War ich nach der ersten Staffel noch der Meinung, die Serie sei ganz okay, aber eben nicht bahnbrechend, hat sie mich mit Staffel 2 zumindest etwas mehr gehabt: jedes Jahr eine neue Grundstory, viele der Schauspieler bleiben jedoch erhalten. So macht es Spaß zu sehen, wer in welcher neuen Rolle wie agiert. Und die kompletten Szenerie- und Zeitwechsel bringen stets neue Würze rein.
"I new, I was about to enter the gates of hell." (Dot)
Zunächst zum Setting: Florida, 1952. Zeiten, in denen es noch Milchmänner gibt, die einem das weiße Gold vor die Tür stellen. Und mit einem Nudelholz bewaffnet für deine Ehre kämpfen! Früher war eben doch alles besser. Nur die Clowns waren irgendwie etwas… gruseliger.
"You're not allowed to smoke in here…" – "It's fine, it's Lucky Strike, it's good for you!" (Penny & Elsa Mars)
Es gibt aber natürlich auch Neuzugänge im Cast der "Freak Show". Bekannt für uns ist bspw. Grace Gummer aus Extant (Julie). Jessica Lange darf natürlich nicht fehlen, dieses Mal als Freak-Rekrutiererin mit deutschen Wurzeln. "Fräulein Elsa" hat ihre altbekannten Freunde (und Feinde) parat: Evan Peters als Edward mit den Glücklichmach-Händen aka. Lobster Boy, Kathy Bates mit erschreckendem Bartwuchs und Sarah Paulson, die gerne Doppelkopf spielt. Auch so eine Rolle, bei der man beim Script-Lesen wohl schon "EMMY!!11" denkt. Jedenfalls dürfte es interessant werden, wie sie weiterhin die Doppelrolle spielt, die zudem auch filmtechnisch sicherlich nicht die einfachste Aufgabe am Set sein dürfte.
Dafür ergeben sich kreative Möglichkeiten, wie der interessante Kniff, dass man beide Sichtweisen der siamesischen Zwillinge Dot und Bette gleichzeitig via Splitscreen einsehen kann. Und man kann eben auch wunderbar inhaltlich mit den Gegensätzen spielen und einen Rahmen schaffen, der sich selbstironisch konträr aufzugreifen weiß.
"The furure has never seen brighter." (Bette)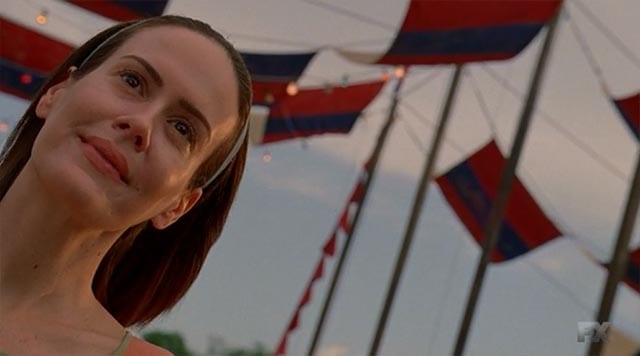 Ich hätte an der Szene übrigens Schluss gemacht, das wäre eine runde Sache gewesen. So gab es eine weitere gefühlte halbe Folge on top, die den Staffelauftakt doch hat etwas zäh werden lassen.

Dennoch war es ein solider Auftakt. Kein sensationeller, aber meist waren die ersten Folgen der Staffeln ja den Figuren-Vorstellungen vorbehalten. Alles wirkt also noch etwas wüst und wirr zusammen gewürfelt. Dennoch zeigt sich zumindest etwas Potenzial in den Figuren, vor allem bei Twisty, dem euphorisch-freundlichen Clown. Dazu bekommen wir das erste Intro in Farbe und das bislang am wenigsten verstörende zu sehen. Ich habe nur etwas Angst, dass die Serie von den ursprünglichen Horror-Atmosphäre-Wurzeln zu tief in diese Freak-Darstellungen abdriftet. Nur Splatter und kuriose Gestalten langweilen auf Dauer.Wir spielen einfach mal Bette und freuen uns darauf, was die nächsten Akte der Show zu bieten haben.

-->