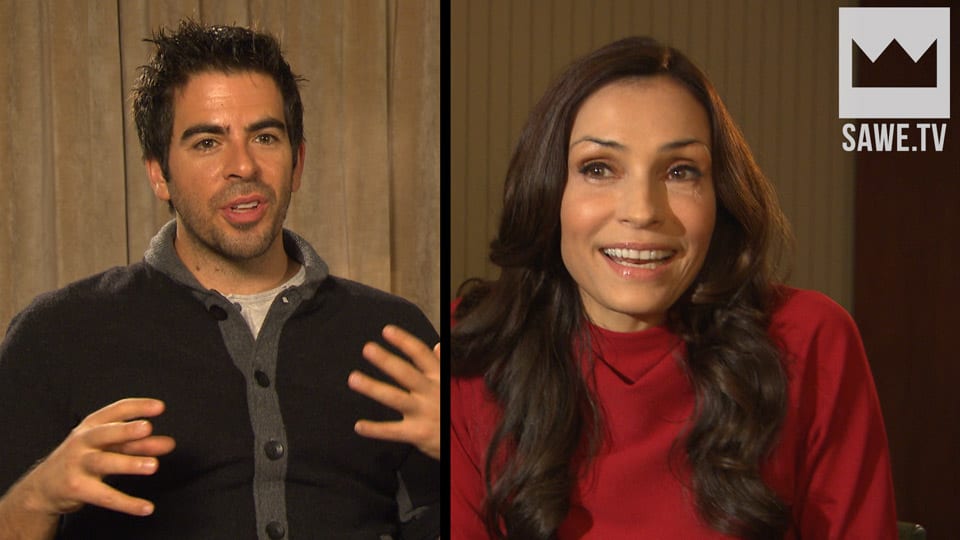 Im Zuge des Netflix-Starts in Deutschland hatte ich für euch nicht nur die Stars von Orange Is The New Black und From Dusk Till Dawn vor der Kamera, auch Eli Roth und Famke Janssen haben mir Rede und Antwort gestanden. Beide waren vor Ort, um ihre Serie Hemlock Grove zu promoten.
Eli & Famke
Eli stand bei den Inglorious Basterds vor der Kamera, ansonsten ist er aber für seine Regiearbeit an Horror-Filmen wie Hostel oder Cabine Fever bekannt. Für Netflix hat er nun die Kinowelt verlassen und für die Mystery-Horror Serie Hemlock Grove Regie geführt. Famke Janssen kann man unverblümt die Allzweckwaffe Hollywoods nennen, denn sie hat fast alles gespielt, was man so spielen kann. Sie war Bond Girl in GoldenEye, in fast allen X-Men Teilen zu sehen, sogar in einer Folge Star Trek TNG dabei und hat einen für mich in positiver Erinnerung gebliebenen Staffel-Auftritt in Nip Tuck gehabt.
Das Interview
Ihr ahnt, wie viel geballtes Filmwissen dort vor mir saß. Insofern ist das Interview auch für diejenigen spannend, die Hemlock Grove vielleicht nicht kennen. In den folgenden 10 Minuten geht es unter anderem darum, ob es anders ist, eine Netflix-Serie zu kreieren im Vergleich zum klassischen Fernsehen und ob beide auch dem Trend des "Binge-Watching" (Serien am Stück schauen) verfallen sind – neben vielen weiteren kleinen Anekdoten und natürlich der Serie Hemlock Grove. Zwei interessante Randnotizen, der Name Twin-Peaks fällt nicht nur einmal und Eli versucht (glaube ich) Rumpelstilzchen zu sagen, klingt sehr komisch und lustig.
"With traditional television people are very dependent on ratings and they have to write for commercial breaks – and a lot of the times you're waiting for a story to evolve and it never gets there."
Am Ende der zwei Videositzungen mit den beiden Stars habe ich wie auch bei den anderen Interviews um ein Foto gebeten. Leider ist das mit Eli nichts geworden und Famke fragte ihre Aufnahmeleiterin, ob ich das dürfte, die es leider ablehnte, der einzige Wermutstropfen der zwei tollen Interviews.
Hemlock Grove
Hemlock Grove ist eine sehr bildgewaltige Mystery Serie mit bekannten Gesichtern wie Aaron Douglas aus Battlestar Galactica (der Chief) oder eben Famke Janssen. Worum geht es in der Serie? In einem kleinen abgelegenem Ort wird eine 17jährige Schülerin ermordet. In den Fokus der Verdächtigen rücken zwei junge Männer, die besondere Eigenschaften haben. Bisher sind zwei Staffeln veröffentlicht worden und eine dritte, aber auch die letzte, wurde von Netflix gerade bestellt. Hier der Trailer zur Serie: