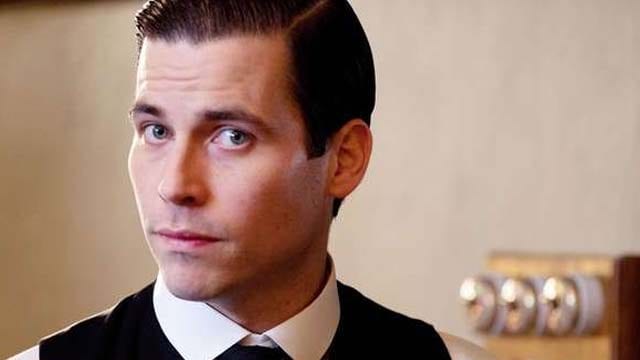 Nun ist sie da, die Woche an dessen Ende die finale Staffel von "Downton Abbey" bei ITV beginnen wird. Die Fans in der ganzen Welt werden für acht Folgen und eine abschließende Weihnachtsfolge den Atem anhalten und die Daumen drücken, dass es mit ihrem Liebling am Ende gut ausgehen wird. Man weiß ja, dass zum Ende einer Serie immer mal wieder der sprichwörtliche Hammer ausgepackt wird. Tabula rasa. Ohne Rücksicht auf Verluste. Und in den meisten Fällen spielen die Drehbuchautoren bis zur letzten Szene mit den Gefühlen der Zuschauer. Und so soll es ja auch sein.
In den letzten Tagen konnte man in der englischsprachigen Presse hier und da Interviews und Statements nachlesen, die sich alle mit den Gerüchten und Vermutungen rund um das Ende von Downton Abbey beschäftigen. Eine der spannendsten finalen Geschichten könnte Thomas, der Butler, spielen. Wie Robert James-Colier, der diese Figur seit dem Serienstart verkörpert, in einem Interview durchblicken ließ, hat Julian Fellows (Autor der Serie) etwas ganz besonderes mit Thomas im Serienfinale vor.
"Well, Julian said to me at the read-through, 'I hope you're prepared to be the tragic hero', so that could mean anything, couldn't it?" (Robert James-Colier)
Man munkelt nun, dass es die Serienfigur Thomas nicht bis zur letzten Szene, bis zur letzten Minute der international so erfolgreichen Serie schaffen könnte. Wird Thomas den Serientod sterben? Wird er gar umgebracht? Und wenn ja, in welchem Zusammenhang? Wir werden es wohl erst im Dezember erfahren.
Ich selber werde die finale Staffel im Übrigen erst mal nur für mich aufnehmen und nicht sofort schauen, da ich noch eine Staffel aufzuholen habe. Von daher wird es eine komplizierte Zeit werden, dieser Herbst. Spoilerauge sei wachsam. Wobei ich schon vorhabe bis zum Dezember auf dem Stand der Ausstrahlung zu sein. Schauen wir mal.
Für welche Charaktere der Serie drückt Ihr die Daumen? Was wäre für Euch und Eure Serienfigur die erfreulichste letzte Szene? Wo seht Ihr Euren Liebling am Ende der Serie?
Foto: ITV