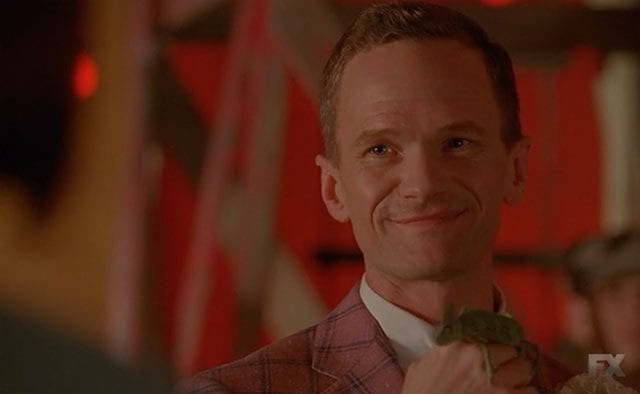 Was für eine Überraschung im neuen Jahr. Beim Erscheinen der Castnamen musste ich tatsächlich zwei Mal hinschauen. Aber ja, da stand "Guest Starring – Neil Patrick Harris"! Als Kaufmann Chester, der Chamäleons vertreibt und eine etwas verdrehte Sichtweise (sprich: Psyche) hat, kommt er gar die letzten drei Folgen der Staffel daher. Und mit seiner Puppe Margerie sowie Kopfschmerzen beim Gedanken an einen Dreier.
Dabei startet das Freak-Jahr zunächst mit dem schlimmsten Horrormonster überhaupt: vermeintliche Überzeugung zur Rettung aus reinem Selbstzweck. Oder auch: wie die Krabbe ihre Zangen verlor. Strongman gibt Einblicke in eine gar nicht leichte Kindheit inmitten einer Freak-Familie.
"Imagine that – being a freak for being normal." (Jimmy)
Und macht sich mit Strongwoman auf, Jimmy zu retten. Die beiden zeigen keinerlei Scheu vor Gewalt gegen Beamte.
"You got shot!" – "Yeah, it hurts like hell…" – "Good." (Amazona & Strongman)
Bette und Dot sind das erste Mal gemeinsam glücklich. Das Ende der Tagebücher, dabei würde sich mit dem magischen Chester endlich etwas Positives zum Eintragen finden. Doch Puppe Margery (gespielt übrigens von Jamie Brewer; Nachbarskind in Staffel 1, Hexe in Staffel 3) wird eifersüchtig. So denkt zumindest Chester, der sich selbst den Auftrag gibt, die Zwillinge zu töten.
"We don't wanna be sawed in half." – "Not anymore." (Dot & Bette)
Hinzu kommt, dass Dandy eifersüchtig auf Chester ist und auch noch mitreden möchte.
"What a sicko! Tell me, how did they die?" (Dandy)
Eine seltsame Folge. Eigentlich ist nicht wenig passiert, fast alle Figuren waren beteiligt und dazu noch der freudige und überzeugend gespielte Gastauftritt von NPH. Dennoch hat sich die Episode sehr zäh und lang angefühlt. Richtige Regungen kommen selbst beim finalen Gerechtigkeitsakt durch Elsa nicht auf. Man ist einfach nicht derart mit den meisten Charakteren verbunden, dass Emotionen aufkommen. Und Horror ist es ja seit Langem nicht mehr. Vielleicht bringt sich aber jetzt alles in Position, so dass wir wenigstens ein furioses Finale miterleben können. Das Wettbüro ist eröffnet, wer alles das Ende der Staffel miterlebt und wer nicht.

-->