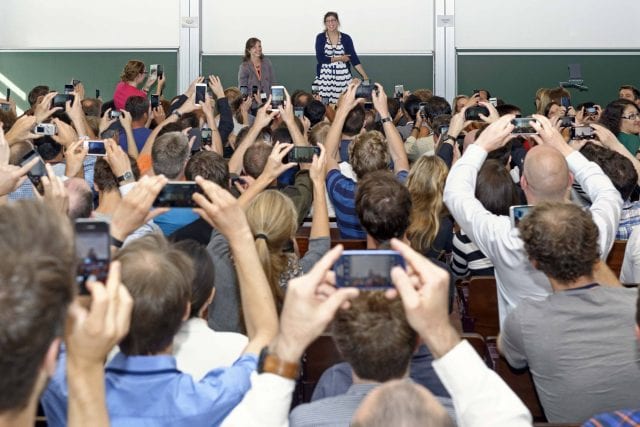 Dr. Amy Farrah Fowler alias Dr. Mayim Bialik zu Gast in Aachen. (Foto: Peter Winandy / RWTH Aachen)
Überraschender Besuch für viele Studierende an der RWTH Aachen – Dr. Amy Farrah Fowler alias Dr. Mayim Bialik stand plötzlich vor ihnen und hielt eine Vorlesung. Der Star aus The Big Bang Theory hielt einen Vortrag zu jenem Fachbereich, für den sowohl sie als auch ihr Alter Ego aus der Serie einen Doktortitel hat: Neurowissenschaften.
Ganz so wissenschaftlich dürfte es dann aber doch nicht zugegangen sein: Sie war im Rahmen der Fachkonferenz ECCOMAS Young Investigators Conference (YIC 2015) in Aachen zu Gast, einer europäischen Konferenz zum Thema Simulationstechnik und angewandte Mathematik, die sich speziell an Doktoranden und PostDocs richtet.
https://twitter.com/RWTH/status/624492076248510464/photo/1
Gegen kurz nach acht Uhr betrat die Schauspielerin den Hörsaal und nahm sich rund eine halbe Stunde Zeit, um Autogramm- und Fotowünsche zu erfüllen. Die Neurowissenschaftlerin soll den rund 250 Besuchern äußerst unterhaltsam berichtet haben, wie sie von der Wissenschaft zur Schauspielerei kam und wie es ist, zwischen beiden Welten zu wandeln. Aus ihrer Zeit an der UCLA in Kalifornien kenne sie die typischen Nerds, die in der Serie gezeigt werden.
Rund um den Vortrag nahm sich Bialik übrigens Zeit, die Gegend zu erkunden – und machte da durchaus interessante Entdeckungen, wie sie auf ihren Social Media-Profilen und bei kveller.com schreibt. Sie sei noch nie in Deutschland und den Niederlanden gewesen, aus komplizierten und persönlichen Gründen. Es sei aber großartig gewesen: Sie habe sehr gut gegessen, beeindruckende Kirchen und viele Blumen gesehen – soweit voll im Klischee-Programm unterwegs – und tolle Menschen getroffen, was sie zu einer kleinen Anekdote zu ihrer Heimatstadt L.A. verleitete:
It was lovely. The people were lovely. There was delicious food to eat on every side of the border. The tomatoes were stellar, no joke. The churches had more stained glass than I've ever seen in my life. Flowers everywhere. And people dress much more conservatively there, so I will add with a smile that I did not see the butt cheeks of anyone for the three days I was away, whereas in Los Angeles at this time of year, I am basically looking at the butt cheeks of every other person I interact with in the supermarket or while trying to get gas for my car.
Sie habe auf dem Flug nach Deutschland zwar ihre Kinder vermisst, aber trans-atlantische Flüge ohne Kinder seien millionenfach einfacher zu organisieren.
It was honestly a piece of cake to fly 10 hours to Germany.
Auch zur Sprache äußerte sie sich. Sie sei etwas verwundert gewesen, dass man in den Niederlanden kein Deutsch spricht. Sie selbst spricht zwar auch kein Deutsch, kann aber Zusammenhänge darüber herleiten, dass sie unter anderem mit Jiddisch aufgewachsen sei. Zum Schluss hätte sie Angst gehabt, Dankeschön zu sagen, weil sie nicht ausgelacht werden wollte. Auch das jiddische "A shaynem dank!" hätte sie sich dann nicht getraut. Erst ihren Reisebericht auf kveller.com schloss sie dann mit eben diesen Worten. Ihren Beitrag auf kveller.com empfehle ich definitiv als Lektüre – sehr unterhaltsam und sehr symphatisch.

-->