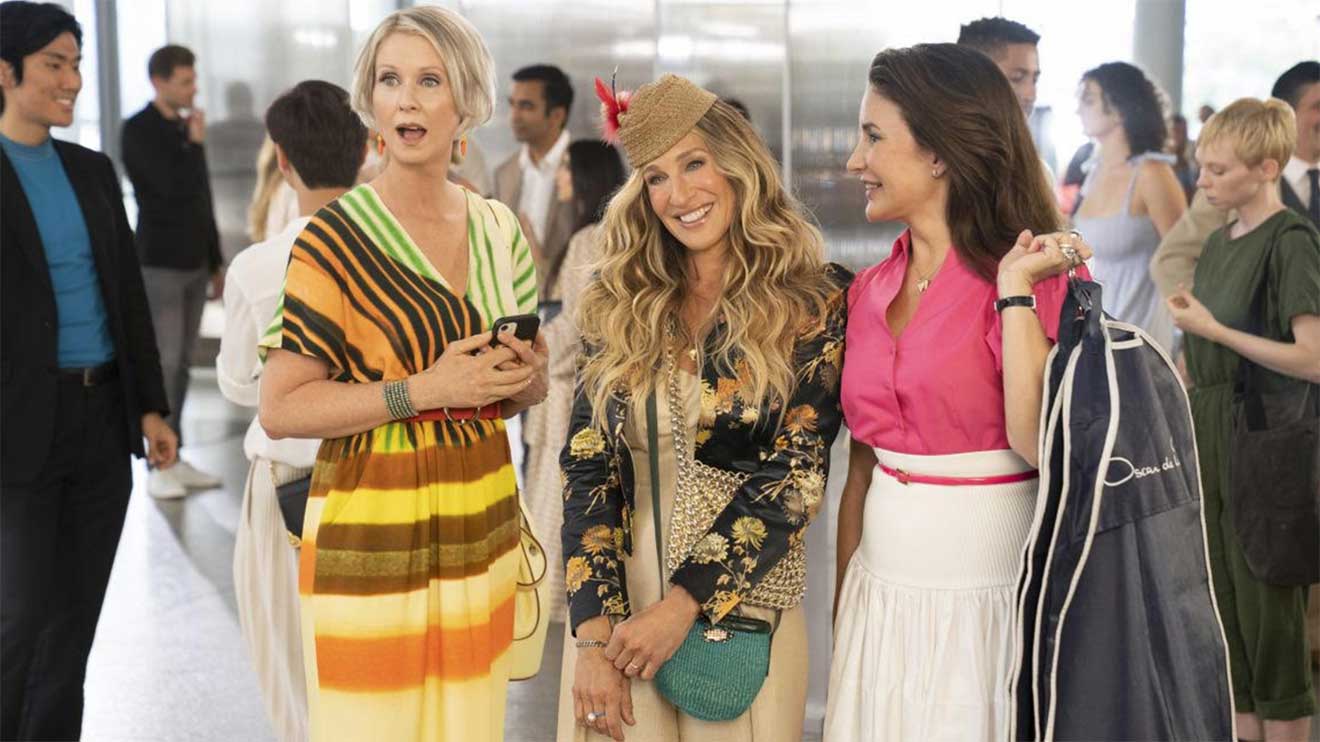 Am 9. Dezember 2021 ging die neue "Sex and the City"-Serie "And Just Like That…" an den Start. Hier hatten wir einige Informationen zum Format sowie den Teaser zum gleichzeiten Start auf Sky für euch gepostet. Dort war die Serie bislang in Deutschland exklusiv zu sehen. Ab September wird dann aber auch das größere Publikum in den Genuss der neuen Folgen gelangen, aber dann wird die erste Staffel nämlich im Free-TV laufen. Wobei, "Genuss" ja so eine Sache ist, dümpelt die Serie doch aktuell auf IMDb mit einer Gesamtbewertung von gerademal 5,6 Sternen und Episodenrankings daher, die knapp über eher durchschnittlichen drei Kronen hier bei uns liegen… Das hat aber wohl gereicht, wurde die im Februar abgelaufene und eigentlich als Miniserie geplante Produktion doch kurz darauf offiziell um eine zweite Staffel verlängert. Aber das ist Zukunftsmusik.
20 Jahre nach "Sex and the City"
Sarah Jessica Parker, Kristin Davis und Cynthia Nixon sind jedenfalls wieder in ihren kultigen Hauptrollen unterwegs. Zehn Folgen wurden unter Regisseur, Executive Producer und Drehbuchautor Michael Patrick King geschaffen, die die Geschichte der Damen in einem späteren Abschnitt ihres Lebens weiter erzählen.
"Die Serie begleitet Carrie, Miranda und Charlotte auf ihrem Weg von der Realität des Lebens und der Freundschaft in ihren 30ern zu der noch komplizierteren Realität des Lebens und der Freundschaft in ihren 50ern."
Die erste Staffel von "And Just Like That…" wird ab Dienstag, dem 13. September 2022, hier in Deutschland Free-TV-Premiere bei VOX feiern. Wöchentlich wird es dann eine Doppelfolge der Serie zu sehen geben. Interessant, immerhin hat die Mutterserie "Sex and the City" damals große Erfolge auf ProSieben, also bei der konkurrierenden Sendergruppe, feiern können. Es bleibt abzuwarten, in wie fern die RTL-Gruppe ProSiebenSat.1 hier ein Schnippchen geschlagen hat oder nicht.

Bild: RTL / ©2021 WarnerMedia Direct, LLC. All Rights Reserved. HBO Max™

-->