Endlich! Endlich ist "Ash vs. Evil Dead" gestartet und endlich kam ich auch dazu, die Pilotfolge zu schauen. Sam Raimi selbst hat Regie geführt und präsentiert kurz(weilig)e nicht mal 40 Minuten zum Einstand. Ist er auch groovy geworden? Ich versuche es euch ohne größere Spoiler zu sagen. Aber hey – es ist doch eh nur der Pilot…
Alles startet mit Trinkpäckchen im Wohnwagen und energetischen "Come on!"-Parolen. Gute Laune und wenn Ash zum "No-Look-Wurf" ansetzt und vom kläglichen Versagen nicht einmal Notiz nimmt, wird spätestens klar, dass er auch im Alter die Coolness gepachtet hat. Und seinen Mann auch im Anblick des Monströsen stehen kann.
"Something happened that hasb't happen in like 30 years…" (Ash)
Das folgt nämlich erstaunlich schnell und das "Come on" verstummt beim Gedanken an den Drogenrausch vorm neuerlichen Ausbruch der Hölle. Nein, die Serie macht nicht lange Halt davor, richtig loszulegen, bereits nach wenigen Minuten gibt es den guten alten "Kopf-180-Trick" und jede Menge Vorboten aus dem Unterreich. Fragt sich nur, wofür es eine neue Holzhand geben soll und weshalb diese vermaledeite Taschenlampe so unglaublich lange dreht?!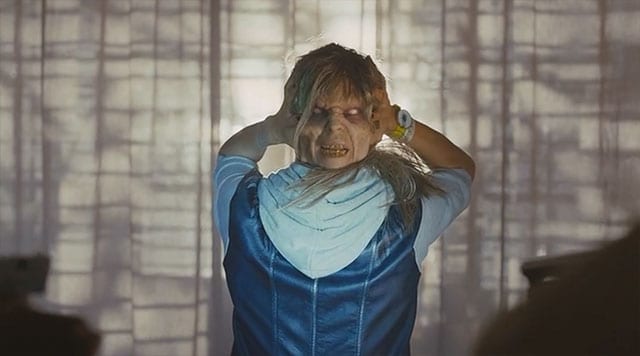 "Hi!" – "Hey…" – "What the hell was that?!" (Pablo & Ash)
Für alle Nichtfilmkenner gibt es noch schnell eine kleine Rückblick-Projektion, die das Allerallernötigste aus der filmischen Vorgeschichte Ashs zusammen fasst. Wirkt etwas deplatziert, aber passt.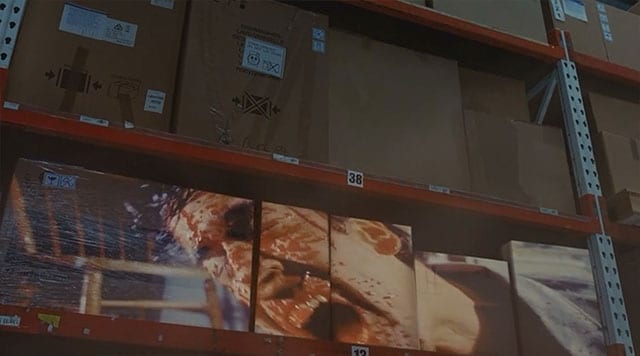 "You can't outrun evil, Ash!" (Pablo)
Natürlich darf auch die ikonische Kettensägen-Action nicht fehlen. Wir sehen am Ende doch einen in alte Routinen verfallenen Ash, der per Knopfdruck die Shotgun aus dem Boden schnellen lässt und nach zu Beginn etwas eingerosteter Hand-Augen-Koordination dem Bösen doch ordentlich die Fresse polieren kann. Liebes Publikum – daaas iiiiisssst…?
"Groovy." (Ash)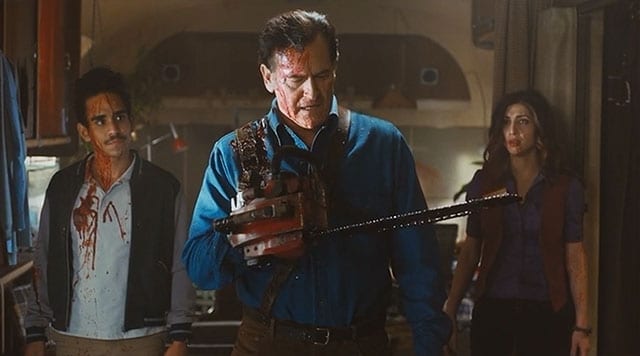 Auf der "Groovy-Skala" gibt es vier glitzernde Gebiss-Grinsen. Viele analoge Effekte, die zwar nicht den Anspruch moderner CGI-"Realität" an sich haben, aber neben jeder Menge Kunstblut auch den Charme der vergangenen Splatterfilme versprühen. Und wunderbar "drüber" sind. Das war doch ein gefälliger Auftakt, aber da geht sicherlich noch mehr, gerade, was Originalität angeht. Aber die altfühlenden Kamerafahrten, das schnelle Tempo und die teils angedeuteten Verrücktheiten machen Lust auf mehr. Es dürfte spannend werden, wie sich der aktuell noch recht platt wirkende Cast entwickelt, gerade auch im Zusammenspiel mit der durchaus ernster aufgesetzten Polizistinnen-Linie. Und, wie lange das trägt. Aktuell fühlt es sich an wie das erste Drittel eines neuen Filmes, nicht wie die erste Folge einer längeren Staffel einer Serie, die bereits für eine zweite Season verlängert worden ist. Aber vielleicht war das auch nur der kurz(weilig)e Auftakt, der die Filmkenner abholt, ihnen zeigt, dass "alles ein bisschen wie früher" ist und die Stimmung für das Folgende setzt.
Bilder: Starz