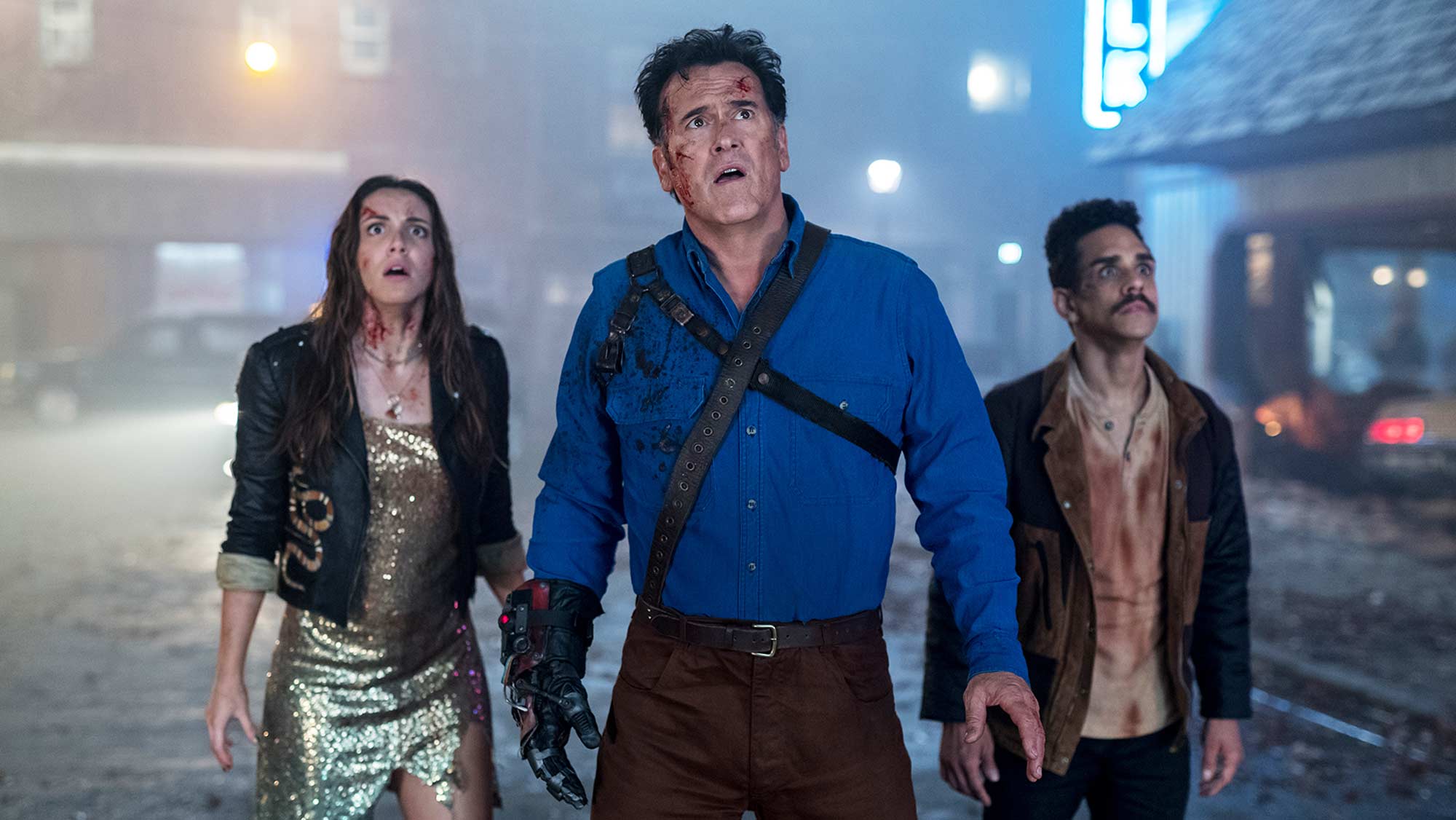 Tschüss, adios, goodbye – es war stets groovy mit dir, Ash Williams, ich werde dich und deine Art vermissen. Starz hat den Stecker gezogen, es wird aller Voraussicht nach keine vierte Staffel "Ash vs Evil Dead" geben. Das ist wenig verwundernd, wenn man auf die Quoten schaut, dann doch sehr verwirrend, wenn man sich die gleichbleibend hohe Qualität der Show anschaut, die zudem mit gleich mehreren Anschlussmöglichkeiten am Ende seiner dritten Staffel aufwartet. Menno!
Ash Vs Evil Dead has been the ride of a lifetime. Ash Williams was the role of a lifetime.

I will always be grateful to Starz, Sam Raimi, Rob Tapert and our tireless fans for the opportunity to revisit the franchise that launched our careers. Thank you! 😎 pic.twitter.com/oNmTopS1Ab

— Bruce Campbell (@GroovyBruce) April 20, 2018
Aber reden wir erst einmal über das, was uns jetzt noch geblieben ist (und das versuche ich, ohne Detail-Spoiler zu erledigen). Zehn neue Folgen, zu denen ich eigentlich fast alles aus meinem Staffel 2-Review wiederholen kann:
"Die Staffel war noch immer erfreulich andere Unterhaltung, die sich für aber auch gar nichts zu schade war. Und wenn man positiver Weise viele Dinge ausprobiert, geht halt auch mal das ein oder andere daneben. Dafür gab es aber eben auch einige sehr originelle Momente zu sehen und insgesamt sehr unterhaltsame fünf Stunden Serie voller Kunstblut, Ekeleien, kantiger Sprüche und Kettensägen."
Ich empfand die Staffel aber insgesamt doch einen Ticken besser als Runde 2, bleibe aber bei der gleichen Kronenanzahl, da es insgesamt auf ähnlichem Niveau ablief. Es gab sie wieder: Die Verwechslungs-Momente, die Erinnerungen an die filmischen Anfänge, die lustigen One-Liner, die verrückten Momente, nur war dieses Mal alles noch eine Stufe epischer, vor allem am Ende. Da hat man sich beim Aufkommen eines gigantischen Dämonen-Monsters schon stark an die zweite Staffel "Stranger Things" erinnert.
Dazu haben die Macher vor allem in der Abschlussepisode einiges an Budget und Wumms investiert – vielleicht auch als kleines Abschiedsgeschenk oder ein "Jaha, so können wir auch, hättet ihr uns nur machen lassen!".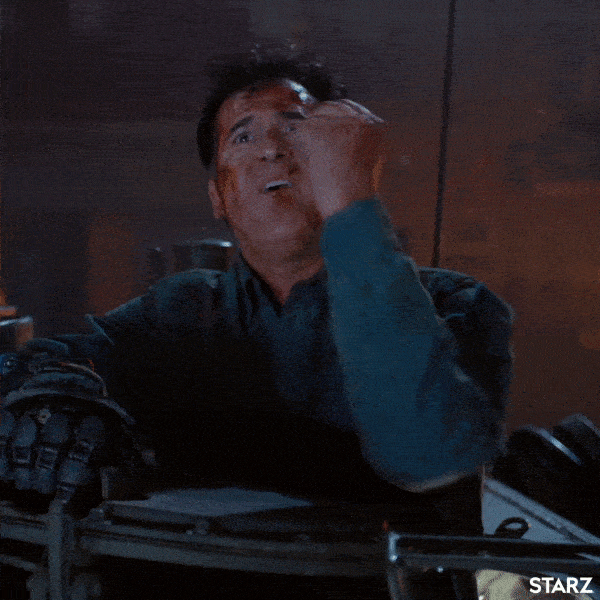 Merklich hat man die Story um das Necronomicon versucht, abzuschließen, was in für mich etwas zu viel Mystik und Zauberzeug endete. Das war sicher nicht alles schlecht, aber gerade bei dieser "Knights of Sumeria"-Sache war ich ähnlich genervt wie Ash. Aber letztlich hat es der Show eine neue Note und etwas mehr Tiefe verleihen können, von daher: passt.
Am wichtigstens ist aber vor allem der Familienzuwachs. Dass Frauenheld und passionierter Samenspender Ash vermutlich überall auf der Welt Nachwuchs haben könnte, ist jetzt nicht wirklich unrealistisch, dazu wurde seine Tochter zwar plötzlich, aber doch recht harmonisch in die Truppe eingeführt. Und es wurde allerhand(!) getan, um Parallelen zwischen ihr und ihrem Dad aufzuzeigen und so Raum für ein Spin-Off zu schaffen…
Kann es doch irgendwie weiter gehen?
Zu dem doch etwas skurrilen Ende muss ich dann doch detaillierter einsteigen. Das "Mad Max"-hafte Szenario mit einem cyber-optimierten Ash Williams, der die postapokalyptische Wüstenlandschaft bereinigt, hat durchaus seinen Charme, beim Anblick der teuer anmutenden Produktion dürfte aber schnell klar gewesen sein, dass es so etwas vermutlich nie als Serie geben wird (Schade!). Aber vielleicht lässt das Spielraum für eine animierte Serie oder einen Comic? Die Figur darf einfach so nicht enden (und als Nicht-Realserie könnte man das Altern von Bruce Campbell umgehen…).

Des Weiteren wurde quasi eine neue Ghostbeater-Generation herangeführt. Kelly als genannte neue Anführerin der Truppe, die ja eigentlich noch gegen die etlichen anderen großen Dämonenmonster kämpfen müsste und vor allem Töchterlein Brandy, die immer mehr Parallelen zu ihrem Dad entdeckt hat, sei es der positiv stumpfe Humor oder traumatische Schuppen-Erlebnisse mit Beinahe-Hand-Verlust.

Es bleibt also noch ein Reststück Hoffnung, dass zumindest der Geist von Ash Williams in irgendeiner Form weiter leben wird. Denn es wäre verdammt schade, diese originelle Art von Unterhaltung so plötzlich nicht mehr haben zu können. Zumal die Story einfach viel zu offen gehalten wurde.

Bilder: Starz

-->