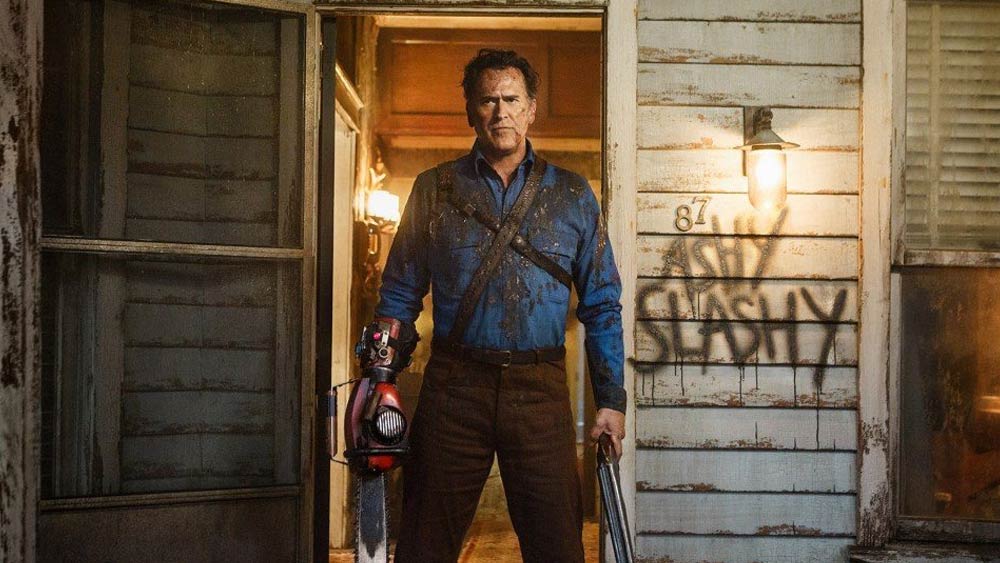 Vor fast einem Jahr habe ich die erste Staffel in höchsten Tönen gelobt, jetzt ist jüngst die "schwere Zweite" von "Ash vs Evil Dead" beendet worden. Konnte das Niveau gehalten werden? In vielen Dingen schon. Ein etwas zu redundantes Finale und ein paar Kleinigkeiten haben meine Wertung jedoch von "Groovy" auf "Mumbo Jumbo" abklingen lassen. Okay, das klingt nun etwas hart – unterhaltsam war es absolut noch immer!
Ich will gar nicht zu sehr auf Details eingehen, aber den einen oder anderen Spoiler gibt es dann vermutlich doch…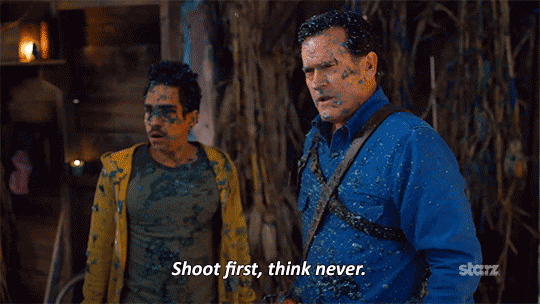 Zunächst mal das Positive: Ash ist noch Ash, es gibt viele tolle One-Liner, seine weiterhin ungemein charmant liebevoll naive-Dorftrottel-Mentalität und gekonnte Action. Ebenso schafft es die Serie ganz gut, den erweiterten Hauptcast unter zu bekommen und eine recht breit gefächerte Geschichte zu erzählen. Auch wenn einzelne Episoden immer mal etwas limitiert wirken (auch wenn das Klasutrophobische in der Irrenanstalt ja durchaus passte…), ist das Pacing größtenteils passend und es bleibt abwechslungsreich und frisch. Ob es nun Anus-Einzugs-Szenen braucht oder nicht, sei dahin gestellt, im Kopf bleiben sie aber (leider) auf alle Fälle. Dazu gab es auch erneut einige schöne Referenzen zum Ursprung der Filmreihe (bspw. das Piano in der Final-Episode, das arg an "Army of Darkness" erinnerte).
Und das Allerbeste an der Staffel: Mini-Ash! Ich liebe den Typen (und möchte das unbedingt als Merchandise sehen! Soll nächstes Jahr folgen.).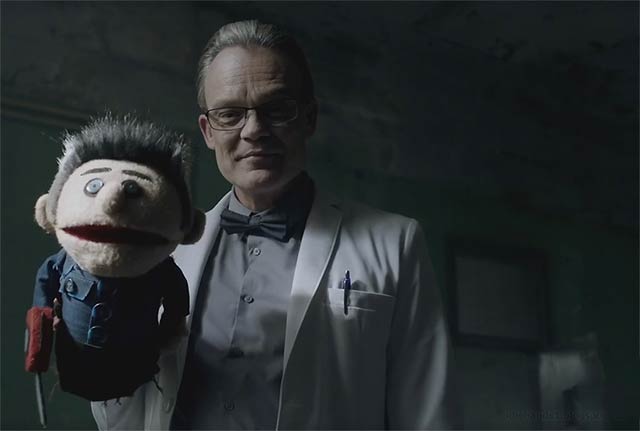 Kommen wir zum "Evil" der Staffel. Das ist gar nicht mal soo viel, aber es ist da. Zunächst gibt es da die üblichen Abnutzungserscheinungen. Natürlich ist das Setting nicht mehr so "neu" und "erfrischend anders" wie letztes Jahr. Eine Weiterentwicklung ist da, aber man musste hier auch nichts neu erfinden – passt schon. Weniger passte da jedoch für mich das Setting der finalen Episode, das enorm nah an den letzten Einstellungen von Staffel 1 war. Erneut die Waldhütte, erneut die nervigen Dämonenkinder – ne, das war mir zu sehr Abklatsch von sich selbst (ohne es wirklich meta-ironisch genug zu thematisieren).
Kurioserweise sollen ja genau diese Einstellungen zum Scheiden des bisherigen Showrunners Craig DiGregorio geführt haben. Der wollte eigentlich ein ganz anderes Ende haben (und ja, das wird jetzt etwas länger…):
"Basically, Ash kills Henrietta, gets the book, and runs outside with it. I wanted to get the episode outside of the cabin as quickly as possible because I thought I only wanted to see the cabin for episode nine. I didn't want it to be there in 10 because I thought it was a repeat of last year with the last two episodes in the cabin. So, we got out of the cabin quickly, and that's when Ruby and Kelly return. Inside, young Ash has entered but the book is gone, so he never reads it in this timeline. At that moment, the trunk rattles, Pablo's in there, and he's okay.

So, now they have the book and they have Pablo. Ash decides Ruby and Kelly are going to destroy the book. Meanwhile, Ash and Pablo head into town because Ash secretly wants to see his present-day deceased father Brock one last time before they go back to the present—remember that in 203 Brock starts to reveal a big "secret," we wanted Ash to want to get to the bottom of this. […]

Meanwhile, at the bar, Ash doesn't see his dad, but does see a nice young lady, who seems very sad because she just got passed over for a teacher position. She's distraught, and Ash, having learned a lot about how you can fail and come back from it, starts talking to her very genuinely in the charming Bruce way. They end up drinking together and go in a bathroom stall to have some early-'80s unprotected sex. What you don't realize is that the woman Ash is having sex with is Kelly's future mother [a young Suzy Maxwell]. So, what happens is that Kelly, while running in the woods, all of a sudden feels her entire being change and drops the book. That's when 1982 Ruby catches up and realizes what just happened. She looks through the Necronomicon and sees Ash's picture, and then next to it, a picture of Kelly starts to appear. Because of the unprotected bathroom stall incident, Kelly has become Ash's daughter." (via)
Guter Ansatz, von der Hütte wegzukommen, aber auch irgendwie bescheuert. Nunja, egal, ab nächster Staffel ist dann Mark Verheiden an Bord, der zuletzt als Producer von "Daredevil" keinen so schlechten Job gemacht hat. Bleibt zu hoffen, dass AvED dann wieder in die Spur kommt, denn diese ganze Paraden-Geschichte am Ende war dann doch totaler Blödsinn (und wie kam die Kettensäge da hin und wird jetzt einfach angenommen, dass Pablo die wieder zurück in die Zukunft bekommen hat und wie haben die Leute überhaupt von den Heldentaten erfahren (bzw. es auch geglaubt)?).
Zusammen gefasst: Die Staffel war noch immer erfreulich andere Unterhaltung, die sich für aber auch gar nichts zu schade war. Und wenn man positiver Weise viele Dinge ausprobiert, geht halt auch mal das ein oder andere daneben. Dafür gab es aber eben auch einige sehr originelle Momente zu sehen und insgesamt sehr unterhaltsame fünf Stunden Serie voller Kunstblut, Ekeleien, kantiger Sprüche und Kettensägen. Minimal schlechter als die Auftaktrunde aber keineswegs enttäuschend, Ashy Slashy!