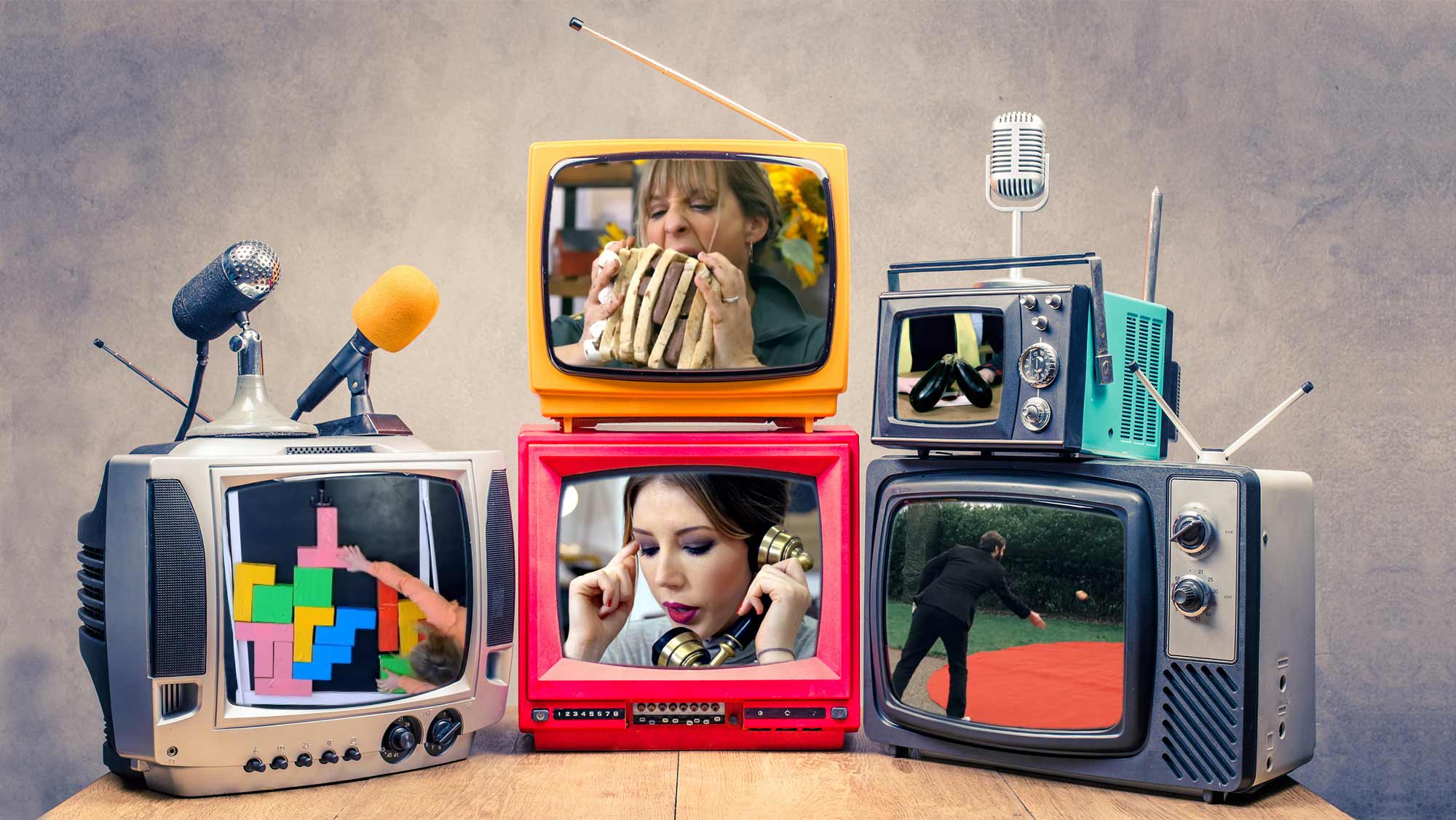 Vor zwei Wochen lief die zehnte Staffel "Taskmaster" an, zum Jubiläum der Show erstmals bei Channel 4. Ich hänge noch minimal hinterher (weil wir uns die Folgen aufteilen, damit es nicht zu schnell wieder vorbei ist…), aktuell bin ich mitten in der neunten Series der britischen Comedy-Sendung. Und weil es da mal wieder ein paar sehr schöne Momente zu sehen gab, dachte ich, euch mal meine liebsten Challenges der (bisher von mir gesehenen achteinhalb) Staffeln "Taskmaster" zu zeigen. Ja, insgeheim ist das eigentlich nur eine betonte Wiederholung meines Anguckbefehls. Da ich dort auch bereits das ""Erzielt 11 Punkte"-Video hatte, lasse ich es hier mal außen vor. Außerdem habe ich nur die mit einbezogen, die als Einzelvideos öffentlich über YouTube einzusehen sind. So könnt ihr direkt mal nachholen oder wiederholen – viel Spaß!
1. "Make an Exotic Sandwich"
In Staffel 4 kam es zu einem absoluten kulinarischen Höhepunkt der TV-Show. Die Aufgabe war eigentlich ganz einfach: Erstelle ein möglichst ausgefallenes Sandwich. Doch wie so oft kam die Challenge mit einem Twist daher…
"Joe Lycett, Noel Fielding, Lolly Adefope, Hugh Dennis & Mel Giedroyc make the most exotic sandwich they can. Follow by a secret bonus task…"
2. "Physically Recreate A Classic Video Game"
Mein erster Berührungspunkt mit "Taskmaster" war dieses Video aus Staffel 7. Das ist nicht nur großartig, weil der von mir besonders gemochte Comedian James Acaster dabei ist, sondern vor allem, weil ganz viel Retro-Videospielcharme versprüht wird.
"James Acaster, Jessica Knappett, Kerry Godliman, Phil Wang and Rhod Gilbert attempt to recreate a classic computer game."
3. "Get This Potato In The Golf Hole Without Touching The Green"
Eine der vermeintlich simpelsten Aufgaben der "Taskmaster"-Geschichte, die sich dann aber doch als komplexer und erinnernswerter entpuppt, als man zunächst angenommen hat, hat sich in Staffel 2 ereignet…
"A very controversial Taskmaster ruling over who throws a potato in a golf hole the fastest."
4. "Order a Pizza Without Saying 'Pizza' and Other Helpful Words"
Aus der gleichen Staffel (und entsprechend auch mit den gleichen Comedians) stammt diese Aufgabe, die man wunderbar auch mal Zuhause nachempfinden kann.
"Jon Richardson, Katherine Ryan, Richard Osman, Joe Wilkinson and Doc Brown attempt to order a vegetarian pizza with lots of toppings without saying the words 'vegetarian', 'pizza', 'cheese', 'tomato' and other helpful words. Bonus points to anyone who can get the pizza person to say 'bubbles'."
5. "Hide 3 Aubergines In This Room"
In der für mich aktuellen neunten Staffel hat sich diese Kuriosität ereignet. Ich meine, wer von uns hat noch nie Auberginen zu verstecken versucht…?!
"David Baddiel, Ed Gamble, Jo Brand, Katy Wix and Rose Matafeo attempt to hide 3 aubergines from Little Alex Horne, who must find them as quickly as possible."