Jenna und Tamara müssen sich von der misslungenen Verlobungsparty erholen, deren Scheitern natürlich Jenna zu verantworten hat. Lautstark verkündete sie – ursprünglich nicht für alle gedacht – dass Tamara Adam nicht liebe und Jenna daher auch keine gute Miene zum bösen Spiel machen könne. Es stellte sich dann allerdings heraus, dass Adam doch Tamaras Nummer 1 war, sie es selbst nur noch nicht wusste. Ist ja immer so. Man weiß erst, was man hat, wenn man es verliert. So greifen die beiden zur Aufmunterung nun zur vierten Staffel Sex and the City – wenn da nicht der eigene Papa eine DVD der etwas anderen Art in der falschen Hülle versteckt hätte. Überraschung!
Tamara bekommt Angst, dass Adam ihr Mr. Big war und sieht ihre Zukunft schon in einer unglücklichen Ehe mit einem vermeintlichen One Night Stand, aus dem ungeplante Kinder hervorgehen, aufgrund derer sie die Beziehung mit Mr. Unbekannt dann auch nur aufrecht erhält. Jenna bezweifelt dagegen, dass es überhaupt "den einen" gibt, obwohl sie doch insgeheim schon wieder nur an Matty denkt. Kurz noch den Vortrag von Tamara darüber einstecken, dass Jenna all ihre Beziehungen selbst in den Sand gesetzt hat (beste Freundin wohlbemerkt, Ehrlichkeit hin oder her) und schwupps, ist Jenna wieder allein und kann noch mehr über Matty und sie und all ihre verkorksten Beziehungen nachdenken. In einer Traumsequenz begegnet sie all ihren Verflossenen.
Did Matty still love me? Why did that freak me out? Was it because I was bad at relationships? Is there such a thing as 'the one'? And just how many pigs in a blanket is it okay to eat before bedtime? – Jenna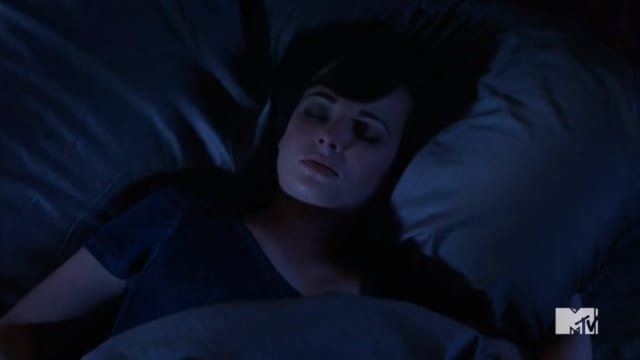 Maybe I had more drama than a whole Taylor Swift album. – Jenna
Der Traum endet in einer Einsicht Jennas…die für den halbwegs aufmerksamen Zuschauer schon laaange klar war. Also wieder das ganze Spiel von vorne. Wer auf wenig Entwicklung und den immer gleichen Fortgang der Story steht, ist bei Awkward genau richtig. Darüber hinaus kommt dann irgendwann aber auch nicht mehr viel – obwohl die Traumsequenz schon ein paar ganz nette Elemente beinhaltet wie z.B. herrliche Cupcakes und einen Unbekannten im Hot Dog-Kostüm. Der Erzählstrang um Tamara bekommt allerdings einmal so richtig viel Gefühl eingehaucht. Kurz, aber emotional. Mehr davon definitiv erwünscht!