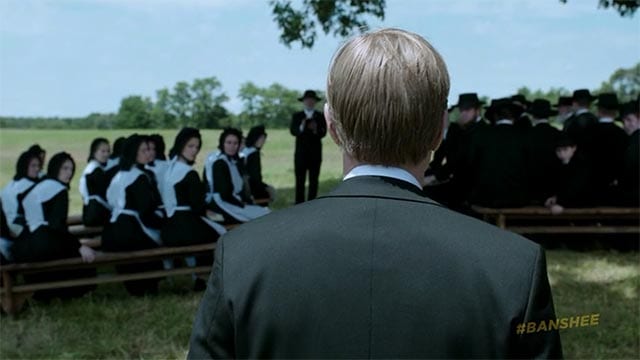 Schluss mit den Vergangenheits-Gedanken – zumindest beinahe für alle. Chayton plagen Albträume, richtig so! Das Intro ist jedoch mehr pseudo-horroriges artsy Tiefenschärfe-Demo-Reel denn dass tatsächlich so etwas wie Handlung passiert. Als Mann mit Pferdeschwanz flüchtet er in eine Scheune und tarnt sich als Pferd, so dass die Hofbesitzerin ihn pflegt. Nur doof, dass der freundliche Nachbar die Verkleidung durchschaut.
Der arme Baum. Hat Hood nichts getan, schenkt Sauerstoff und Schatten, aber er muss ihn vermöbeln. A pro pos "Vermöbeln": Der gute alte "alle unterschätzen die Lady, die sie dann aber der Reihe nach auseinander nimmt"-Trick. Ja, nett, aber auch der wird irgendwann alt. Wenn aber "Daddy" mitmacht und es ironische Sprüche gibt, passt das schon. Irgendwie nerviger Side-Plot.
"It would be unwise to test me." (Burton)
Dann wäre da noch der alleinige Rache-Move von Rebecca. Zwei Tage Chefsessel-Politur gerochen, da meint sie mit ihren paar Lenzen die große Geschäftswelt zu verstehen. Gelungener als ihre Realitäts-Auffassung ist die Visualisierung ihrer inneren Unsicherheit, Dabei macht sie sich doch so tolle neue hispanische Freunde.
"Something is not right…" – "Your nerves." – "Please, I don't do nerves." (Job & Sugar)
Der Job steigt! Nein, nicht Job, DER Job. Endlich, möchte man meinen. Wobei das schon etwas plötzlich kam. Ausschließlich aus Sicht der Team-Kameras inszeniert, nice. Tolle Idee, da man so das sieht, was die Charaktere sehen, kein verkünstelter Überblick für die Zuschauer, den es eigentlich gar nicht gibt.

Dafür gibt es viel Wackel-Kamera und Videospiel-Charme. Und wenig Übersicht. Bis zum Anfall von Hood jedenfalls. Erinnert etwas an The Walking Dead, vielleicht sollte ihm jemand ein Telefon schenken. Man muss aber eben dafür auch ständig überall Kameras auslegen und anbringen. Kein Wunder, dass man da schnell in Zeit-Schwierigkeiten kommen kann.

Der nicht tot zu kriegende General ist dagegen enorm nervig. Auf einmal können die den zu dritt nicht in den Griff bekommen?! Egal, im Abspann bekommen wir zu sehen, dass er auch leicht einen an der Klatsche hat. Mal schauen, in wie fern General Gollum/Smeagol noch aktiv werden wird. Abspann? Ja, falls ihr es noch nicht mitbekommen habt: nach den Credits kommt immer noch ein paar Sekunden. Habe ich auch viel zu spät bemerkt, daher lasse ich die Info hier mal fallen.

Eine komische Folge. Ein gefühltes Super-Highlight, auf das man ewig gewartet hat, und niemand feiert. Weder die Charaktere, noch man selbst. Zum einen, weil es irgendwie "mal eben eingeschoben" wirkt, zum anderen, weil eben der Rest der Episode recht fad war. Da hätte ich eine Folge besser gefunden, die sich komplett auf den Job konzentriert. Okay, das schafft nicht einmal Hood, da wollte die Serie eben das Timing nutzen und es passieren dann eben auch parallel andere Dinge auf der Welt. Das muss man dann auch wieder positiv anrechnen, dass nicht nach all der Hektik alles pausiert, während die vier ihr Ding durchziehen.

-->