"Mittendrin, statt nur dabei" war früher der Claim des früher als Deutsches Sportfernsehen (kurz DSF) bekannten TV-Senders Sport1. Was damals ein positives Gefühl von Nähe schüren sollte, möchte man bei der dystopisch veranlagten Fernsehserie "Black Mirror" eigentlich lieber nicht haben. Aber momentan scheint es so, als sei das Kalenderjahr 2020 eine neue Staffel des beliebten mittlerweile von Netflix in Produktion gegebenen Formates und jeder Monat eine neue Folge. Großflächenbrände in Australien, der final erfolgte Brexit, die Coronavirus-Pandemie, Killerhornissen, der Mord an #GeorgeFloyd und die anschließenden Ausschreitungen in den USA, jetzt sogar ein vermeintlicher erneuter Ebola-Ausbruch – und wir haben nicht einmal das erste Halbjahr rum. Kein Wunder also, dass "Black Mirror"-Schaffer Charlie Brook der Sinn gerade nicht wirklich nach dem Schreiben neuer Gesellschafts-Abgründe steht, davon haben wir aktuell in Realität bereits genug.
"At the moment, I don't know what stomach there would be for stories about societies falling apart, so I'm not working away on one of those. I'm sort of keen to revisit my comic skill set, so I've been writing scripts aimed at making myself laugh." (Charlie Brook – RadioTimes)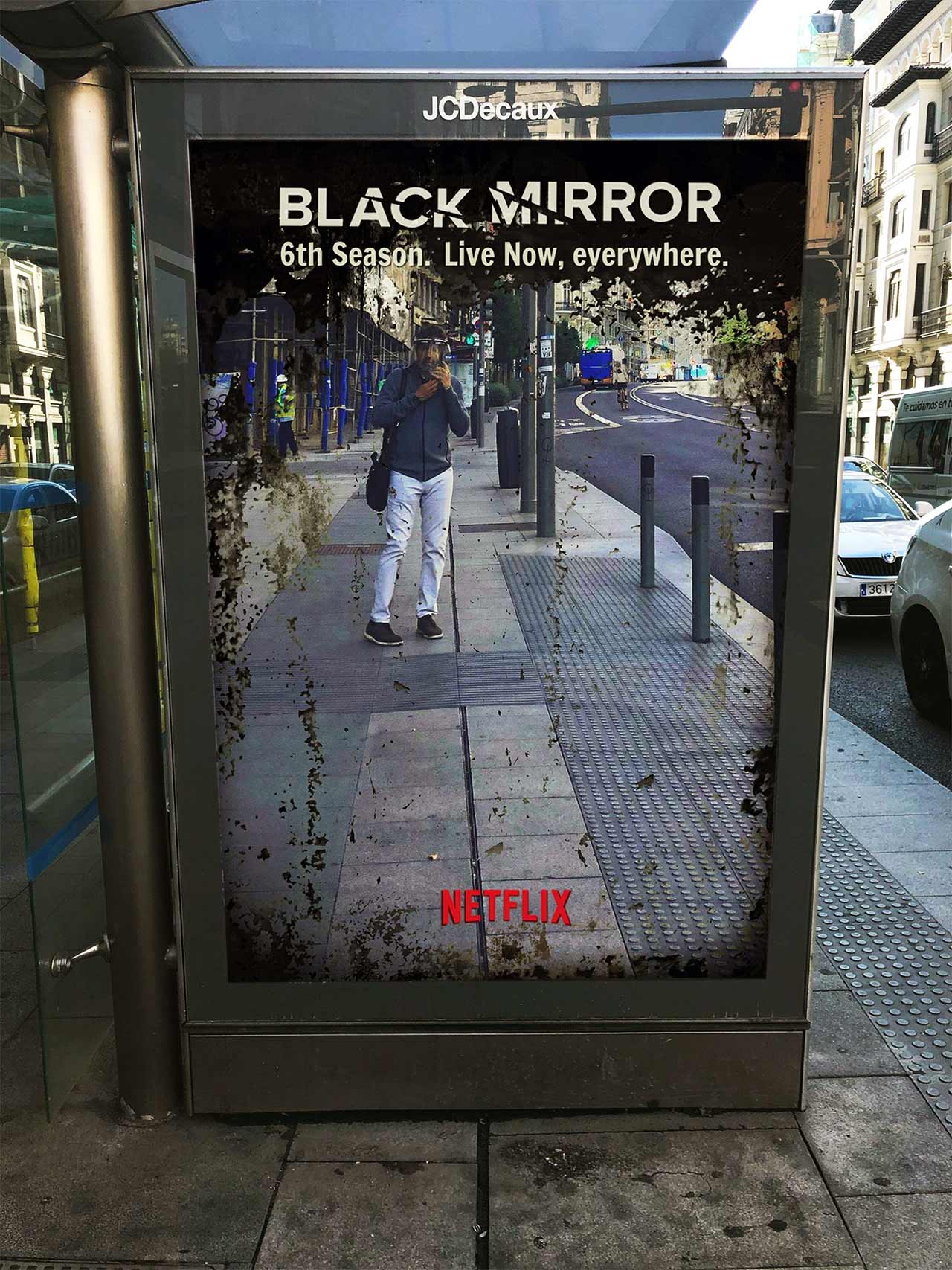 Das Team aus Madrid der spanischen Kreativagentur Brother Ad hat passend dazu in Madrid ein paar Fake-Plakate der besonderen Art und Weise installiert. "BLACK MIRROR. 6th Season. Live now, everyhwere" steht auf ihnen geschrieben. Also das, was viele von uns gerade meinen – wir lebten in einem "schlechten Film" oder eben einer guten Serienepisode. Nein, das kommt – trotz allem Anschein – nicht offiziell von Netflix oder den Machern der Serie "Black Mirror", keine Ahnung, ob das überhaupt offiziell eingebucht worden ist, vermutlich wurde es eher selektiv in Guerilla-Manier selbst angebracht. Aber die spiegelnde Oberfläche, die das reale Chaos zeigt, ist sicherlich allerbeste Werbung für ein Format, das gerade erschreckend von der Realität eingeholt wird.
Wann die sechste Staffel "Black Mirror" erscheinen wird, ist entsprechend der aktuellen Weltlage noch nicht bekannt. Vermutlich müssen wir uns noch eine Weile gedulden. Vielleicht wird 2021 ja besser für uns alle verlaufen…
via: boredpanda