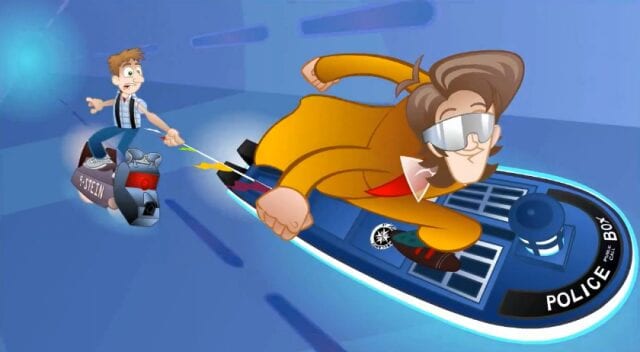 Was bei dem ganzen Erfolg der "Back to the future"-Filme seit 30 Jahren oft vergessen wird, ist, dass es Anfang der 90er Jahre auf CBS auch eine animierte Serie gab – teilweise sogar mit integrierten Realszenen mit Doc Brown (Christopher Lloyd). Die Serie war allerdings auch nicht der ganz große Abräumer – den Filmfans war es wohl zu kindlich. Auch wenn's vier Daytime Emmys gab – nach 26 Folgen war Schluss.
Fans der Serie gibt's aber natürlich weiterhin, zum Beispiel James Farr, der gleichzeitig auch ein Doctor Who Fan ist. Was liegt da näher, als eine Kombination aus beidem zu einer Serie zusammen zu führen? Okay, für eine Serie hat's dann nicht gereicht, aber immerhin hat er einen höchst unterhaltsamen Kurzfilm zusammengestellt.
Blink To The Future - A Doctor Who / Back To The Future Mashup
Übrigens: Auch die anderen Filmchen auf Farrs YouTube Channel lohnen sich – sind teilweise witzige Sachen dabei. Schön auch Farrs Selbstbeschreibung:
My name is James Farr, and I'm a professional nerd. When I'm not writing comics, or directing shows for other people, I'm at home making shows for myself.
via: James Farr