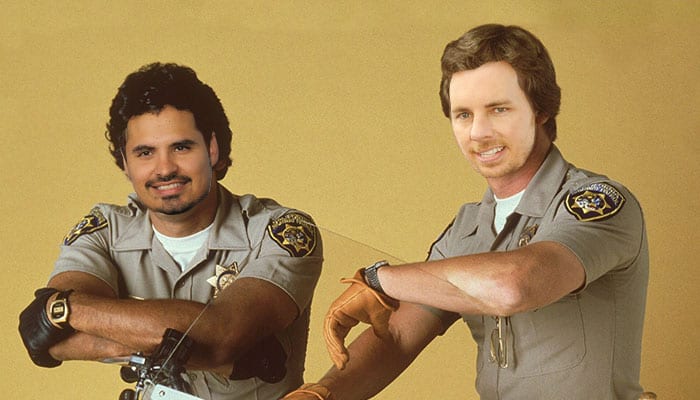 Schon letztes Jahr im September hatte Dax Shepard Aussagen zu einer TV-Adaption der 80er-Jahre-Serie "CHiPs" getroffen, in der er Drehbuch Regie und eine der Hauptrollen übernehmen sollte. Jetzt hat sich auch Michael Peña zu Wort gemeldet und bekannt gegeben, dass Warner Bros. die Idee nun offiziell in die Produktion übergeben hat. Momentan bereite er sich physisch auf die Rolle vor.
"It's more like a Lethal Weapon where there's a lot of action and what we wanted to do is if there's any comedy that we do, it's not like one-liners here and there, like we're the guys always being stand-up comedians." (Michael Peña)
Neben Kristen Bell, die im echten Leben mit Shepard verheiratet ist, wurde unter anderem auch Vincent D'Onofrio als Castmitglied genannt, der aktuell als Bösewicht Wilson Fisk in Netflix' Daredevil zu sehen ist. Auf die Frage hin, welche Altersfreigabe man beabsichtigt für den Film anzustreben, meint Peña interessanterweise, dass das "Rated R" ins Auge gefasst wird. Feine Sache!
R-Rated CHIPS Greenlit; Michael Peña Confirms Comparison to LETHAL WEAPON
Zugegeben: Von Dax Shepard kenne ich so gut wie nichts. Sein Gesicht ist mir nicht unbekannt, aber das war's dann auch. Von Michael Peña bin ich jedoch begeistert. Einer der talentiertesten unserer Zeit. Die folgende Szene mit Jake Gyllenhaal aus "End of Watch" kann ich mir immer und immer wieder anschauen: so unfassbar gut!
END OF WATCH - FUNNY MOMENT
Wer von euch hat damals noch "CHiPs" geschaut? Sind da auch welche unter uns, die dadurch ihre Liebe zum motorrisierten Zweirrad entdeckt haben?
via: Collider