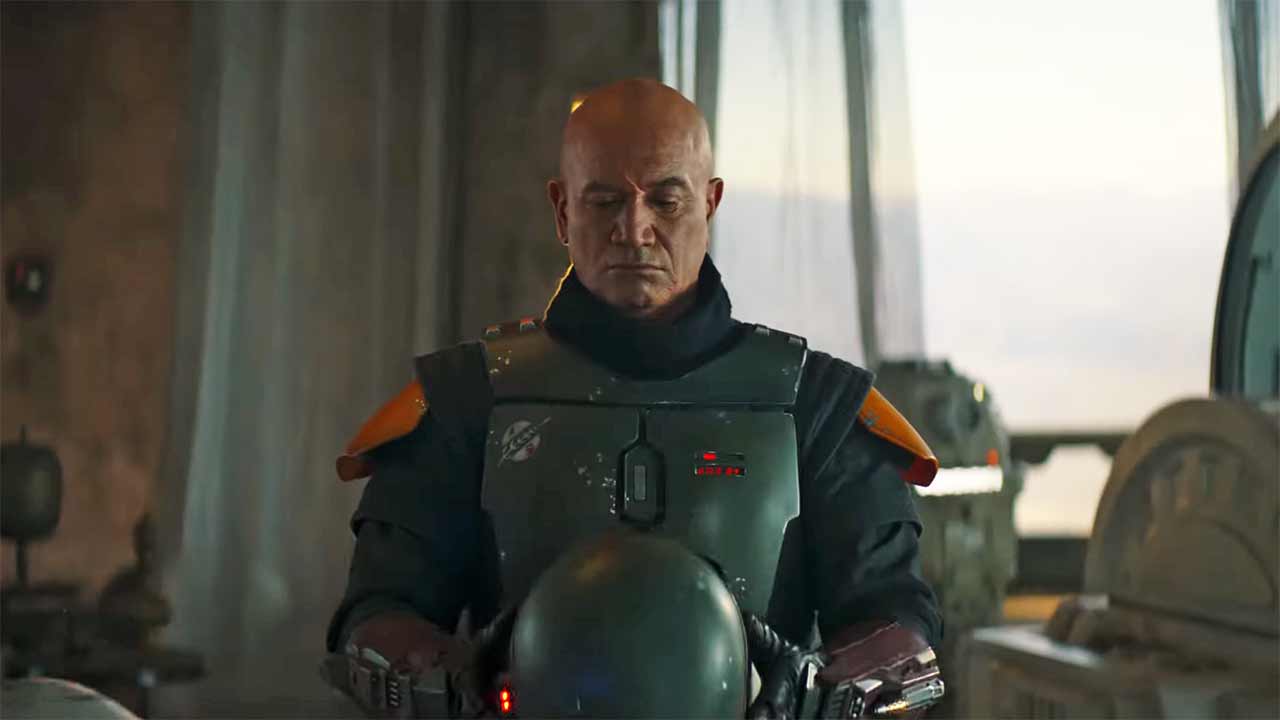 Es wird ernst. Wer die zweite Staffel von "Star Wars: The Mandalorian" gesehen hat, wurde am Ende mit einer kleinen Ankündigung überrascht. "The Book of Boba Fett" (oder im Deutschen als "Das Buch von Boba Fett" betitelt) wurde angekündigt. Statt einer dritten Staffel der Serie wurde aber schnell klar, dass es sich um eine eigenständige Serie handeln soll, die die Abenteuer des berühmt-berüchtigten Kopfgeldjägers erzählt. Auch klar war bereits, dass wir uns noch dieses Jahr auf zumindest eine Folge freuen dürfen. Jetzt hat Disney den ersten offiziellen Trailer zu seinem hochrangigen Original veröffentlicht!
Hier könnt ihr den Trailer zu "Das Buch von Boba Fett" zunächst im englischen Originalton sehen, darunter findet ihr die deutsch synchronisierte Fassung.
"Jede Galaxis hat eine Unterwelt."
Wie bei "Star Wars: The Mandalorian" ist auch hier Jon Favreau am Werk, inhaltlich knüpft es an die Geschehnisse der vergangenen Staffel an. Ob man jetzt hier von einem Spin-Off oder lediglich einer anders betitelten Exkurs-Staffel reden kann, weiß ich nicht genau. Sicher ist nach Anblick des Trailers, dass wir uns wohl auf eine recht ähnliche Atmosphäre einstellen dürfen.
"'The Book of Boba Fett,' a thrilling Star Wars adventure teased in a surprise end-credit sequence following the Season 2 finale of "The Mandalorian," finds legendary bounty hunter Boba Fett and mercenary Fennec Shand navigating the galaxy's underworld when they return to the sands of Tatooine to stake their claim on the territory once ruled by Jabba the Hutt and his crime syndicate."
"Star Wars: Das Buch von Boba Fett" wird zunächst acht Folgen beinhalten und ab Mittwoch, dem 29. Dezember 2021, auf Disney+ zu sehen sein. Zunächst lediglich mit einer Folge, danach wird wöchentlich eine weitere Episode zu Verfügung gestellt werden. Ich bin gespannt und freue mich auf die Folgen und dürfte nicht der Einzige sein, haben Fans doch bereits zu Beginn der "Mandalorian"-Erzählung auf Boba Fett gehofft gehabt. Dazu wird dieses Kapitel wohl eher als Zwischengeschichte zu werten sein, immerhin soll im Jahr 2022 dann auch die dritte Staffel von "The Mandalorian" erscheinen.

-->