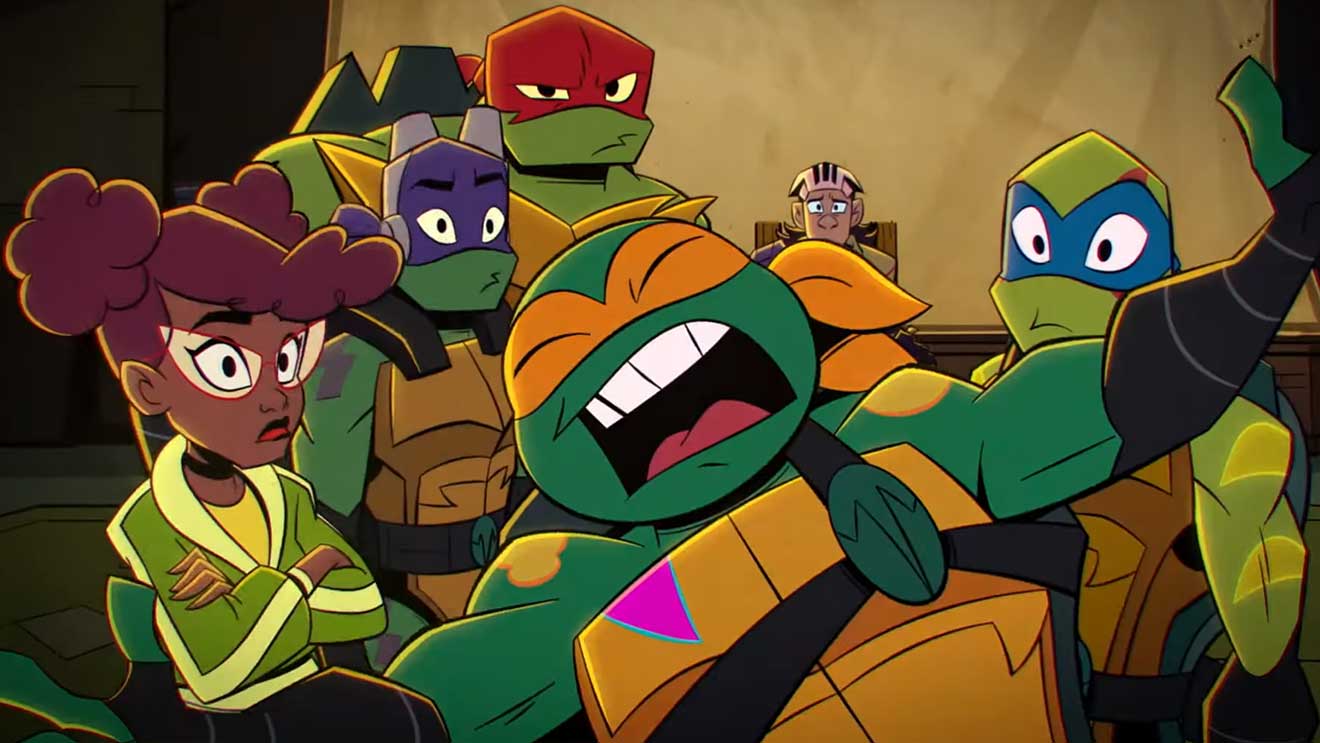 Die Turtles sind zurück! Nein, nicht als übertrieben explosive Realfilm-CGI-Kombi von Michael Bay, sondern als Cartoon. Zwar leider nicht als Serie, dafür aber als Film auf Netflix, der sogar inhaltlich an das Finale der 2019 bei Nick ausgestrahlten Reihe anknüpfen soll (etwa zwei Jahre später). Der Titel ist mit "Der Aufstieg der Teenage Mutant Ninja Turtles: Der Film" zwar etwas sperrig geraten (das Original ist mit "Rise of the Teenage Mutant Ninja Turtles: The Movie" auch kaum besser), dafür kommen Leonardo, Raphael, Donatello und Michelangelo in einem leicht (zur letzten Serie, stark zum klassischen Cartoon) angepassten Zeichenstil daher. Ist vielleicht etwas zu detailreich und mit Animé-Einflüssen angereichert, aber sieht cool aus. Der heute Mittag veröffentlichte Trailer schaut jedenfalls schon mal ganz vielversprechend aus – Action, Humor, Fantasy, könnte eine gute Mischung werden, auch wenn die Produktion wohl primär an Kinder ausgerichtet sein dürfte.
"Skrupellose Kreaturen aus einem anderen Universum sind gekommen, um ein maßloses Chaos zu entfesseln. Werden die mystischen Kräfte der Teenage Turtles diese harte Probe bestehen?"
Der Film wird übrigens lediglich von Netflix vertrieben, produziert wurde er von Nickelodeon Movies und dem Nickelodeon Animation Studio. Im Originalton wird es die Stimmen von Ben Schwartz, Omar Benson Miller, Brandon Mychal Smith, Josh Brener, Kat Graham, Eric Bauza und Haley Joel Osment zu hören geben.
"Der Aufstieg der Teenage Mutant Ninja Turtles: Der Film" wird ab Freitag, dem 5. August 2022, auf Netflix zu sehen sein. Hier schon einmal der Direktlink zur Streamingseite, wo ihr euch eine digitale Erinnerung einrichten könnt, um den Filmstart auch ja nicht zu verpassen und rechtzeitig Pizza zu bestellen!
"They're teenage, they're mutant, they're ninja, they're turtles, they're back."
via: @gillyberlin

-->