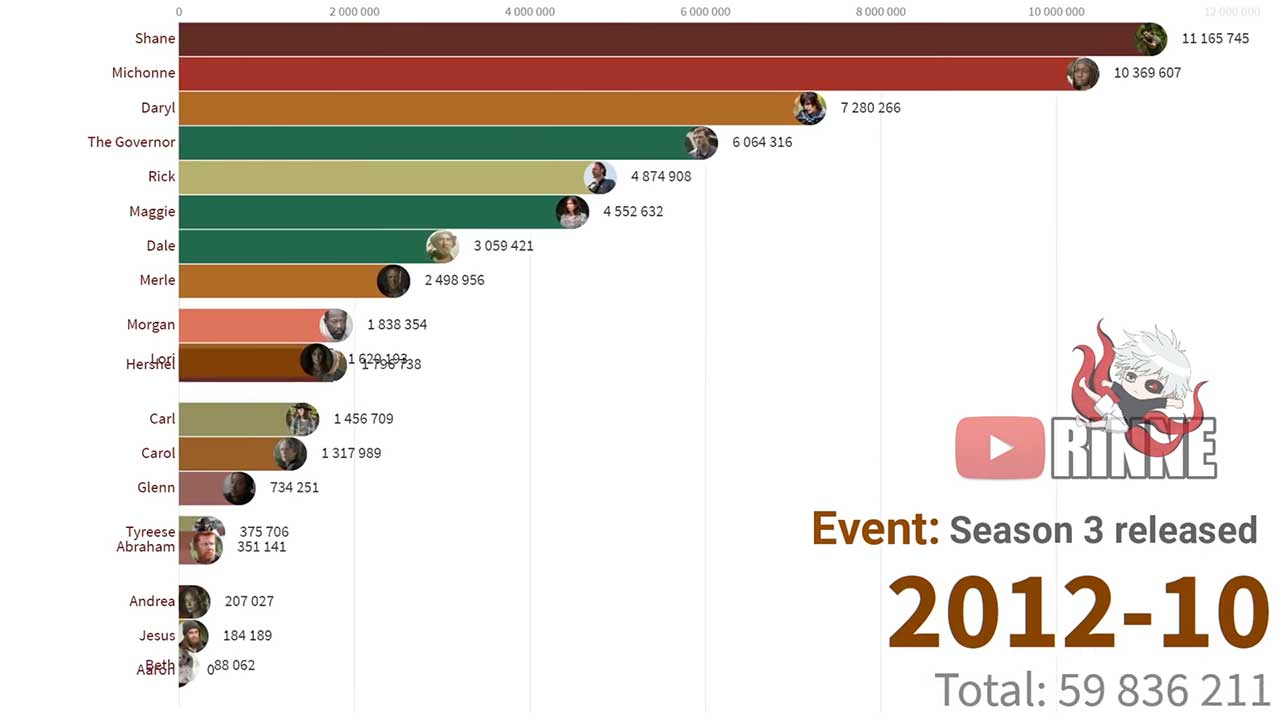 Wie bei vielen dieser Balkenrennen-Darstellungen ist die Datenbasis natürlich zumindest mal skeptisch zu betrachten. Ob das nun wirklich die beliebtestens Figuren aus "The Walking Dead" sind, sei dahingestellt, zumindest wurde nach ihnen jedoch am meisten online gesucht. Das kann auch immer mit Handlungssträngen, Charaktereinführungen und Co. zu tun haben – sogar mit negativen Gefühlen gegen sie. Interessant ist so ein Verlauf über die Jahre aber dennoch, zeigt er doch auch, welche Figuren im Laufe der Staffel von uns gegangen sind. RiNNE fängt zwar leider erst 2021 mit Staffel 3 an, aber da sind doch einige Charaktere bei, die ich schon ganz vergessen hatte…
"This numbers aren't 100% accurate. Data based on Google searches."
Hier noch ein bisschen was zur Methodik, die hinter dem Video steckt:
Tools Used
Google Trends
Ammount Search Tool
Flourish Studio
Microsoft Excel
Wondershare Filmora
Calculator
Methodology
1) I gathered data from walkingdead.fandom.com/wiki/TV_Series_Characters. The .csv files containing search interest values were downloaded from Google Trends for every character.
2) Ammount Search Tool determined the average monthly search volume for every character.
3) The number of searches per month for each calendar year were proportioned based on official reports from Google.
4) Data modeling through an algorithm invented by me to obtain the most realistic data possible.
5) Search interest values and proportioned monthly search volumes were placed in Excel for calculations.
6) The data was placed into Flourish Studio to create the data visualization piece.
7) Image and audio assets were added with Wondershare Filmora.