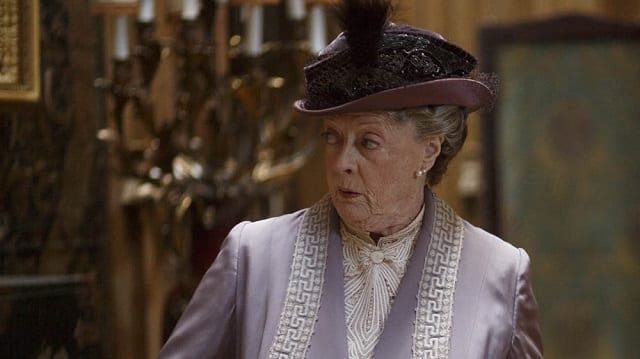 Festhalten, Freunde! Das haut mich fast ein wenig um. Die Gerüchte oder besser gesagt die Wünsche, dass es nach der letzten Folge weitergehen soll mit "Downton Abbey", konnte man schon weit vor dem Ende der britischen Dramaserie vernehmen. Und auch die Schauspieler äußerten sich recht früh, dass sie einem Film nicht abgeneigt wären.
Und auch Julian Fellowes ließ sich nach anfänglicher (britischer) Zurückhaltung mit eher positiv gestimmten Äußerungen zitieren. Was allen irgendwie klar war, ein Film kann aber nur funktionieren, wenn alle wieder mit an Bord sind. Oder zumindest die wichtigsten Personen. Und genau an diesem Punkt dachte ich, hapert es. Denn Maggie Smith hatte ziemlich von Beginn an immer wieder verlautbaren lassen, dass sie auf keinem Fall für einen Film zur Verfügung steht. Und hatte dabei etwas mit ihrem Alter gespaßt.
"Maggie Smith elevates it to something else, because she is such a legend and a national treasure. It becomes a different show and she puts a stamp on it of Quality." (Michael Fox, "Andrew "Andy" Parker")
Seit einigen Wochen konnte man in dieser Angelegenheit aber eine gewisse Entwicklung vernehmen. Darf man als Fan hoffen?
Nun ist es offenbar wirklich geschehen: Maggie Smith hat einen Vertrag für einen Downton Abbey Film unterschrieben! Die Tage gab es in L.A. die große BBC America's BAFTA Party, in der die Vertragsunterzeichnung offiziell verkündet wurde. Und es scheint auch schon einen groben Zeitplan zu geben, die ersten Aufnahmen sind bereits für nächstes Jahr vorgesehen.
"I think it will be fun to get everyone together, and move it to a larger scale because you have got more money to spend." (Julian Fellowes)
Wann mit einem Kinostart zu rechnen ist, ließ sich Fellowes in West Hollywood aber nicht aus der Nase ziehen, er weiß es einfach nicht, er sei ja nur "the humble pen usher".

Also ich stelle mich schon mal vor meinem Kino an, die erste Karte sei meine!

via: cultbox

-->