Es ist nicht einfach sich auf das aktuelle Geschehen zu konzentrieren, wenn man weißt, dass der große Showdown schon hinter der Tür auf einen wartet. Also lasse ich mich einfach darauf ein und hoffe, dass die Handlung etwas daraus macht.
Der Arbeitstitel dieser Episode hätte genau so gut in einem Wort gepasst: Überzeugungsarbeit – und das ausnahmsweise mal nicht mit physischer Gewalt. Tom redet sich um Kopf und Kragen und auch Weaver hat den Mund voll zu tun. Gut, wenn man in der Zelle auf seinen Tod wartet, bleibt einem ja auch so viel nicht übrig.
Dennoch hat Noah Wyle hier, wie ich finde, gute Arbeit geleistet, indem er den Kern der Szene nicht auf "Oh mein Gott, die werden mich und meine Familie umbringen!" fokussiert sondern darauf, dass der Widerstand seinen Sieg, den er kurz davor ist zu erreichen, sich selbst wieder entreißen würde.
"Middle of a war with aliens, on death row, and boys still have a reason to talk about girls." (Tom)
Die symbolische Einteilung der Figuren ist in diesem ganzen Geschehen recht simpel und überschaubar. Da haben wir den Zellenbewacher, Lt. Shelton, als Fehlgeleiteter mit dem Sinn, das Richtige tun zu wollen, Cpt. Marshall als das Trojanische Pferd und Sgt. Kagel (die Narbenfresse) als die ausführende Hand des Bösen.
Hierbei erscheint mir die letzte der drei genannten Figuren am interessantesten. Warum? Antwort: Weil er das Böse nicht nur in seiner Ausführung symbolisiert, jedoch auch den Bezug zum Menschen hierzu verkörpert. Denn nicht die Invasoren haben ihn zu dem gemacht, den er ist. Es ist die "militaristic society", wie Isabella sagt – also einem vom Menschenhand geführtes System.
"Sounds like treason to me … But if you shoot me, how can I help you commit it?" (Lt. Wolf)
Ebenso erwähnenswert ist hier wohl eine künstlerische Stellungname zum Thema Landesverrat. Der Hinweis darauf, dass die Bedeutung dieses Wortes an sich weder gut noch schlecht sondern relativ zu betrachten ist, finde ich in Zeiten von Personen wie Edward Snowden besonders überraschend, nahezu löblich – gerade in Betracht dessen, wo Uncle Sam in dieser Serie überall seine Spuren hinterlässt.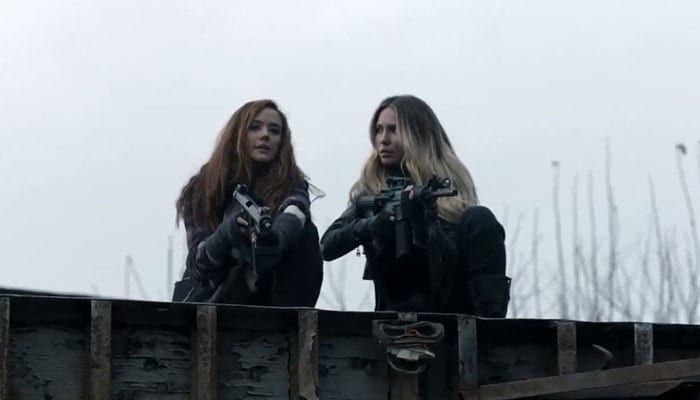 "You were right. He was a diseased pig." (Isabella)
Den inhaltlichen Rest würde ich an dieser Stelle gern überspringen, da recht vorhersehbar: Tom rettet seine Familienbande, Isabella knallt Kegal ab und Cpt. Marshall ist in Wahrheit ein Alienprototyp made by Espheni.
Viel interesanter ist doch das Wiedersehen – wenn auch ein sehr kurzes – mit Pope, der gerade dabei ist Gott zu spielen indem er abermals über Leben und Tod entscheidet. Hier wieder die Unterstreichung der Tatsache wie böse der Mensch sein kann.
"Finish him!" (Pope)
Vorschau: S05E09
Wirklich Zeit bleibt nicht mehr für viel Drumherum. Eine neue Alienrasse kommt ins Spiel, die Mason-Pope-Abrechnung: Da bahnt sich was Großes an. Hoffentlich.


Reunion - Sneak Peek | Falling Skies | TNT

Vorherige Folge

Fotos: TNT

-->