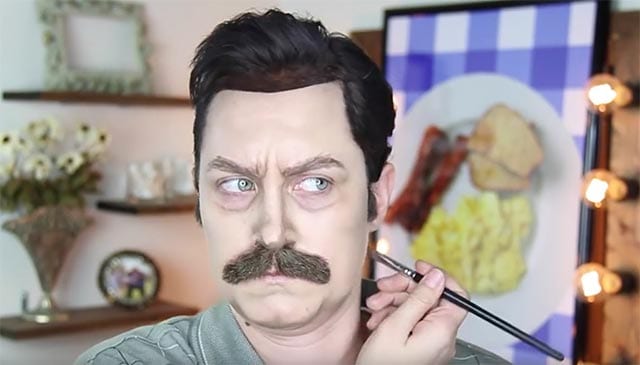 Make-up-Künstlerin Kiki G. hat eine Wandlung von der eleganten Dame zu einem der männlichsten Männer der TV-Männerwelt geschafft. Innerhalb weniger Timelapse-Minuten wird sie zu Ron Swanson, der sich selbst vermutlich mit Steak-Marinade bepinselt und Puder nicht mal beim Hochleistungssport für Gripp gebrauchen würde – braucht man ja beim Angeln und Bärenkampf nicht. Eine mehr als gelungene "Parks & Recreation"-Recreation!
"I don't have a lot of words to preface this video, but I will say this-the list of my favorite things that I have ever made goes as follows: 1. My child. 2. This."
Auf ihrem Blog gibt es zudem noch ein grandioses Bild, auf dem sie in voller Ron-Montur ihr Baby stillt. What the…?! Bitte unbedingt so raus gehen und Reaktionsvideos filmen!
via: devour