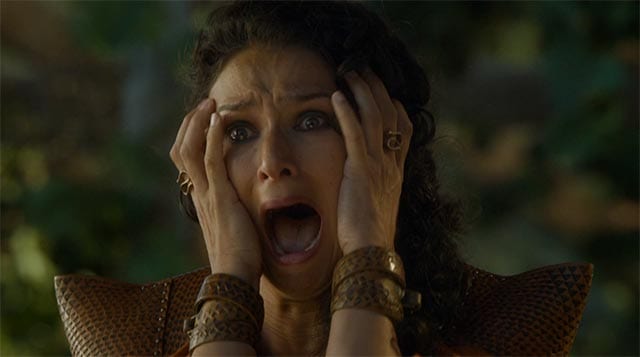 Man soll aufhören, wenn es am besten ist, so das Sprichwort, das es gut meint, aber doch im zum Zeitpunkt des "Besten" so schmerzhaft sein kann. Nach der traurigen Nachricht, dass wir nicht nur länger auf Staffel 7 warten müssen, sondern dass diese auch lediglich von sieben Folgen Umfang sein wird, folgt nun die nächste. Nach Staffel 8 soll Schluss sein, so wie es David Benioff und Dan Weiss bereits vor geraumer Zeit angedacht hatten. Nach aktuellem Stand.
So zumindest Casey Bloys. In Beverly Hills hat der neue Programmchef von HBO im Rahmen einer Pressetour der Television Critics Association folgendes Statement dazu abgegeben:
"Yes, they have a very specific plan about the number of seasons they want to do. Believe me, as the new [programming executive] coming in, if I could get them to do more. I would take 10 more seasons. But we take their lead on what they think they can do the best version of the show."

Klar, ein harter Schlag, aber am Ende ist es besser, wenn man nicht weiter erzählt, wenn es nichts weiter zu erzählen gibt. Zu Tode gemolkene Kühe haben wie z.B. bei "Dexter" enorm an Ansehen verloren. Hoffentlich ist die Episoden-Reduzierung aber nicht nur ein Anzeichen dafür, dass man noch unbedingt ein Jahr länger laufen wollte und die letzte Staffel ein wenig gestreckt auf zwei halbe aufgeteilt hat (wie bei "Breaking Bad"). Schaut aber ganz danach aus. Sollte das Ende aber ähnlich zufriedenstellend ablaufen, wäre ich damit okay. Und wer weiß, es wird von einem "aktuellen Stand" gesprochen – der kann sich immer noch einmal aktualisieren.
Und ein kleiner Hoffnungs-Schimmer für alle trauernden GoT-Junkies: Die Idee eines Spin-Offs ist nicht komplett unmöglich.
"We've talked about it. It's something I'm not opposed to, but of course it has to make sense creatively. I'm not sure that [Benioff and Weiss] could really wrap their heads around it when they're just about to start production [on season 7]. It's a pretty intense production, they're about to start production soon. I'm open to it. The guys weren't opposed to it, but there's no concrete plans for it at this point."
Alles andere wäre bei den Millionen, die HBO damit scheffelt, eigentlich Irrsinn. Hoffen wir, dass sie bei ihren Gedanken stehen und das qualitativ mithalten und inhaltlich Sinn machen kann. Nicht, dass wir uns alle hinterher denken, dass sie doch lieber aufgehört hätten, als es am besten war…

via: ew

-->