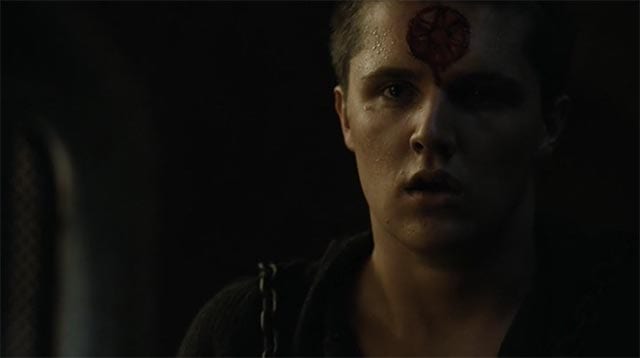 Knebel statt Kiste – keine wirkliche Verbesserung für Tyrion. Und auch das gemeine Zuschauervolk erhält weiterhin recht gradlinige und qualitativ gleichbleibende Kost. Nur dürfte sie uns deutlich besser gefallen als dem auf der Flucht befindlichen Lannister.
"What a waste of a kidnapping…" (Tyrion)
Ich möchte bitte, dass Tyrion, Bronn und Littlefinger einen wöchentlichen Podcast haben. Darin quatschen sie einfach über Zeug, das gerade los ist. Zum Beispiel, wie ein Einarmiger versucht, seine Tochter…. ähm, Nichte zu retten. Jaime ist nämlich ähnlich undercover unterwegs wie sein Bruder, wenn auch gewollt. Und ungewöhnlich kriegsgegnerisch.
"There's nothing like a good fight to get you in the mood for fucking. And there's nothing like a fuck mad dornish girl to clear your head for the next fight." (Bronn)
Bronn zeigt, was er kann – und die übliche Portion Ironie. Jaime entdeckt derweil einen neuen Skill. Schön zu sehen, dass sich hier ein neues unterhaltsames Duo ergibt.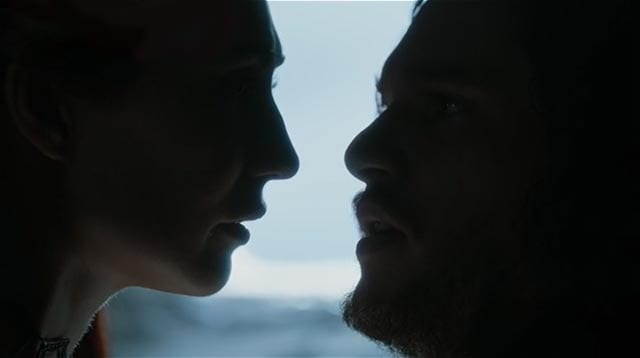 Jon und die Rothaarigen… An der Wall könnte es ein neues Duo geben. Da konnten sich die Macher die weitere Parallele zur Haarfarbe nicht verkneifen…
"You know nothing, Jon Snow…" (Melisandre)
Viel mehr Liebe gibt es bei Princess Shireen, die Papa glaube ich lieber als Mama hat und bei Littlefinger, der Sansa nicht nur Ratschläge gibt. Mehr Hiebe als Liebe gibt es in der Hauptstadt – endlich beginnen handfeste Entwicklungen!
"Who do you think you are?" – "Justice." (Ser Loras Tyrell & Sparrow)
Süß, wie der kleine Kinderkönig ein Exempel statuieren möchte. Dafür gibt es die ersten Bastard-Rufe aus dem Volk… Schlimmer wird es im Osten: Die mordenden Maskenmänner (Sons of the Harpy) treten jetzt so richtig prominent auf nach dem kleinen Gastspiel in der ersten Episode der Staffel. Dass Grey Worm gerade der ist, dessen Helm abfällt und dann alle Maskenmänner artig um ihn herum warten bis Ser Barristan da ist?! Das haben wir schon einmal besser inszeniert gesehen… Dennoch wird es natürlich spannend zu sehen sein, wie dieser Aufstand weiter gehen wird.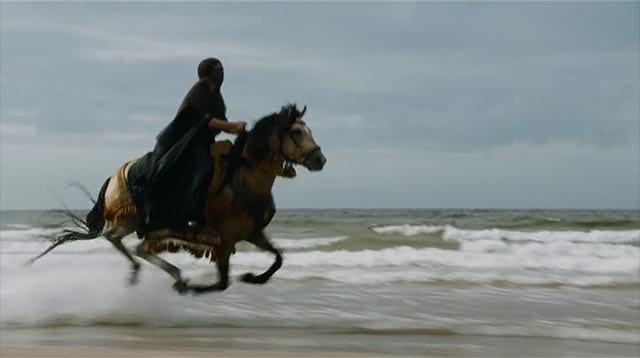 Ach, und endlich: die Sand Snakes!! Schöner Einstieg für die drei Kriegerinnen Dornes.

Aber so recht fehlen die Wow-Momente bislang. Das ist alles sehr stabil auf einem okayen bis guten Niveau, aber dass da mehr geht, brauche ich euch sicherlich nicht zu sagen. Alles ist noch etwas klein-klein, viele zerstückelte Pfade, die meist langsam und häppchenweise serviert werden. Das soll natürlich zeigen, dass viel los ist in der Welt und alles parallel geschieht, kann aber hier und da schon einmal dafür sorgen, dass manche Dinge auf der Strecke bleiben.

Insgesamt bleibt die hohe Qualität in Inszenierung und Dialog. Gerade das Jaime-Bronn-Team macht Spaß mit jeder Menge Wortwitz und mittlerweile auch Bewegung in Story und auf der Karte. Gerade in Dorne dürfte es die nächste Zeit hektischer werden, worauf ich mich bereits sehr freue. Nächste Woche gebe ich dann nicht vier Kronen – versprochen!

-->