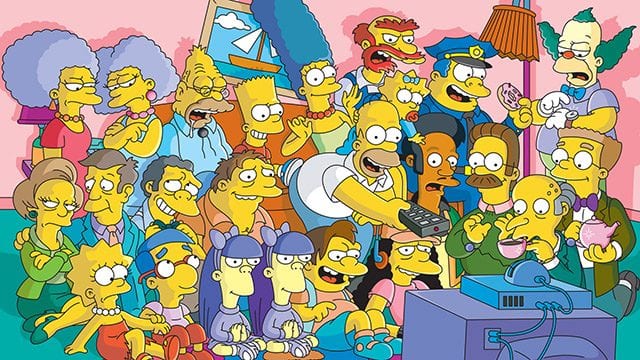 The Simpsons geht weiter: Der US-Sender Fox hat die Staffeln 27 und 28 bestellt. Damit wird man übernächstes Jahr die 625-Folgen-Schallmauer durchbrechen, da pro Staffel wie üblich 22 Folgen bestellt wurden. Dass es weitergehen würde, stand wohl nicht wirklich zur Diskussion. Sieben Folgen der aktuellen Staffel sind noch offen, und die ersten beiden Folgen der neuen Staffel sollen bereits fertig produziert sein. Allerdings werden alle zwei Jahre die Verträge mit den Produzenten und Sprechern neu ausgehandelt. Und da war es jetzt mal wieder an der Zeit.
Bei The Simpsons läuft es etwas anders als bei den üblichen Serien: Die seit 1990 laufende Serie verzeichnet stetig sinkende, aber immer noch ordentliche Einschaltquoten, das Zweitgeschäft mit Streaming, DVD-Verkäufen und Merchandise läuft allerdings grandios, so dass sich das Gehalt der Sprecher auch an diesem Fakt orientiert – ungewöhnlich für den amerikanischen Markt. Außerdem war The Simpsons die erste Serie, bei der die Sprecher auf ein gleiches Gehalt kommen wie Schauspieler in realen Serien. Bis zu den nächsten animierten Serien ist übrigens noch einiges an Luft: South Park und Family Guy haben gerade ihre 250. Folge hinter sich gelassen. The Simpsons hat bislang 31 Emmys abgeräumt.
Und nicht nur wir Fans sind glücklich, dass es nochmal zwei Jahre (mindestens) weitergeht, sondern auch Homer Simpson selbst. Er wird in der Fox-Pressemitteilung so zitiert:
I've outlasted Letterman, Jon Stewart and 'McDreamy,' because I have something they don't: a costly 200-donut-a-day addiction.
via: Fox

-->