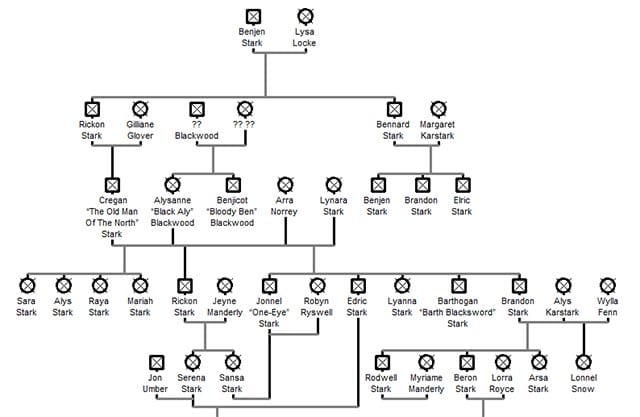 Vor wenigen Wochen ist The World of Ice & Fire: The Untold History of Westeros and the Game of Thrones (A Song of Ice and Fire)
erschienen. Ein Buch, das die Historie der Welt etwas näher erklärt, die G.R.R. Martin uns geschenkt hat. Aus den Informationen aus diesem Sammelwerk hat El-Daddy eine gigantische Darstellung in Form eines Familienbaumes erstellt auf der sämtliche(?) Bewohner Westeros' (die relevant sind für die Geschichte) aufgeführt werden. Und das sind einige…
Dabei sei darauf hingewiesen, dass dies eine Konstellation aus den Büchern ist. Die Serie wird dadurch was "Verheiratungen", Kinder oder Tode angeht durchaus gespoilert. Wer aber aktuell ist, kann sich die Wand damit tapezieren um stets zu überprüfen, wer nochmal mit wem wie zusammen hängt.
"I have tried to keep this tree as accurate as possible, and everything in it can be sources from the books, their appendices, TWOIAF and some GRRM correspondence/readings, but only when given. The MUSH is not taken as canon, as while some parts are from GRRM's notes, I do not know what bits are, so I can't include them unless they're also shown elsewhere."

Weil die Ansicht doch etwas unser Blogdesign in der Breite übersteigt, gelangt ihr über einen Klick auf diese kleine Ausgabe zur etwas größeren Originalvariante.
via: likecool