Puh, die Familie Targaryen in "House of the Dragon" wie auch schon bei "Game of Thrones" ist ganz schön verzweigt. Irgendwie muss man schon ganz genau draufschauen, wer da jetzt alles auf der Bildfläche auftaucht, wer mit wem etwas zu tun hat und wie diese Familie mit den anderen Familien in Westeros zusammenhängt. Genau Stammbaum-Darstellungen gibt es ja schon – wir haben hier zum Beispiel einen ausführlichen Familienbaum im Blog zu allen Familien in "Game of Thrones". Ich habe mich aber seit dem Start von "House of the Dragon" gefragt, wie eigentlich die direkte Linie von Viserys I. zu Daenerys aussieht. Ich habe mir heute also mal die verschiedenen Stammbaum-Abbildungen vorgenommen und die eine Linie zwischen diesen beiden Hauptcharakteren der beiden Serien nachgezeichnet.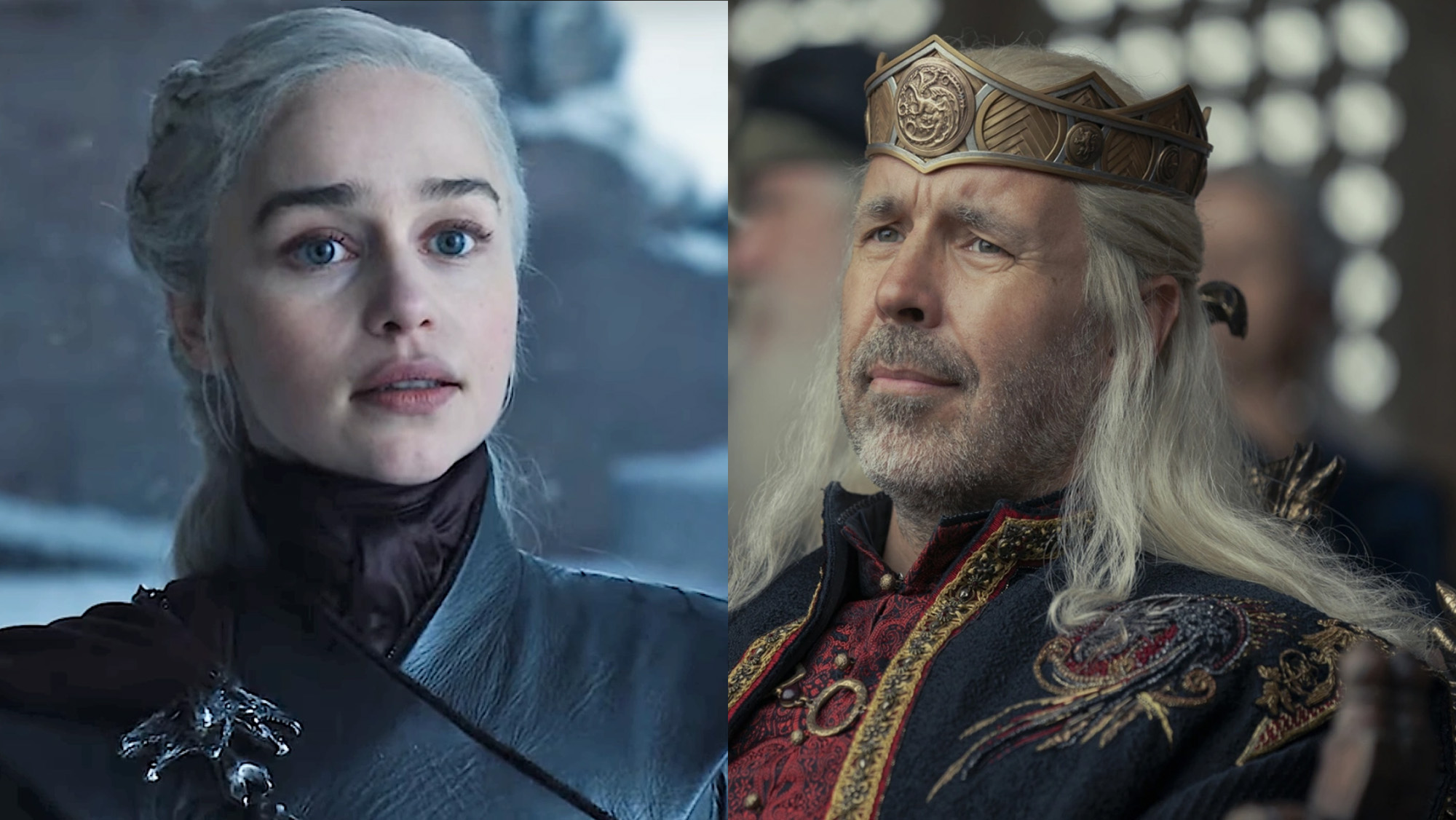 Los geht's wie gesagt mit Viserys I., der von 103 bis 129 nach Aegons Eroberung (n.A.E.) herrschte. Mehr zu ihm und seiner mysteriösen Krankheit gibt es in diesem Beitrag. Er war zunächst mit Aemma Arryn verheiratet, mit der er unter anderem Rhaenyra zeugte (und diverse andere Kinder, unter anderem auch mit seiner zweiten Frau Alicent Hightower, aber dazu bitte einfach in die diversen anderen Stammbaum-Beiträge reinschauen). Diese war mit Laenor Velaryon verheiratet, zeugte aber später mit ihrem zweiten Mann Daemon (ja, ihr Onkel) unter anderem die Könige Viserys II. und Aegon III. Zwischenzeitlich war ihr Halbbruder Aegon II. König, bis Rhaenyra den Thron zurückeroberte.
Viserys II. herrschte von 171 bis 172, zeugte gemeinsam mit Larra Rogarra Aegon IV. und Naerys. Die beiden Geschwister wiederum zeugten Daeron II., der von 184 bis 209 herrschte. Gemeinsam mit Myriah Martell bekam er vier Söhne, von denen der jüngste Sohn Maekar I. den Thron bestieg, und zwar von 221 bis 233. Dieser heiratete Dyanna Dayn, mit der er sechs Kinder hatte, unter anderem Aegon V. Aegon beerbte seinen Vater 233 und herrschte bis 259, gemeinsam mit Betha Blackwood, mit der er fünf Kinder hatte. Zwei der Kinder, Jaehaerys II. und Shaera, gingen eine Verbindung ein, zeugten Rhaella und Aerys II., genannt der irre König. Dieser herrschte von 262 bis 283 und war der letzte König aus dem Hause Targaryen. Er zeugte sieben Kinder, darunter – Daenerys, die 284 geboren wurde und die letzte bekannte Person in der Linie der Familie Targaryen war.
Die direkte Linie zwischen Viserys I. und Daenerys
Da geht also schonmal ziemlich viel durcheinander – und das ist nur die Hauptlinie von Viserys I. und Daenerys. Hier kommt nochmal die komplette Linie in einer Übersicht.

(Klicken für hochaufgelöste Version)

Bilder: HBO

-->