Welcome to Office Fight Club! Erste Regel: Mord mit Papierschneide bringt doppelt Punkte. Ein neuer maskierter Bösewicht lässt seine Gefolgsleute/Gefangenen/Angestellten aufeinander los. Eigentlich ein verschlossenes Privatvergnügen, das mit der Stadt selbst nicht wirklich viel zu tun hat, aber Jim Gordon ist gerade im Ermittlungswahn, also soll der entdeckte Schandfleck dubioser Moral weg. Bullock appelliert an die "Ehre" der anderen Polizisten. Jims Solo-Mission ist auf wundersame Weise recht gut verlaufen. Alleine wird er die Stadt aber wohl nicht bereinigen können.
Gerade weil Penguin Fish gefährlich nahe kommt und seine Methoden hat, um wertvolle Informationen zu erhalten. Und Tipps von Mutti.
"Nice brooch! May I have that?" (Penguin)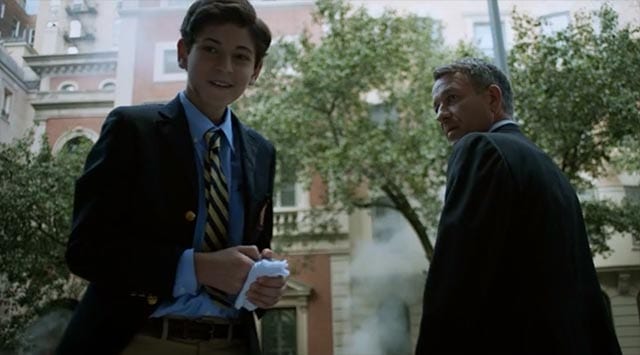 Derweil muss Bruce wieder zur Schule und der brutalen Kindlichkeit anderer Schüler aussetzen.
"But home schooling is just as effective. I can show you the data!" (Bruce)
Ein bisschen führt er dann seinen ganz eigenen Fight Club-Beitrag bei, da er doch seinen ersten Vigilante-Erfolg einheimsen kann – und muss eingestehen, dass er Gefallen daran findet. Zur Belohnung gibt es Kampfstunden und ein Wunsch-Menü von Alfred.
"Pizza? Superb choise, master Bruce!" (Alfred)
Für die nächsten Folgen dürfte vor allem relevant werden, dass Catgirl mal wieder (ungewohnt tollpatschig) aufgetaucht ist. Und die Frage, wieso Barbara derart schnell und unkommunikativ das Weite sucht. Okay, Jim war nicht wirklich einfühlsam den Abend zuvor…
"Just tell me, there aren't any monsters…" – "…" – "Lie if you have to…" – "There are no monsters." (Barbara & Jim)
Nach der starken letzten Folge ein bisschen Rückkehr zur soliden Basiskost. Diese abgekapselte Folgen-Geschichte hatte durchaus seinen Reiz, dass der Maskenmann dann aber derart schnell selbst in Aktion tritt und noch schneller besiegt werden kann, war etwas seltsam. Dafür macht E.Nigma mehr und mehr Spaß und bei Bruce erkennen wir weiteren Fortschritt. Auch für das Standing von Gordon innerhalb des Departments war das ein wichtiger Schritt. Bleibt abzuwarten, ob nun eine andere Form der allgemeinen Polizei-Aktivität folgen wird. Die nächste Folge sollte unterhaltsam werden, denn laut Titel treffen wir auf einen alten Bekannten…

-->